TPSF marks key milestones in two years of President Samia's leadership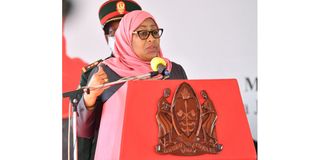 On March 19, 2023, H.E. Samia Suluhu Hassan, president of the United Republic of Tanzania, marked two years in office with stellar performances in maintaining political stability, economic recovery and resilience, enhancing socio-economic development and branding Tanzania as a safe and ideal investment destination.
As the apex and umbrella organization of the private sector in the country, the Tanzania Private Sector Foundation (TPSF) has been the government's strategic partner representing over 6 million businesses through its member associations. TPSF actively engages with the government in formulating and reviewing policies, advising and advocating for a conducive business and investment climate, in order to attract more investors and improve the country's economy.
The sixth phase government has been instrumental in ensuring that the private sector becomes the engine of economic growth. In the last two years, the Tanzania private sector has become an important strategic partner for the government in achieving Tanzania Development Vision 2025 that aims to achieve a middle income country. As such the performance of the banking and financial markets, access to credit, the business and investment climate and related reforms, and government priorities in productive sectors like agriculture, transport and logistics, tourism, ICT, mining, and industries are all good indicators of economic growth and more specifically, the growth of the Tanzania private sector.
Hastening economic recovery through increased credit to the private sector
President Samia initiated the Policy Measures to increase Credit to Private Sector and Lower Interest Rates in order to increase credit to the private sector and lower interest rates, thereby hastening recovery of the economy. These included
1. Reduction of Statutory Minimum Reserve (SMR) requirement. This measure intended to increase lending to agriculture, which is the mainstay of Tanzanians. It has enabled interest rates to the agriculture sector to go below 10% spurring economic growth.
2. We also saw relaxation of agent banking eligibility criteria by abolishing the regulatory requirement of business experience of at least 18 months for applicants of agent banking business to only require a National ID Card. This policy measure has led to an increase in loanable funds to banks through deposit mobilization.
3. The introduction of the special loan of TZS 1.0 trillion to banks and other financial institutions for on-lending to the private sector whereby, Banks and other financial institutions are able to lend at 3 percent per annum for pre-financing or refinancing of new loans to the private sector. This measure has increased liquidity to banks and reduced lending rates.
As of February 2023, we saw credit growth to the private sector at an all-time high of 21% compared to a growth rate of 3.2% in Q3 of 2021. This will have significant growth to the economy as more businesses will access finance for expansion.
Record breaking profits from the banking sector
The banking sector touches almost all areas of our economy, therefore its performance is one of the best economic indicators. Tanzania banks play an important role in capital formation, which is essential for the economic development of a country. An analysis of leading commercial banks in Tanzania, which make up over 95 percent of the banking sector's profitability, showed a significant increase from over Sh760 billion in 2021 to Sh1.16 Trillion in the year ending 2022. The increase in profitability – coupled with a reduction in levels of Non-Performing Loans (NPLs), increase in mobile money transactions and an increase in both customers' deposits and loans and advances is a testimony of a growing economy and financial inclusion that lies on the basis of the good business environment currently experienced in the country.
Tanzania as an investment destination through improved investment climate
Under her leadership, President Samia Suluhu Hassan has focused on implementing various reforms to improve the business and investment climate which has regained investor confidence.
Among the investment reforms included the enactment and the gazzetting of the new Tanzania Investment Act. Which among other things reduced the capital investment threshold requirement from 100,000 to USD 50,000 for local investors; this move will enable more local companies in all sectors of the economy whether starting, expanding or rehabilitating their businesses to access the certificate of Incentives provided by TIC. These incentives include both fiscal relief of import duty on a project deemed capital at 75 percent and 0 percent of import duty on capital goods and non-fiscal such as using TIC investment facilitation services.
The new law further shortened the time for obtaining an investment licence from 14 to 7 working days; and granted access to international arbitration to the parties to settle disputes either in accordance with Tanzanian arbitration laws or the International Centre for the Settlement of Investment Disputes. This has given the much needed confidence to international investors.
Other reforms on investments included speedy acquisition of permits, investment licences specifically from 24 days to currently 3 days and resolved land acquisition issues by putting systems in place. Work permit issuance process for foreign workers and investors; streamlining Tanzania Investment Center (TIC) operations.
Another great move taken by president Samia was to move the investment portfolio (TIC) under the president's office. This move will enhance efficiency and fast track a lot of investment decisions.
These initiatives have contributed significantly to the increase of registered investment, for instance for the year 2021 TIC registered 256 investment projects worth 3.8 billion from 203 projects worth 1.1 billion in the year ending 2020.
This increase translates into widening the tax base and enabling implementation of social economic development, and transfer technology and skills.
Improved Business environment and leading to increased Tax Collection
In implementing the Blueprint for regulatory reforms in enabling the business environments, a number of milestones have been recorded so far which included; removing over 232 nuisance taxes and levies that were thwarting growth of businesses.
Section 7(1) of the Tanzania Shipping Agencies Act has been amended to limit TASAC's former exclusive authority on clearing and forwarding of import and export of minerals, machinery, equipment, and petroleum, which severely impacted business operations by causing input delays in our industries. It also put many clearing and forwarding agents out of business. Since the amendment, we have seen a recovery of business as well as new entrants into the market.
So far the Sixth Government has already concluded and signed agreements with 10 countries on Avoidance of Double Taxation and Prevention of Tax Evasion. These agreements also serve to promote foreign investment, which might otherwise be discouraged if companies were forced to pay locally and in their country of fiscal residence for taxable activities. They reduce the tax burdens of foreign investors and provide legal security to investors.
TPSF has witnessed improved efficiency and professionalism in revenue collection and administration. These include enhancing fairness and efficiency in tax assessment; ensuring timely VAT refunds and digitalization of tax system including the online self-service platform that allows the taxpayers to file returns, initiate payments and access other tax services; cargo tracking system; electronic single window that allows taxpayers to lodge their trade transactions quickly and also the use the Electronic Fiscal Management Systems for verification of claims.
The government amended the Tax Revenue Appeals Act (CAP 408) to accommodate alternative dispute resolution mechanisms and hence reducing bureaucracy in addressing tax appeals.
"As Tanzania's private sector, we applaud H.E Samia Suluhu Hassan and her government for spearheading measures to strengthen the business and investment climate. We have seen a record-breaking performance in all the sectors of the economy, from the banking sector which has made over Sh1.16 trillion in profits, to an increased performance on the capital markets, recovery of the tourism sector, to a record increase in investment projects, and other social economic achievements." Ms Angelina Ngalula Chairperson of TPSF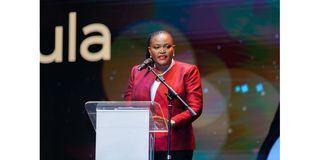 All these initiatives encouraged the Private sector to operate and invest more which led to an increase of tax collection. The Tanzania Revenue Authority (TRA) has set a historic record with tax collection increasing from Sh17.3 Trillion in 2020/21 to Sh20.0 trillion in 2021/2022 equivalent to 15 percent increase. We see a similar positive trend as the result of the first half of the year 2022/23 shows a collection of Sh12.46 trillion.
Fostering economic diplomacy, multilateralism & promotion of Tanzania and as strategic investment destination
H.E President Samia Suluhu Hassan, has successfully promoted Tanzania and fostered economic diplomacy by making various visits to Africa, Europe, Asia including Far East Asia and America, whereby in most cases she has been accompanied by the Private sector of Tanzania.
These foreign trips resulted in attracting investment such as Intracom Fertilizer Limited from Burundi who have built a fertilizer manufacturing industry in Dodoma, worth USD 180 million and is expected to create 3,000 direct jobs and 8,000 indirect jobs.
We also noted Tanzania's businessmen venturing into its territories that till recently were out of reach. The recent investment project by Taifa Gas worth USD 130.5 million owned by a Tanzanian billionaire, Mr. Rostam Aziz in Kenya. The project marks one of the successes of her very first state visits to Kenya after she came into power in May 2021, whereby together with the former President of Kenya they had agreed to remove trade and investment barriers between the two countries and strengthen bilateral economic ties. As a result by 2022, trade between Tanzania and Kenya had increased by 38 percent worth USD 765 million.
Some of the other notable achievements of H.E President Samia Suluhu Hassan's are strengthening relations and promoting multilateralism. President Samia negotiated an interest-free $567.25 million loan for Tanzania's balance of payment with the IMF in September 2021. She also met with IMF Director General Kristalina Georvieva at Chamwino State House in Dodoma and requested support on key strategic projects.
The IMF's executive board approved a $1.04 billion, 40-month Extended Credit Facility loan for Tanzania in July 2022, with an early release of $151.7 million to help Tanzania's post-covid economic recovery and structural reforms.
President Samia also met with WB group president David Malpass in New York in September 2021. They reviewed Tanzania's efforts to mitigate the COVID-19 epidemic, immunizations, and business environment reforms to support private sector-led growth. In late 2022, the WB's International Development Association (IDA) loaned Tanzania $550 million (Sh1.27 trillion) to address its road and airport bottlenecks. This will enable Tanzania to become a transport and logistics hub.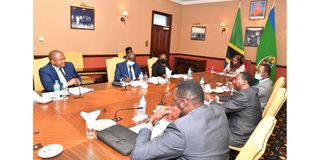 Expansion of regional and Opening of continental markets opportunities for the private sector
In two years of president Samia, Tanzania ratified the African Continental Free Trade Area (AfCFTA) to bring market access to over 1.3B people. It provides the platform for Tanzania to diversify its economy and achieve resilience to natural and manmade shocks, including climate change, geopolitics tension in Europe and Asia. UNECA estimates that by 2045 intra-African trade in agri-food, industry, and services sectors will increase by nearly 35 percent compared to a situation without the AfCFTA. In Tanzania Coffee will be one of the products to trade under this market from July this year.
"It is a good opportunity for the country and Tanzanian coffee companies. I am honored that my coffee will be the first product to trade under the AfCFTA agreement" said Mr.Amir Hamza of AMIMZA Co.ltd.
In addition to coffee, Tanzania is expecting to export ten types of finished goods to the AfCFTA market which provides an opportunity for the private sector.
"It is through the AfCFTA that we will industrialize rather than export jobs. We, as the Tanzania private sector, should make the fulfillment of the promises of the AfCTA our agenda" Said Mr. Paul Makanza- Vice Chairperson TPSF - Manufacturing Cluster.
Tanzania is among the first seven countries that were given priority to send products to the market. The Business community in the country should strategize ways to take advantage of this rare opportunity.
In addition, data has shown a growing increase in export of commodities from Tanzania in the last two years, from Sh3.906 trillion in 2020, to Sh14,682 trillion in 2021, and 15,719 trillion in 2022. This is an indication that production and productivity has increased in the last two years of President Samia' leadership.
Increasing food productivity and positioning Tanzania as a regional food basket through reforms in the Agriculture sector
Agriculture employs more than 65 percent of the Tanzanian population and contributes 30 percent to the GDP. We appreciate the Government's efforts to prioritize Agriculture as a strategic and the most important sector in terms of employing the majority of the country's population and ensuring the country's food security.
"We have seen an impressive Increase in the agriculture budget, from Sh 294bn in 2020/2021 to Sh 954bn in 2022/23 budget; which is an increase by 224.5 percent from the previous year," Dr Jacqueline Mkindi - TPSF Board Member Agriculture Cluster.
However, in order for this budget to be effective much emphasis should be put on timely disbursement to avoid delays in implementation of development projects so that the envisaged goal of achieving more than 10 percent growth in the sector by 2030, and ensuring food security to cater for domestic and export demand is met.
Another remarkable milestone includes the initiative by the, The Central Bank setting aside Sh 1.0tri/- for commercial banks to access and enable them to issue affordable agriculture-related financing and reduce agriculture lending interest rate to single digit. This means affordable loans to the agriculture sector, and according to the BOT data, The credit to agriculture grew by 57.7 percent during the 12 months to October 2022, compared to a decline of 14 percent during the previous period, according to the central bank data.
Another important reform in Agriculture is the Agenda 10/30 as a medium term strategy which aspires to promote agribusiness "Kilimo Biashara", and increase agriculture sector growth to 10 percent, increase agriculture exports to 5 billion USD by 2030.
The launch of the Building a Better Tomorrow Youth Initiative for Agribusiness (BBT-YAI, the program is indeed a tool for contributing the attainment of the Agenda 10/30 that envisage increasing the youth employment by one million with the main goal to enhance engagement of youth in the agricultural sector for sustainable and improved livelihoods.
Effective implementation of all these initiatives will contribute towards realization of Tanzania as the regional food basket through increased productivity for domestic demand and trade in various regional and international markets.
The attractive reforms have led Tanzania to be the host of the Africa's Food Systems Forum (AGRF), September 2023. The forum will bring together more than 3,000 delegates including policymakers, scientists, heads of governments and private institutions, farmers, and the youth in the agriculture and food systems landscape to discuss and agree on practical actions and solutions that drive Africa's food security and better livelihoods for all.
Another remarkable initiative is the formulation of the Presidential Food and Agriculture Advisory Delivery Council, and nomination of private sector key players by the President as members of the council. We believe the council will contribute toward realization of the agenda 10/30.
Recovery and building resilience in the Tourism sector through reforms and various initiatives
The sixth phase government has set sights to attain the 6 billion US dollars (about 14tri/-) in tourism revenue, which assumes the influx of five million (5M) tourists annually, come 2025. The private sector has a big role to ensure policies that will attract investments both local and international players in tourism, opening up the airspaces, etc.
In the year 2022, in the tourism sector received a big boost from President Samia following her decision to promote our country's tourism sector through the Tanzania Royal Tour documentary in addition the President's decision for Tanzanians to take covid-19 vaccines made a significant impact in the increase of tourists.
For instance travel receipts almost doubled to USD 2,560.7 million in 2022 from USD 1,310.3 million in 2021, consistent with the rise in the number of tourist arrivals. The National Bureau of Statistics shows foreign tourists increased by 64 percent to 1,175,697 between January and October last year compared to 716,741 tourists in the same period in 2021. It's an impressive 2022 performance from the private sector as banks record an historical record that doubled what was achieved 2 years ago.
Tanzania needs to diversify its tourist attractions such as eg. Encourage local tourism, beach tourism, sports tourism, cultural tourism, and medical tourism, implementation of the Meeting Incentives Conference and Exhibition (MICE) strategy in order to cushion it from impact of global shocks and achieve the targeted 5m tourists by 2025.
Growing Tanzania to become an energy hub
The world is experiencing severe consequences as a result of the Russia-Ukraine war, one of which is an energy crisis. Considering Tanzania's vast natural resources, President Samia has been keen in making the country self-sufficient in energy and a hub for energy export. She understands that in order to compete in this modern world, Tanzania must have a strong economy, which may be achieved by utilizing its abundant resources.
President Samia has ensured the continuation of key projects such as the East African Crude Oil Pipeline, the Nyerere hydroelectric project which will contribute to production of 2,100 megawatts, as well as plans to begin construction of a natural gas pipeline from Dar es Salaam to Nairobi Kenya. Resumption of LNG negotiations, which will bring over $30 billion in investment to Tanzania will further strengthen its energy position.
Furthermore, President Samia is establishing Tanzania's three ports of Tanga, Dar es Salaam, and Mtwara as energy export hubs.
Tanzania will soon become a significant player in global affairs as a result of these investments; the country is on a route to become energy and oil self-sufficient, which will aid in the country's transition away from reliance from other countries. This will attract a lot of large multinational companies that require stable and sufficient electricity to power their industries to come and invest in Tanzania creating jobs, and required technology transfer.
Growing of Tanzania youth and startup through digital and ICT transformation
ICT and digital transformation are among the key drivers of rapid development. Tanzania National ICT Policy advocates for investment in building digital infrastructure such as data farms and digital technology institutes to enhance skills and capitalize on the cutting-edge digital innovations such as robotic engineering, artificial intelligence etc.
Tanzania Startups can now access free USSD codes which boost innovations. "We have witnessed tremendous growth of investment into the Startup ecosystem in Tanzania growing from $32m in 2020 to $80m in 2022," notes Zahoro Muhaji CEO Tanzania Startup Association.
Transforming Tanzania into a transport and logistics hub through investment in strategic projects
The Government has capitalized on the previous achievements and continued implementation of mega projects. This is reflected by a sizable increase in the development budget, reaching 45 percent of the total budget in 2021/22 in order to make Tanzania a transport and logistics hub for the region.
The Government has also improved port efficiency and expanded capacity of Dar es Salaam, Tanga and Mtwara ports through the Port Improvement Committee. Completion of Kwala Dry port to support port operations and decongesting Dar es Salaam city. Continuation and completion of various phases of the SGR linking Tanzania to neighboring countries which will make our country a preferred corridor for transport and logistics. The private sector in Tanzania has been actively involved in the constructions of these projects and in the long run we will see efficiency of cargo moving through Tanzania.
Growing Tanzania industries in-line with the Industrialisation Agenda
There has been a huge influx of foreign and local companies that have been investing in Industrial Sector as a result of economic diplomacy under the 6th Phase Government, this includes; The Kigamboni Industrial Park, Kwala Industrial Park by a Chinese company Sino Tan, The Elsewedy Kigamboni Industrial Park just to mention a few.
These projects are expected to create over 100,000 direct and indirect jobs which will essentially contribute to the government target of creating 8 million jobs by 2025. In addition these investments are expected to enhance skills and technology transfer to the local Tanzanians.
The increase in industries will increase the taxes collection considering that 80 percent of the taxes comes from the industrial sector.
The Private Sector vows to continue working with the Government in enabling the business environment and investment climate to promote growth of the country's economy in line with the Government development aspirations.