Emerald Villas to reshape Paje neighbourhood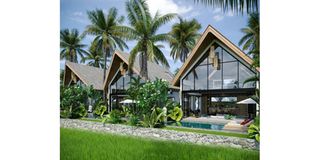 Unguja. Zanzibar has been attracting real estate development projects in recent years and as a result of this the Paje neighbourhood is about to change, with the coming of the Emerald Villas.

With construction set to begin in December 2022, the Emerald is set to have some 20 villas with their delivery in just 8 months from the date of commencement.
In a statement, the developers Floton Africa Company Ltd say they are offering title deeds and many other incentives because the project has been registered and approved by the Zanzibar Investment Promotions Authority (ZIPA).
According to the developers, unlike the characteristic real estate projects that take up vast amounts of land often in places that have no previous development, the Emerald Villas is set to have a different approach.
"We are coming up with a new model that is set right within the existing village community and is easily accessible, as opposed to what we have seen in the past where a project starts off in the middle of nowhere and then attempts to develop and attract a community thereafter," says Richard Ashby of Shivo Limited, the exclusive marketing partner for Floton Africa projects. 
He believes that one of the reasons why many huge real estate projects have struggled in the past both on Tanzania mainland and Zanzibar is because the developer has to spend almost 40 percent of the capital on provision of basic access and other infrastructure.
"But when you look at the set up that  we have, we are developing the Emerald Villas in a neighbourhood that is already operational, this cuts the work by almost by half because the infrastructure already exists and Paje village is already one of the coolest places to live on the island," says Ravi of Floton Africa Company Limited. 
The lack of infrastructure is otherwise the reason why other projects take a long time to kick off given the amount of time taken to build things like roads and water systems.
"When we start construction in December, we will build out all of the villas at once, and with 70 percent of those villas already reserved, the whole project will roll out immediately, we do not have to build any social amenities, and we don't have to drag people off to neighbourhoods that they are complete strangers to and where they cannot even find a basic supermarket within a 15 minute drive, so the overall offering is just unrivaled on Zanzibar."

According to Richard, Emerald villas is positioned so that Paje beach is still barely a six minute walk away, while remaining in a peaceful location set away from the busy late night party scene.  
The project has attracted positive reviews from the community with many saying it is what an area like Paje has been waiting for.
"I realised after 5 minutes of living in Paje that nobody wants a luxury pool villa on the south east coast if you have to drive 20 -25 minutes to get home from a club or restaurant after a night out, or to get changed before dinner after an afternoon at the beach. It needs to be 5-10 minutes max, that's the lifestyle buyer, "said Richard.
He added: "An area like Paje is full of kite surfers, digital nomads, business people, hoteliers, and other professionals, they want convenience and they want to live within the community that they work in and enjoy. If you can't understand that as a developer, you're dead in the water.
In his opinion buyers who are ready to pay between $150,000 and $250,000 are usually educated buyers who will not settle for less than a top spec finish, and this combined team of Floton Africa Company Ltd and Shivo Ltd are apparently here to stay, bringing forth a number of other groundbreaking residential projects to follow across the island for 2023'. See https://www.instagram.com/shivo_tanzania/?hl=en for all the latest project updates or call +255742100050.