Tourism in Zanzibar: A Journey of growth, challenges, and resilience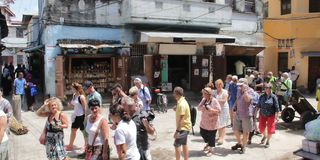 What you need to know:
The island's tourism industry has witnessed remarkable growth over the past decades, transforming it into a vital economic pillar and source of employment for hundreds of thousands.
 
Zanzibar has in the past two decades emerged as a mesmerizing tourist destination, enchanting travelers with its pristine beaches, rich history, and vibrant culture.
Despite the drawbacks during the pandemic, the past few years has seen a complete turnaround, the island has seen a surge in tourism, with a record number of visitors arriving in 2022.
According to the Zanzibar Tourism Commission, the number of tourists visiting with official numbers showing that visitors had to the island had increased by 110.28 percent from 260,644 in 2020 to 548,503 in 2022.
But these were mainly those who were from abroad and the number by rough estimates has hit above the 850,000 ceiling, that was set by the authorities in 2020.
The island's tourism industry has witnessed remarkable growth over the past decades, transforming it into a vital economic pillar and source of employment for hundreds of thousands.
Speaking to The Citizen, Zanzibar' minister for tourism and heritage Simai Mohammed Said says the number of tourists has since hit beyond the one million mark.
"In the past the numbers that we have been capturing did not put into consideration the visitors that come from mainland on a daily basis for conferences and leisure of the weekends," said Mr Said.
The growth in tourism has had a significant impact on the Zanzibari economy.
"In 2022, the tourism sector contributed 29.2 percent of the island's GDP, up from 16 percent in 2020. This growth has created jobs, boosted economic growth, and improved the quality of life for many Zanzibaris,' he said.
In addition to the increase in the number of visitors, Zanzibar has also seen a growth in the number of hotels and guesthouses.
"In 2023, there were 709 hotels and guesthouses on the island, up from 620 in 2020. This growth has helped to meet the demand for accommodation from tourists in all the different classes," he said.
The allure of Zanzibar lies in its natural splendor, cultural heritage, and unique blend of influences. Its pristine beaches, fringed by swaying palms and turquoise waters, provide an idyllic escape for sunseekers and beach enthusiasts.
The island's rich history, evident in its ancient Stone Town, captivating spice plantations, and UNESCO-listed ruins, offers a glimpse into its fascinating past. Zanzibar's vibrant culture, infused with African, Arab, and Indian influences, manifests in its delectable cuisine, lively music, and captivating crafts.
Several key factors have contributed to Zanzibar's tourism boom. The island's proximity to Tanzania's mainland, with its renowned wildlife safaris and Serengeti National Park, makes it an attractive add-on to a classic safari itinerary.
The development of international airports and improved air connectivity has facilitated easier access for travelers worldwide. The growth of luxury accommodations, catering to discerning travelers, has further enhanced Zanzibar's appeal.
The growth of tourism in Zanzibar has led to a boom in the construction of new hotels, including a number of five-star properties.
Between 2020 and 2023, eight new five-star hotels opened in Zanzibar. These hotels are located in a variety of locations around the island, including Nungwi, Matemwe, Pwani Mchangani, Kizimkazi, Michamvi, Pongwe, and the airport.
"The new five-star hotels offer a variety of amenities and services, including luxurious accommodations, world-class restaurants, and stunning views of the Indian Ocean. These hotels are attracting tourists from all over the world, and they are helping to boost the economy of Zanzibar, said Mr Simai Mohamed.
The average length of stay for tourists in Zanzibar has also increased. In 2020, the average visitor stayed for 6 days whereas, in 2023, the average length of stay has  increased to 8 days.
This, according to him, suggests that tourists are spending more time on the island, which is benefiting the local economy.
Zanzibar's tourism journey has been marked by a series of milestones. In the early 1990s, the island began to attract a growing number of European travelers, drawn by its unspoiled beauty and authentic experiences.
The introduction of charter flights and the development of eco-tourism initiatives further stimulated tourism growth.
Later in the mid-1990s under Dr Salmin Amour's administration, Zanzibar witnessed the introduction of its first direct scheduled international flight by Gulf Air, this proved to be a turning point.
The new millennium saw a surge in popularity, with Zanzibar becoming a sought-after destination for honeymooners, families, and adventure seekers.
The return of tourist airlines to Zanzibar is another factor that has been attributed as one of the key factors contributing to the growth of tourism in Zanzibar
"In 2020, there were only five major tourist airlines flying to Zanzibar. In 2023, there were 10 major tourist airlines flying to Zanzibar, including KLM, Air France, Global Airways, and Hifly," he said.
He added: This increase in the number of airlines flying direct to Zanzibar has made it easier and more affordable for tourists to visit the island. It has also helped to open up new markets for Zanzibar, such as Portugal.
The return of major tourist airlines, according to him, is a sign of the growing popularity of Zanzibar as a tourist destination which is now well-positioned to continue to attract tourists in the years to come.
Despite its remarkable growth, Zanzibar's tourism industry faces certain challenges. The overdependence on tourism can pose risks during economic downturns or global crises.
The Zanzibar Tourism Commission Chairman (ZCT) Rahim Bhaloo says amidst the growth, one of the greatest milestone was for the Zanzibar community and its people to accept tourism due to the nature of business.
"The biggest challenges are the rightful understanding and approach of local Zanzibar and its migrant staff from Tanzania to accept and understand that tourism is very sensitive industry and it will only thrive further if we safeguard the interests of our visitors and their liking," says Mr Bhaloo.
He adds: Beach pollution, beach harassment and overpriced products alongside many regulatory bodies overseeing the sector without rightful insight from the cross cutting sectors are challenges too.
Though Zanzibar did not close its doors to the world during the global pandemic, this over dependency was obvious as many countries that are the sources of origin for tourists shut down
The need for sustainable tourism practices is crucial to preserve the island's natural beauty and cultural heritage.
The industry must also address social and environmental concerns, ensuring that tourism benefits local communities and contributes to their well-being.
Zanzibar's tourism industry stands poised for continued growth, with a focus on sustainability and resilience.
The island's potential for diversifying its tourism offerings, including cultural tourism, ecotourism, and wellness retreats, remains untapped.
Investments in infrastructure, education, and training can enhance the quality of services and create employment opportunities for locals.
It is with the view of such challenges that the government of Zanzibar is committed to ensuring that tourism is sustainable on the island.
In 2023, the government launched a new Sustainable Tourism Declaration, which outlines a set of principles and goals for sustainable tourism development in Zanzibar.
According to Mr Simai, the declaration recognizes the importance of protecting the island's natural environment, cultural heritage, and local communities.
"Improving the management of the Stone Town World Heritage Site is something that government is working to improve the infrastructure and services, while also protecting the site's cultural heritage. The government is working with tourism businesses and stakeholders to promote responsible tourism practices, such as reducing waste and promoting environmental conservation."
Just like it is with the airlines, the tourism ministry says they are targeting cruise ships which have become  a growing source of tourism in Zanzibar.
The Zanzibar Tourism Commission says it has taken steps to attract cruise ships, including working with cruise lines, promoting Zanzibar as a cruise destination and providing infrastructure and amenities for cruise ships.
By embracing sustainability, Zanzibar can continue to enchant travelers with its unique charm while ensuring long-term prosperity for its people.