Prime
Zanzibar government, MCL in joint efforts to the island's success story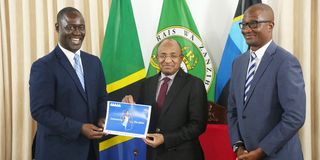 What you need to know:
MCL visited the Zanzibar State House in order to broaden cooperation and embark on joint efforts to tell the island's success story.
Unguja. The President of Zanzibar, Dr. Hussein Ali Mwinyi, yesterday commended Mwananchi Communications Limited (MCL), publishers of Mwananchi, The Citizen, and Mwanaspoti newspapers, and their respective online platforms for their readiness to disseminate development stories and advertise the auspicious island of Zanzibar.
He made the statement during a meeting yesterday with MCL leaders led by a Board of Directors representative, Mr. John Ulanga.
Mr. Ulanga, who doubles as the Tanzania Private Sector Fund's (TPSF) executive director, was accompanied by MCL managing director Bakari Machumu.
MCL visited the Zanzibar State House in order to broaden cooperation and embark on joint efforts to tell the island's success story.
 "I'm thankful for your readiness to promote Zanzibar. We are ready to provide all the necessary cooperation, especially whenever you ask for information from government institutions," he said.
He commended the company's strategic plans, which show the intention of enhancing access to information among citizens as well as providing education related to development issues and traditions.
"There are several issues promised by the 8th Phase Government through its election manifesto. Much has been implemented, and several others are being executed," Mwinyi further said.
According to him, there was a need for citizens to understand the magnitude, underscoring that the company had a huge task to communicate these issues to the public.
"There's a lot of information that needs to be communicated to the public, and the government is obliged to ensure that happens. We are thankful to see MCL has listed this as one of its priorities," he said.
According to Dr. Mwinyi, his government is ready to be corrected and embrace reforms whenever it fails to honour its promises.
During the discussion, Mr Ulanga said the company's leadership has visited the island's top leader in order to broaden cooperation, noting that the media has the full capacity to inform but also stimulate issues of national development.
"We have been raising different development debates. Our focus is to become a leading company in discussions that stimulate the country's development," he said.
For his part, Mr Machumu said that following technological advancement, MCL has increased its focus on the provision of education by touching the general public in efforts to tout development.
"We have learned that people want development; therefore, we have concentrated on the provision of education that will enable citizens to realise the intended changes. We are cognizant of the fact that education lags behind entertainment when it comes to coverage," he said.
He said MCL has been organizing large conferences that gather government executives and experts competent in different topics.
According to him, these symposiums bring about change by spotlighting critical issues.
Study findings show that over 23.5 million people are reached and informed by MCL newspapers and their online platforms, Machumu shared.
He outlined some of the issues intended to be addressed, including strengthening national unity, honoring history, and patriotism.