Zanzibar urges preparedness as investment projects rise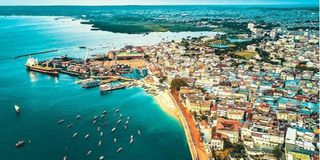 Summary
Zanzibar has registered 215 projects worth $3.3 billion (Sh7.6 trillion) during the first two years of President Hussein Mwinyi in office
Unguja. The Revolutionary Government of Zanzibar (RGZ) has urged citizens to get prepared to tap opportunities that come with increased investment projects in the isles.
Zanzibar has registered 215 projects worth $3.3 billion (Sh7.6 trillion) during the first two years of President Hussein Mwinyi in office.
Opening the TOA five star hotel in Unguja South Region yesterday, the Permanent Secretary in the President's Office, Labour, Economy and Investments, Dr Habiba Omar said the 215 projects were expected to create 13,000 jobs.
Dr Omar said 74 of the 215 registered projects that can create 3,000 jobs are located in Unguja South Region.
"Citizens should tap into the opportunities brought by these projects, most importantly being the importance of preparing themselves in the areas of education and entrepreneurship," she said.
Speaking during the event, retired President of Zanzibar, Dr Ali Shein said the Isles had two hotels during the revolution in 1964, noting that the number has since increased to over 600 today.
Dr Shein said the increment has been possible due to strengthened investment climate which attracts both domestic and foreign investors to the area.
"Historically, residents of Zanzibar are generous and full of love. Therefore, we should continue preserving peace and value things belonging to the country. People with ill intention for the country and its people should be completely rejected," he said.
He said tourism is a parent sector and the backbone of their economy, calling on citizens to cooperate with investors as the government continues to improve the investment climate in the archipelago.
"Investments like these should give us enthusiasm to bring major transformation in the tourism sector. In the past we depended on cloves and coconut; that didn't take us anywhere. Therefore attractive investments should be valued and protected," he said.
Dr Shein emphasised that all other sectors should support tourism in order to bring economic development and that people should avoid working in a business-as-usual-style.
TOA hotel manager, Ally Muhungoo said the hotel has employed 85 people, 80 of them are residents of Zanzibar, with the remaining five being foreigners.
He said the hotel's strategy was to support the surrounding community through annual provision of social services including in primary schools.
The labour, economy and investments minister, Mr Mudrick Soraga said different sectors have been opened up for investment in order to benefit citizens.
For his part, the Executive Director of the Zanzibar Investment Promotion Authority (Zipa), Mr Shariff Ali Shariff said they are working to further improve the investment climate in order to attract more investors.
"Zipa has decided to go digital in order to reduce if not eliminate unnecessary inconveniences to investors," said Mr Shariff.