Zanzibar records $3 billion projects in two years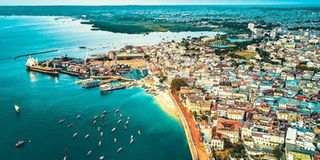 Arusha. Zanzibar has registered record investment projects worth $3 billion in the last two years.
If fully implemented the 181 projects would create at least some 9,000 jobs. This was revealed in the Isles on Wednesday during the start of the Zanzibar Trade and Investment Forum 2022.
Statistics by the Zanzibar Investment Promotion Agency (ZIPA) indicated that most of the investments are geared to the blue economy undertakings.
These include Mangapwani Integrated Hub Port Project, renewable energy, marine transportation and infrastructure.
"Since November 2020, ZIPA has recorded 181 investment projects valued at $3.056 billion," said the Isles second vice president Hemed Suleiman Abdulla.
He reiterated the Zanzibar government commitment to improve trade and investment climate "and an open door policy to investors".
He welcomed investors from within and outside the country to take advantage of Zanzibar's mega blue economy strategic projects.
"Foreign direct investment is of paramount importance for socio-economic growth," he said as he graced the forum on behalf of President Hussein Ali Mwinyi.
The two-day trade and invest forum aims to promote trade, investment and finance opportunities in Zanzibar within the framework of the African Continental Free Trade Area (AfCFTA).
In her remarks, the chairperson of the East African Business Council (EABC) Angelina Ngalula said Africa contributed only 3 percent to global trade.
She challenged the East African Community (EAC) partner states to take advantage of AfCFTA which has a market of 1.3 billion people and a combined GDP of $3.4 trillion.
"Investing in Zanzibar offers investors a gateway to access the EAC and the AfCFTA market," she was quoted stating by a media release from the regional business body based in Arusha.
On his part, Mudrik Ramadan Soraga,the Isles minister of State responsible for Labour, Economic Affairs and Investment said AfCFTA was set to boost intra-Africa trade.
He expounded that Africa's level imports about $50 billion outside the continent, describing the hefty amount as a capital that could be invested to create and expand businesses and jobs.
The forum also heard a presentation from Dr Gainmore Zanamwe, Head, Trade Facilitation & IATF, Intra-African Trade Bank, Afreximbank.
He said the bank's (Afreximbank) interventions to increase intra-Africa trade and investment such as the Pan African Payment Settlement System and Africa Trade Exchange were solid.
Afreximbank has supported the Pan African Trade and Investment Agency to drive Africa Direct Investments and FDI into the continent.
Afreximbank has a 5 billion fund to support Africa's economic recovery. Afreximbank has provided financial services for the development of industrial parks in Unguja and Pemba.
The Zanzibar Trade and Investment Forum convened 300 delegates composed of officials from the Ministries and Investment Promotion Agencies, international investors and business leaders.
It was organized by Afreximbank in collaboration with ZIPA, EABC and the Zanzibar National Chamber of Commerce (ZNCC).
Afreximbank is a pan African multilateral financial institution mandated to finance and promote intra and extra-African trade
The forum took place at a time when the Zanzibar economy has shown impressive performance, growing at the rate of 7.3 percent between 2017 and 2019.