Taxi-hailing business to get new player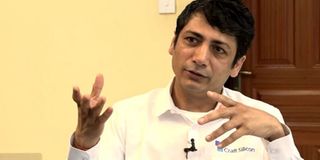 Summary
Car hiring services in Tanzania is expected to enter into stiff competition, after the Kenya based Little announced the launch of its services in Dar es Salaam this week.
Dar es Salaam. Competition in the taxi-hailing industry in Tanzania is expected to intensify further with Kenya-based Little planning to launch its services soon.
Unlike existing taxi-hailing firms, the new company, which also operates in Uganda and Zambia, is expected to come up with more incentives for drivers, which are meant to boost their incomes.
Drivers who will be connected to the firm's system will also have an opportunity to sell airtime and insurance policies and act as agents through which people can pay utility bills.
Little chief executive Kamal Budhabhatti said apart from Tanzania, they were also planning to launch services in Ghana in May.
"Our drivers are agents. They can sell insurance to you, they can sell (mobile) airtime, they can pay electricity and water bills for you...they can do all those little things, and that increases their income," he said.
The new company will also be available to people with smartphones, who will be able to hail a vehicle or motorcycle.
Little, which will compete with established players such as Uber, Ping and Taxify in Tanzania, is valued at between $70 million and $75 million, according to Mr Budhabhatti.
He added that the company was talking to investors with a view to raising about $50 million when the start-up opens up to outside investors for the first time. It aims to finalise this by July.
"We are meeting a couple of investors, both on the continent and in Silicon Valley. The interest is there," Mr Budhabhatti said, adding that the new funds would be used to develop technology and fund expansion to more countries. He did not name the potential investors.
Commenting on the new entrant, officials of existing firms said the development would not only increase competition but also boost innovation among services providers.
Uber East Africa spokesperson Janet Kemboi said competition and wider choice meant that players would have to up their game to improve services.
She said customers should have more choices as far as affordability and convenience were concerned.
Taxify public relations officer for Africa Marilin Noorem said: "We believe that competition is a good thing as both drivers and customers stand to benefit from it."
Additional reporting by Gadiosa Lamtey