Bunge heated debate over mega projects, IMF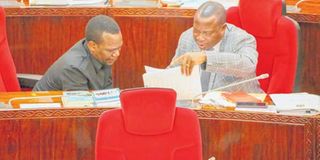 Dodoma. Members of Parliament (MPs) across the political divide yesterday expressed a mixture of concerns and optimism in the august House regarding the ongoing mega investment projects under the Works, Transport and Communications ministry.
Kigoma Urban MP Zitto Kabwe (ACT-Wazalendo) said the construction sector has been gobbling up 47 per cent of the ministry's total development budget since President John Magufuli ascended to power in November 2015.
The percentage, according to ACT-Wazalendo leader, translates into Sh18.7 trillion in a little more than three years. While some lawmakers lamented that Tanzania was not really benefiting from the multiplier effect of the massive investments in the sector, others defended this, arguing that return-on-investments in big projects could not be recorded overnight.
Noting that construction is one of the sectors with a huge multiplier effect, Mr Kabwe wondered "why our economy is in a downward trend despite injecting huge chunks of money into the sector!"
The MP was referring to a 'leaked' report of the International Monetary Fund (IMF) stating that Tanzania's economy would grow by four per cent in 2019. This is against the seven per cent growth which has been recorded for a consecutive ten years before the fifth phase regime took Office in November 2015. In his rejoinder, Finance and Planning Minister Philip Mpango dismissed the report.
"The IMF report does not reflect the reality. The African Development Bank and World Bank reports show that our economy would grow at 6.8 per cent and 6.6 per cent respectively," Dr Mpango rebutted.
Mr Kabwe, however, sought to fault the Finance minister, arguing that IMF is the only economic surveillance organisation depended upon by the world, and that even the World Bank and AfDB rely on information from the Fund.
He attributed what he called 'poor economic performance' to the current implementation mode of development projects, saying such a mode entertains money outflows rather than inflows.
In the event, Mr Kabwe backed his sentiments by referring the government's tendency of awarding construction tenders to foreign contractors, who then import most of the materials required for project implementation.
Further noting that some Sh1.5 trillion has been spent on procuring aircraft in the past three years, the MP said that, "as it stands, much of the money goes outside the country – eventually affecting internal money circulation. This is unacceptable!
"The growth rate of the volume of money in circulation was 15 per cent when the fifth-phase administration came into power in November 2015. Now, the same has gone down to three per cent according to Bank of Tanzania's (BoT) Monthly Economic Review of March 2019," he added.
Mr Kabwe's views were echoed by Momba Legislator David Silinde (Chadema), who attributed ineffectiveness of the construction sector to higher money outflows than inflows – citing importations of iron for the standard gauge railway project, instead of sourcing the material locally.
"We need to invest heavily in the Liganga and Mchuma coal and steel potentials so that such raw materials could be sourced locally," Mr Silinde proposed.
For his part, the Fuoni lawmaker, Abbas Mwinyi (CCM), urged the government to exempt Air Tanzania Company Limited (ATCL) from some charges such as landing and parking fees to cut the state airline's operational costs.
This, he said, would enable the national carrier to have multiplier effect on other sectors such as tourism, industry and agriculture.
Going by Tanzania Airports Authority (TAA) figures, the landing charge per 1,000kg-aircraft weight at Dar es Salaam, Kilimanjaro, Zanzibar and Pemba airports is $5 (about Sh11,500).
Parking charges for foreign-registered aircraft of up to 20,000kg are Sh1,000 for 12 hours, and $5 (Sh11,500) for locally- registered aircraft.
"It is very costly to run an airline. Various charges payable by airlines to responsible authorities reach Sh400 million a month," Mr Mwinyi lamented.
"ATCL is yet to stand on its own feet. Why don't we emulate the Ethiopian government, which has exempted Ethiopian Airways from paying landing, parking and navigation charges?"