Somalia seeks to move into the EAC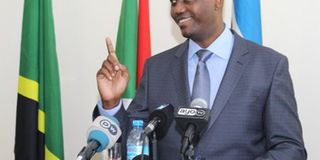 What you need to know:
A few weeks before the summit of the EAC Heads of State, Somalia is once again pressing for admission to the regional trading bloc.
Arusha. Somalia is once again courting for admission into the East African Community (EAC).
The war-wracked Horn of Africa country renewed its appeal to join the bloc a few weeks before the EAC Heads of State summit is scheduled to take place.
Somali's ambassador to Tanzania Mohamed Abdi was in Arusha early this week where he discussed his country's application with the EAC secretary general Liberat Mfumukeko.
"The meeting was a follow up on Somalia's application to join the EAC bloc", the secretariat said yesterday in a media dispatch.
Speaking after the meeting, Ambassador Mfumukeko confirmed that the process to admit Somalia into EAC was still on course.
He added that the secretariat will be sending a preliminary team to Somalia later this month "to assess the level of the country's readiness". This, according to him, would be followed by a verification exercise team on the same.
The team will be constituted by the EAC Council of Ministers, which is the policy organ of the Community.
The EAC summit is expected to take place soon, according to officials who intimated to The Citizen.
The location of the meeting has not been confirmed though some reports indicated it would take place in Arusha.
Article 3 (3) of the EAC Treaty sets out conditions for membership, including adherence to universally acceptable principles of good governance, democracy, the rule of law and observance of human rights and social justice.
Others are geographical proximity to and interdependence betwen it (the applying state) to the EAC and maintenance of a market driven economy.
Mr Abdi noted during his visit to EAC headquarters that his country was keen to join the bloc in order to strengthen economic integration so as to enable it compete effectively in international markets.
Somalia applied to join the EAC way back in 2013 but its application has been complicated by security concerns due to violent conflict in that country.