Was Magufuli CCM's best kept secret?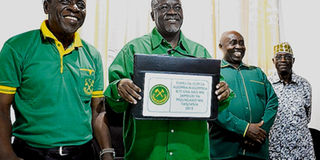 Summary
They argue that the outgoing President Jakaya Kikwete did not want to see Edward Lowassa become the party flag bearer.
Dar es Salaam. Political analysts portray president-elect Dr John Magufuli as a compromise or accidental candidate, who was nominated in July by CCM to ward off a possible fall out as a result of intense competition among rival camps in the presidential nomination process. They argue that the outgoing President Jakaya Kikwete did not want to see Edward Lowassa become the party flag bearer.
That, he had his own candidate who was definitely not Dr Magufuli.
The pundits go on to say that after being "chopped" from the nomination process, Mr Lowassa used his influence in the National Executive Committee to block President Kikwete's candidate. And so at the last minute the party had to settle for Dr Magufuli. It is fair to admit that this analysis had gained traction even some CCM members. The reason why tempers flared in Dodoma the day Mr Lowassa was "chopped" on July 10, was because his supporters thought their man had been sidelined in favour of Foreign Affairs minister Bernard Membe. It goes without saying that the two-Membe and Lowassa- had been the front runners and bitter rivals in the nomination contest.
Retrospectively, though, one wonders whether Dr Magufuli was not CCM's best kept secret for the 2010 elections; carefully chosen and prepared for the task ahead. He might not have been "compromise" candidate as some pundits portray him to be, but a candidate who was "anointed" and prepared in advance by the powers that be within CCM.
Firstly, he had concealed his presidential ambitions and so he evaded media scrutiny and mudslinging from rival camps within the party. This left his image intact.
Secondly, he was "neutral." He did not have "camps" or networks (mitandao) that have been so divisive and threatened the unity of CCM in the past decade.
Thirdly, his long nurtured anti-corruption image would suit CCM better at the time when the party's image had been spoilt by corruption.
In fact it is easier to see now that CCM would have had to carefully chose a presidential candidate that would be a match for a Lowassa's candidacy in the opposition. CCM, with its long experience in Tanzanian politics, and being fully aware of Mr Lowassa's long held presidential ambitions might have anticipated Mr Lowassa's next moves when, and if, they "chopped" him. In fact Lowassa has indicted in the past that he would stop at nothing to fulfil his ambitions.
In his inaugural presidential nomination campaign rally in Arusha on May 30 he dropped two strong hints. The first was the huge rally itself. It is not normal-and against both CCM's and NEC's rules and regulation- for an aspirant to hold rallies during party nomination. In fact CCM forbids campaigning during the nomination process.
The Arusha rally was a sign that Mr Lowassa was looking at the presidential race beyond the CCM's ticket. In his speech he also dropped another hint.
He said CCM's leadership should know that Tanzanians wanted change and, as the father of the nation Mwl Julius Nyerere once said, if they do not get it within CCM they would seek it outside CCM. It was at that rally that Mr Lowassa made it known that he would run as the candidate of change. And so the implication in his message was that if CCM bypassed him, he would decamp. It would be simplistic to suggest that CCM missed both signals.
Knowing Mr Lowassa's issues with credibility, who, then, would be a more formidable candidate to face him as the potential opposition candidate than Dr Magufuli?
CCM's re-claiming the anti-corruption platform during campaigns, with glee and fanfare, seemed to suggest that the opposition had swallowed a bait by opting for Mr Lowassa.
Fourthly, despite slowly leaning towards the opposition, the Lake Zone with its 5.9 million voters has always been CCM's stronghold. President Jakaya Kikwete received more than 70 per cent of the vote in the zone in 2005. Coming from the Lake Zone, Dr Magufuli could have been CCM's trump card to regain the Zone. The 2015 election results show that the strategy might have worked. Not only did Dr Magufuli win in all constituencies in the Lake Zone, but CCM also "rescued" the Mwanza city council from the opposition.
Fifthly, CCM had long prepared its members for a "surprise" candidate. Addressing the CCM 38th anniversary in Songea in February this year, President Kikwete said something to the effect that the would-be CCM presidential candidate was not "among those who were mentioned the most." He would be a person, he said, who would almost be "forced" to pick nomination forms. At the moment when President Kikwete was speaking six aspirants, including Mr Membe and Mr Lowassa, were locked in a "political jail" for "premature campaigns." No-one was talking about Dr Magufuli as the possible CCM presidential candidate.
Sixthly, Dr Magufuli collected nomination forms in a very peculiar manner; quietly; without fanfare. Most aspirants collected forms in Dodoma accompanied by tens or hundreds of supporters. They addressed the media and explained what they had in store for the country, should they be nominated. Magufuli went alone, collected the forms, refused to say a word to the eager journalists, and then disappeared, alone to collect endorsements signatures countrywide.
Other aspirants were accompanied by "campaign teams" and the press corps, and even held public rallies as they crisscrossed the country collecting endorsement signatures from party members.
CCM's nomination regulations forbid party members from doing things or saying things that might smack of campaigning. These include holding public rallies, posting or issuing aspirants' posters.
The Elections Expenses Act prevents aspirants from spending their own money while seeking nomination from their parties. All expenses must be met by the political party. Since CCM nomination regulations forbid "public campaigning" it is less likely that the aspirants who were campaigning were given money by CCM.
It is Dr Magufuli's manner of seeking the nomination that followed the law. Could it be that he had been forewarned?