ACT-Wazalendo threatened with deregistration 'for breaking the law'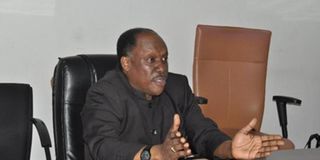 Dar es Salaam. The Registrar of Political Parties, Mr Francis Mutungi, has issued a notice of intention to deregister ACT-Wazalendo over reported breach of the recently enacted Political Parties Act.
Mr Mutungi has given the opposition party a 14-day ultimatum to defend itself and show cause why its certificate of permanent registration should not be revoked.
The notice is contained in a letter dated yesterday, March 25, 2019, and signed on behalf of Mr Mutungi by his deputy, Mr Sisty Nyahoza.
In the letter seen by The Citizen, Mr Mutungi says ACT-Wazalendo has lost eligibility of being a political party as per the Political Parties Act. Mr Nyahoza confirmed to The Citizen that indeed they had served the party with the said notice.
The party was accused of failing to submit an audited report of its 2013/14 financial records. It was also accused of breaking the law by allowing its supporters to burn other political parties' flags and using religious sentiments in the recent defections of new members.
ACT-Wazalendo's top leadership was unavailable for comment yesterday. However, sources close to the party told The Citizen that the move has shocked officials who were still contemplating how to respond.
The party's leader, Mr Zitto Kabwe, on Sunday ended a highly publicised tour of Unguja and Pemba Islands on a homecoming tour of former Civic United Front (CUF) secretary-general Seif Shariff Hamad and other officials who defected to ACT-Wazalendo last week.
Mr Hamad and thousands of his followers have decamped to ACT-Wazalendo after losing a long-running battle, including in court, to remove Prof Ibrahim Lipumba as CUF's chairman.
The Seif camp has accused Mr Mutungi of orchestrating the divisions in CUF by allegedly siding with Prof Lipumba who resigned from the potion only to make a U-turn after the 2015 elections. The registrar has denied the accusations.
Yesterday, former CUF director of Information and Public Relations Mbarala Maharagande said the registrar's threats point to a personal vendetta. "Mutungi is not happy to see CUF supporters flock to ACT-Wazalendo. If there is a violation of the law, legal measures should be taken where it occurred," said Mr Maharagande.
Yesterday's letter follows an earlier warning by Mr Mutungi, on March 20, during which he warned against acts of breaking the law allegedly perpetrated by Mr Hamad's supporters.
He noted that no senior ACT-Wazalendo official had come out to condemn these acts by their supporters.
In his response, Mr Maharagande said: "We have our internal party's procedures to deal with things of this nature. But if Mutungi is determined to revoke ACT-Wazalendo's] registration, then let him do so. We shall continue the fight. We won't stop."
Meanwhile, speaking yesterday in Zanzibar, the deputy political parties registrar in the Isles Mohamed Ali Ameir said that there was a need for political parties leaders to educate their members and followers on the establishment of political parties in the county so as to maintain both peace and order.
"Abandoning one party is not an excuse for stoking hatred or initiating violent acts," said Ameir.
"My office won't tolerate any political party which incites violence, including using religion or tribe for political purposes."