University of Dar es Salaam lecturer in sex-for exams claim defended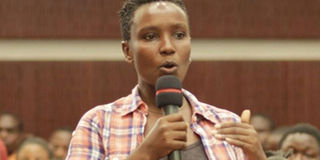 Summary
ACT-Wazalendo political party expresses surprise that whistleblower had been summoned by varsity's ethical committee for grilling

Dr Vicensia Shule's claim that sexual harassment was rampant at UDSM has raised major debate about the impact of sexual violence in higher learning institutions.

Dar es Salaam. ACT-Wazalendo women's wing has pledged to stand with the University of Dar es Salaam (UDSM) lecturer who raised her voice against rampant sexual harassment against women in the country's topmost and respected knowledge hub.
They also called upon the varsity's management to deal with the alleged problem instead of focusing on Dr Vicensia Shule who blew the whistle.
Dr Shule brought up the matter early in the week when President John Magufuli toured the university and opened a new library constructed by China.
The lecturer used her twitter handle to call for the President's attention on what she said was a serious problem afflicting the university.
Her comment has raised a major debate on social media over the impact of sexual violence in higher learning institutions in the country.  
"We have been shocked by reports that UDSM's lecturer and gender activist Dr Shule has been summoned to the university's ethical committee," said ACT-Wazalendo women wing acting secretary Mwanaisha Mndeme.
"That's a clear indication that they want to shut her down. We are sad that instead of dealing with the information provided, UDSM is focusing on the whistleblower," said Mwanaisha.
The party says it was closely monitoring the issue and warned it will intervene on her behalf should she be mistreated.
 "Standing with Dr Shule is standing with the girl and for free speech," the party said.
For her part, when contacted, Dr Shule confirmed she would be meeting the committee after she was summoned on phone.