25 years later: Why is Bongo Flava confined to borders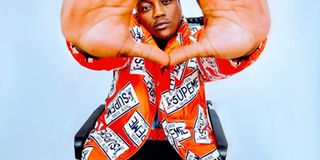 What you need to know:
Although some artistes have made noticeable inroads, knocking on the doors of international dominance, still Bongo Flava has had it hard penetrating and dominating the international market.
Bongo Flava is almost 30 years old since it first hit the airwaves, and to some extent, giant strides have been made to the extent of dominating airplay in regional radio stations.
From the legends, Dully Sykses, TID, Professor Jay, Mr. Nice, Juma Nature, and A.Y to Alikiba, Diamond Platnumz, pushing to the current era of Harmonize, Rayvanny, Marioo, Zuchu, Nandy, Jay Melody, and many others.
Although some artistes have made noticeable inroads, knocking on the doors of international dominance, still Bongo Flava has had it hard penetrating and dominating the international market.
Diamond Platinumz, Nandy, AY, AliKiba, Vanessa Mdee and Harmonize are recognized as highly accomplished artistes in East Africa, as they have managed to put Bongo Flava melodies on the continent's A-Artistes' playlist like Davido, Patoranking, AKA, Burna Boy, Papa Wemba, and many others.
Ali Kiba, who won the MTV EMA 2016, Rayvanny, who won the BET award, Harmonize, Vanessa Mdee, Nandy, and others have also been nominated in the various categories of African music awards on the whole continent, not just East Africa.
The Waah hitmaker, on the other hand, won many African awards, including the best African artiste in MTV EMA 2015, Soundcity 2015, Afrimma 2017, and the like, but was also nominated for various African awards, including BET Awards, MTV MAMA, Afrimma, and many others.
The question remains: why is it stuck within borders, unlike any other Afrobeat genre?
The Beat decided to find out the reasons that fuel the situation.
Some say "identity." Music producer Emmanuel Manecky, better known as Manecky, says the Bongo Flava music lacks its own identity, since almost everything that is done is copied from other genres from within the continent to other parts of the world.
"We are not using our own sounds as much as we should; we sample those produced by other music genres. Imagine that out of the top 20 Bongo Flava songs on different charts, more than three quarters are Amapiano and the rest are Nigerian sounds," he explains.
However, Manecky advises artistes to focus on improving home sounds and making them popular in the market so that they can bring competition to the sounds of other music markets that are currently famous, including Nigeria's Afro Beats and South Africa's Amapiano.
"You can't compete with someone by imitating what they do, but by adding creativity to what you do, you can use sounds from home, from our origins, like Singeli," says Manechy.
But, Lupaso Kidd, manager at the Made Music entertainment record label, says many Tanzanian artistes are talented, but they lack effective management for their music in the international space due to a lack of understanding of international issues.
"There are many of the best artistes in the country, but their management let them down; they think music is just money to record audio and video," he says.
He went on to say that it's also about better promotion strategies, artiste branding, and distribution of artiste's projects in the international market.
"Record labels should invest enough time in management so that their artistes are known internationally, not just focusing on the trends of Tanzania and East Africa," adds Kidd.
Speaking from experience of working to break the international music ceiling, soaring music producer, Salmin Kasimu Maengo, famously known as S2kizzy, suggests that a lack of creativity within the Bongo Flava music industry, keeps the industry stuck within borders.
"Artistes, music producers, video directors, and artistes' managers need to be creative at every stage, from production to promotion, so that the music of the respective artiste reaches more people, especially international audiences," he says.
S2kizzy adds that music management should also find chances for artistes to perform on international stage so that they get the experience and exposure needed to keep breaking barriers.
Lupasso Kidd, on the other hand, further adds that international collaborations are also as important as stage performances to ensure a successful breakthrough for an artiste.
Taking the likes of Nigeria's singers, Rema, Fireboy DML, and Tems.
"That's why there are few artistes who are heard outside, and their list remains the same. But if more artistes are given and look for opportunities to make music with A-listers in the music industry, Bongo Flava could go far beyond the continent."
What do the artistes say?
Bongo Flava artiste Lulu Diva says artistes should give each other international music connections by connecting them with different international producers, promoters, artistes, managers, and record label owners.
"Bongo Flava belongs to all of us; let's help each other in different ways to reach the international level and not fear each other that if a certain artiste gets international music connections, he will surpass you musically," she appeals.
For his part, Omari Mwanga, alias Marioo, adds that creativity and collaboration, "will definitely take Bongo Flava to the global market,"
On the same line, the African Princess, Nandy, says investing in artistes' works is of equal importance.
"Music requires an investment of time, energy, money, and patience so that you can reach the place you wish to reach. Artistes should not be afraid to invest in music because it is the best way to reach more audiences," she says.