Healing the invisible scars in Nduta refugee camp -VIDEO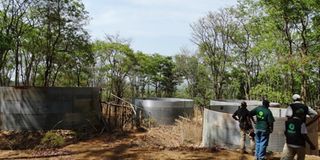 Summary
Despite the frustrations going on about few hundred kilometres away from the refugee camp in Kigoma, Burundians live in what they consider a 'temporary' home. Our reporter visited Nduta camp and explored an important but neglected aspect, the mental well being.
Fleeing from her Burundi home in fear of unrest, was bad enough for Mkeshimana*(29) who is now a refugee in Nduta camp, Kigoma region, Tanzania. However, she's battling a mental illness while struggling to raise her three young children in the absence of a father; and this compounds her agony.
"I am not here [in the camp] because I wanted to. It is not safe where we came from. The blasts were so loud, there was no peace…we feared for our lives,'' she tells Your Health.
"We had to run away in the night," recalls Mkeshimana whom Your Health found receiving counseling at a health facility run by a medical-humanitarian organisation, Médecins Sans Frontières (MSF); in Nduta camp.
According to mental health experts, witnessing traumatising events such as violence, assault and war can trigger critical forms of mental health disorders, leaving 'hidden scars' in victims' psyche.
For the refugees who flee their homes, facing a new life in a foreign country; and in the camp can be another sad story, such as the one being told by Mkeshimana and several other Burundians living in Nduta.
Mkeshimana says she used to run a small business with her husband back home in Muyinga Province, Burundi. But today life has changed. "We left everything back home. We depend on international organisations for food. I don't work,'' she says.
When she speaks, a faint smile crosses her face and fades out quickly. "One day I will go back home in Muyinga,''she says, with a sense of hope.
But soon, she wears a gloomy face as she narrates her daily experiences in the refugee camp; where she has been staying for over ten months now. "Sometimes I hear voices telling me not to go out to the borehole to fetch water for my children. Doctors said my mind needs to heal,'' she tries to explain her problem.
"My husband left me for another woman and it pains me a lot. I wish one day he comes back to me," she further tells Your Health in an interview.
Mkeshimana's medical history shows she had symptoms of psychosis way back before she fled from Burundi.
However, the poor living conditions in the camp may have aggravated her problem, says an MSF psychotherapist and mental health coordinator in the camp, Mr Peter Jengela.
"Initially her symptoms were mild but recently we diagnosed her with depression. We have been providing her with the necessary counselling and support. There are signs of improvement though,'' says Mr Jengela.
Mental health conditions are on the rise in Nduta. The camp now hosts some 127,000 Burundian refugees, according to latest figures from United Nations High Commission for Refugees (UNHCR).
Médecins Sans Frontières says that every month an average of 400 patients seeks consultations for various mental health conditions, a figure that has doubled since June this year. More than two thirds of the patients are female.
Majority of the patients (30 per cent) have been diagnosed with depression while 28.5 per cent have anxiety disorder. Others (11 per cent) have traumatic stress while 7.3 per cent have Severe Mental Disorder.
According to Mr Jengela, patients with severe mental health disorders at times fail to adhere to treatment because of poor living conditions and lack of close supervision while at their homes in the camp.
"When we discharge these patients, they go back to their communities in the camp where they don't have caretakers. We are working with other organisations to see how to help them but it's not easy,'' says Jengela.
"These refugees don't have enough food. The anti-psychotic drugs we prescribe to them can stimulate their hunger (as a side effect),'' he says. "Some patients tend to avoid the medication because they don't have enough food to eat thereafter,'' explains Mr Jengela.
Over a month ago, the World Food Programme (WFP) reduced the size of food rations distributed to refugees in the Mtendeli, Nduta and Nyarugusu Camps due to funding shortfalls.
And for Mr Tuyizere*, a 42-year-old who heads a family of eight, the best way to survive the poor living conditions in the camp is to live on the hope that one day, life will become normal. He is one of the mental health patients.
"When I'm here in the camp, I don't work anywhere. I used to own cows and goats in Burundi. I did no wrong to end up here. I plan to go back home in Burundi one day when I recover,'' he says.
Mr Tuyizere has suffered episodes of Severe Mental Disorder since July last year. He spoke to Your Health as he waited for a day's counselling session at MSF's mental health facility in Nduta camp.
Ms Valeria Nkurunziza, a counsellor with MSF says Mr Tuyizere could have been in a better position to improve and lead a normal life if the conditions in the camp were more supportive.
"He needs a supportive family, which he doesn't have for now. There are many things that can make his mental health condition to relapse, such as the lack of enough food and being restricted in the camp most of the time,'' says Ms Nkurunziza.
She suggests that sports and games can also be promoted in the camp to allow refugees beat off stress. "Staying in the camp for too long can trigger mental stress. Sports and games are a coping mechanism for some mental health patients,'' she says.
Your Health has learnt that sporting activities and concerts were banned in Nduta refugee camp due to securtity concerns.
According to the Medical Coordinator for MSF, Dr Kristi Payten, mental illnesses in Nduta are related to the precarious situation that the refugees faced as they escaped the unrest in their country.
Tanzania's Minister of Home Affairs, Mr Mwigulu Nchemba said in August this year that 12,000 refugees have registered and shown the willingness to return to their homeland. This kicked off in 7th September 2017.
Dr Payten says, "Uncertainty about the future and feelings of hopelessness contribute to the mental health conditions refugees are suffering from, and also the recent announcements regarding repatriations to Burundi,'' she says.
She explains that mental health and psychosocial problems are interconnected to shelter, nutrition, health, education and protection problems.
"These basic needs, if not available, have a big impact on the psychological wellbeing of the individual and the community in general,'' she says.
Since May 2015, MSF has been running a mental health intervention program in the refugee camps to support and improve the psychological well-being of refugees through individual, group counselling and through the psychiatric referrals.
"Disease does not just affect people physically but also the unseen, mental well-being of the person,'' says Ms Ursura Rincon, a psychologist and MSF's Mental Health Activities Manager in Nduta Camp.
"Here in the camp, refugees come from a situation that's very complex. They have suffered terrible situations in their countries,'' Ms Ringon explains as she speaks to Your Health ahead of World Mental Health Day.
In 2015, the World Health Organisation and UNHCR estimated that close to 80 million people were impacted by humanitarian emergencies arising from natural disasters and armed conflicts globally.
Further, the WHO estimated that 5 to 10 percent of these people suffer from a mental health condition such as depression as a result of the emergency.
As countries mark the World Mental Health Day tomorrow, the tales in Nduta camp uncover the stark reality that refugees with various mental health disorders have to contend with.