Prime
How music ignited Dj Ashlee's journey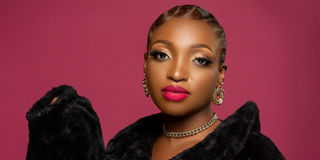 What you need to know:
The Straitup International DJ Search competition marked a turning point for DJ Ashlee's career, unlocking opportunities and introducing her to influential figures
Aika Dauson, renowned as DJ Ashlee, hails from the enchanting city of Arusha, where her remarkable story in the music industry unfolds.
At the youthful age of 26, she has etched her name among the music greats, exemplifying unwavering passion and unrelenting determination in her pursuit of a DJ career.
Ashlee's musical odyssey began in her early years, and her teenage devotion to music led her to an inspiring encounter with her cousin, DJ Gipson.
Witnessing Gipson's electrifying performances ignited Ashlee's passion for DJing, and she embarked on a journey toward her musical dreams.
"I saw my cousin playing music during family events and gatherings with friends. I was deeply inspired by him, and I started to learn from him," she recalls with fond nostalgia.
Despite initial reservations from her family, Ashlee's determination prevailed.
With her elder brother's support, she gained her parents' blessing to chase her dreams, marked by a resolute commitment to her chosen path.
Her formal education in the art of DJing commenced at the prestigious Furahia DJ Academy in Arusha, where she refined her skills under the tutelage of a renowned mentor.
Here, she absorbed the knowledge essential to thriving in the fiercely competitive music industry.
"My parents, after consulting with my brother, gave me their blessing to pursue my dream. They entrusted my brother with the responsibility, and without hesitation, I embarked on this journey," she recounts, her resolve shining through her words.
In 2018, Ashlee took a bold step towards her aspirations by relocating to the vibrant hub of Tanzania's entertainment, Dar es Salaam.
In an unexpected turn of events, a local club announced a DJ competition, which she enthusiastically joined.
Although she emerged as the third-place winner, job opportunities remained elusive.
"After participating in the competition, I had the chance to meet a variety of people. Winning also started to get my name out there," she recalls, reflecting on the experience that marked her emergence into the industry.
Undaunted by setbacks, Ashlee embraced the prestigious Straitup International DJ Search, sponsored by a prominent brand, a turning point that unlocked doors to her dreams.
She recall, "I remember meeting a multitude of DJs, including DJ Dommy and DJ Ally B, among others. One of these DJs not only introduced me to exciting gigs but also invaluable connections," with gratitude.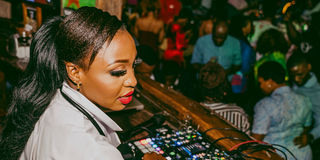 This competition unlocked doors that had previously seemed closed, propelling her into the spotlight and offering numerous job opportunities.
Securing the third-place position once again, this time her extraordinary talent did not go unnoticed.
Meeting influential figures like DJ Dommy and DJ Ally B, she not only gained exciting gigs but also invaluable connections.
Ashlee's music soon reverberated through Dar es Salaam's renowned venues, captivating audiences at major events and adding a distinctive flair to diverse settings, from restaurants and bars to artist performances, government functions, and media events. Her magnetic presence made her a highly sought-after talent.
Every path to success includes its share of challenges. Ashlee endured a period of unpaid work, with her employer claiming she was still in the learning phase. Yet, this setback failed to deter her spirit.
In 2022, Ashlee's persistence bore fruit when she secured a position at the prestigious Samaki Samaki Restaurant and Bar, marking a significant milestone in her career and providing a stable platform to showcase her talents.
DJ Ashlee's remarkable rise to fame is a testament to her dedication, talent, and resilience.
She serves as an inspiration to aspiring DJs and music enthusiasts.
Her journey from a small-town dreamer to a prominent music industry figure underscores that passion and determination can overcome any obstacle to achieve one's goals.
As she continues to make waves in the music scene, DJ Ashlee's story is far from complete.
Her future brims with promise, and she remains committed to pushing the boundaries of her artistry, entertaining audiences, and inspiring others to pursue their dreams relentlessly.
DJ Ashlee is living proof that the pursuit of one's passion can lead to a life of fulfilment and success.