Insurance: Uncompromising cover for smallholder farmers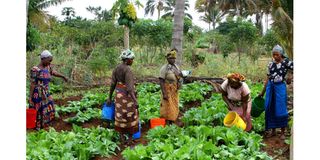 Summary
There is seemingly a long way to go before smallholder farmers get to know agri-insurance cover.
Dar es Salaam. The risk of unfavourable weather conditions impedes rural farmers from earning more and escaping the poverty cycle, though experts believe subscription to agri-insurance will reverse the course by protecting their potential income.
The current poverty rate stands at about 27 percent, with the majority living in rural areas dependent on subsistence farming, which is attributed by lack of capital resources that would have changed their farming practices.
As a result, the country's smallholder farmers face a multitude of risks which hinder them from being insured, these include being vulnerable to weather risks, especially with the drastic effects of climate change globally.
Other risks that farmers face include lack of access to credit which is instigated by the failure to provide collateral needed to access credit and insurance, and lack of a sustainable market for their produce.
Speaking exclusively to The Citizen, Mr Christopher Mazali, country director for Acre Tanzania Insurance Agency Limited, acknowledged the fact that the sector faces several challenges, hence agri-insurance was developed to mitigate the said risks.
Moreover, Mr Mazali disclosed that agri-insurance policy products were new to both farmers and that even among insurance experts as the latter do not have adequate knowledge in insuring the agriculture sector.
"Insuring the agriculture sector is far different from other insurance policies such as motor, fire, and health, the sector is prone to various risks related to climate change, pests, and crop related diseases, yet we do not have adequate agronomic expertise in the industry," he observed.
On the other hand, he said: "Due to their lack of insurance understanding and the fact that they were not necessarily raised with insurance in mind, most farmers are not interested in buying a policy. This has an impact on insurance uptake."
Moreover, Acre's country manager was of the view that the limited uptake may be partly due to low levels of financial literacy for smallholder farmers, but insurance providers also need to design products that are truly relevant to the farmer.
Mr Mazali noted that the need to raise awareness is vital if the country is envisioned in making sure that the agricultural insurance not only works for small-scale farmers in Tanzania, but also flourishes.
"A small-scale farmer needs more than a policy cover, Acre has created innovative financial solutions that enable banks to provide farmers with access to credit which is essential for purchasing improved seed, fertilizer, crop protection and other production inputs," he explained.
According to him, smallholder farmers and headers need access to affordable and high-quality insurance packages that will attract them to buying insurance policy cover that are in the market.
He added: "In response, we have introduced bundle packages, which are embedded with loans, the product protects farmers against default caused by severe weather events which directly affects farmers to service their loans."
According to him, other innovations that his firm is implementing to reach farmers with micro-insurance policy for agriculture, including the replanting guarantee product (RPG) which protects farmers against drought at the germination phase of crop development.
"As farmers purchase quality seed or fertilizer, they register for the insurance, pre-financed by the input company. Each farmer is provided with a unique coded card with simple steps to register on the mobile platform and once the registration is done then the cover period begins," he observed.
Adding: "In case drought affects the crop, the farmer will receive a text with their mobile phone which alerts him/her about their payment through a mobile money transfer or a discount on the next seed or fertilizer purchase."
Additionally, research suggests that the government would need to provide banking guarantee schemes through which banks increase their lending to farmers, this can be done by embedding insurance policy within the said loan, with its premium included within the loan interest rate.
According to them, if farmers' yields are adversely affected, the banks and farmers could receive an insurance pay-out, this could be used to offset the farmers' repayment against their outstanding loan, thus avoiding default risks, and for the farmers, the pay-out compensates income loss.
On the other hand, Mr Salum Mlaponi an insurance consultant believes that there are major issues that need to be understood when considering agriculture insurance, these include but are not limited to crop losses resulting from weather changes. In his article dubbed 'Need for Agriculture Insurance Pool in Tanzania,' Mr Mlaponi noted other issues such as financial risks, market risk resulting from wide input and output price volatility, as well as unexpected policy and regulatory changes that impact farmer decisions.
"Although agricultural sector suffers from various risks which impact financial capacity of the farmers, risk mitigations are insufficient for most farmers in Tanzania," the article reads in part.
It adds: "Consequently insurers consider agriculture as the high risk venture, this led to lack of insurance coverage especially to smallholder farmers, yet the growing uncertainties in the sector can only be successfully managed by means of insurance"
For Dr Richard Mbunda, a lecturer at University of Dar es Salaam (UDSM), agricultural insurance policy is vital in mitigating risks that a farmer may encounter.
"But the problem is our lifestyle, we were not fed on the importance of insurance in our lives, so the system is so fragile; we are the way we are just by God's grace, we are not accustomed to the insurance system," Dr Mbunda explained.
According to the don, still insurance practitioners and the government can start afresh by introducing it and make people aware of its benefits, lets establish a mechanism that changes our mindset even at a family level.
But Prof Mohamed Bakari, an associate professor with UDSM was of the view that the nature of the country's agriculture sector, which depends on a rain-fed, hinder insurers from reaching the sector.
"I don't see small farmers buying the said policy, after all; who is going to sell them, yet they are frequently exposed to the uncertainties of weather, they are not aware if it will rain, they don't control prices, so with such; they are not insurers' friend," he observed.
According to him, although agri-insurance is needed for small scale farmers, but it doesn't attract insurers in making the investments necessary to offer new products, in part, due to the high levels of perceived risk associated with agriculture, lack of technical skills and capacity, and the challenging economics of serving impoverished customers.
Therefore, agricultural and insurance analysts believe it is high time for policymakers and regulators to facilitate the uptake and implementation of agri-insurance schemes.
This would be done by developing a government-structured subsidy scheme which would make agri-insurance more affordable to farmers.
On the other hand, a clear framework and an effective operational plan from policymakers, financial institutions, and regulators are crucial, as through supportive regulation, the insurance industry can provide sustainable insurance products to the country's small-scale farmers.