Mzee Msekwa, the truth on Magufuli will set us free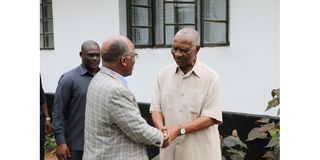 Former speaker of the National Assembly, Pius Msekwa, couldn't hide his displeasure at a recent article in a weekly regional newspaper that was critical of the late President Magufuli. Without directly mentioning him, Msekwa was taking aim at none other than veteran journalist, Advocate Jenerali Ulimwengu.
Quoting Msekwa: "It was only last week that a sympathetic friend sent me a scanned newspaper cutting of an article that was recently published in the 'East African' newspaper, which carries the provocative headline 'Tanzania needs some cathartic healing from Magufuli trauma'. When I read it, I quickly remembered these ancient wisdom pieces: - One is William Shakespeare's 'observation' in one of his famous Plays, that 'the good that men do, is often interred with their bones. But the bad lives long after them'.
"The late Magufuli certainly did a lot of good things for the development of our country, but the author of the said article seems determined to let all those 'good' things done by Magufuli be 'interred with his bones', by weirdly harping only on the late President's 'bad' deeds.
"The second, is the saying of the British poet William Blake, who said the following: - 'a truth that is told with bad intent, beats all the lies you can invent'. The tone of this writing shows clearly that the author is telling his story with such 'bad intent'; i.e. with a determination to do something harmful.
"The third, is our 'traditions and customs'; one of which advises us 'not to speak ill of a dead person'. This author is clearly in blatant breach of that highly respected custom. He may claim to be utilising his 'human right' to express his opinions. But, as President Samia said on a recent occasion, 'even human rights have their limitations'. She was condemning the evil practices of homosexuality, whose perpetrators also claim to be 'exercising their human rights'."
Reading the views of the seasoned politician in Msekwa only left me with a bitter aftertaste. By my reckoning, we are one country in Africa that warrants a special case study on its misfortunes.
A raw deal for the people is the glaring story of Tanzania for the better part of its existence. This is from the time Nyerere stepped down as head of state. Despite the severe economic woes that Tanzania underwent under Nyerere, our nationhood made us stand tall. Any president after Nyerere who was genuine in developing the country had at least something to start from.
Instead the 'leaders' were far more interested in the trappings of the highest office than bettering the lives of the people. To understand this well you only have to await the hour of succession in CCM and the tension is rife in every corner of the land not knowing what will be in store for them.
Nyerere had in 1995 even warned CCM against rushing its meetings to nominate a presidential candidate as it would be tantamount to ambushing its members and the country-at-large. They listened to him then probably out of fear as come 2005 and 2015 they applied their original plan. 
The sum total of CCM's ways serve to remind me of the late University of Dar es Salaam professor of sociology, Seithy Chachage, who would allude to our "collective imbecility".
A couple of years ago a former British cabinet minister, David Mellor, mocked FIFA's officials under Sepp Blatter, of "taking collective leave of their senses". That was precisely how Magufuli emerged as a presidential candidate I'm sorry to say. He would later joke that 'he was only beeping'.
We found ourselves in the hands of someone who had exhibited as cabinet minister an overtly bullying streak.
And tragically is the norm in Tanzania where many people fall over themselves silly whenever they smell power.
Some were even daring to liken Magufuli to Nyerere. That he was his rightful heir. Msekwa himself upon Magufuli completing his 100 days in office, drew similarities between Nyerere's "Uhuru na Kazi" (Freedom and Work) and Magufuli's "Hapa ni Kazi tu" (Here it is only Work).
The stage had thus been perfectly set for any sort of criticism of Magufuli to be deemed as unpatriotic. This was the most insidious territory Tanzania found itself in. Magufuli had arrogated himself to become a patriotometer!
In the words of a Kenyan political columnist, Makau Mutua, "a patriot is a person who loves his country but who harshly critiques it when necessary."
In Tanzania, we had now one man deciding who is a patriot. Anything said to the contrary was considered as "uchochezi" or incitement.
It is fair to say that those praise-singers, including the men of the cloth are as much to blame for the heights of impunity we witnessed. It is instructive here to cite the case of Nyerere and religion. In an opinion piece by Msekwa last June, he made reference to Nyerere as "also a devout catholic, but a strong campaigner for the separation of religion from politics."
Looking at Magufuli, it was opportunistically about promoting himself at every available pulpit. So even when human rights abuses were being carried out, all the means of justice were shut as he invoked the name of God. The people were effectively confronted with the reality of the guillotine.
If what our populace in significant measure underwent wasn't traumatic enough, maybe civil war is what remains. It is the duty of people like Adv. Ulimwengu to act for the many voiceless if we are to learn hard lessons for the future.