The invisible fourth estate in Samia's visit to South Africa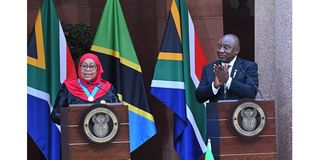 What you need to know:
There are a couple of questions of benefit to the wider public that could have been posed by Tanzanian journalists to both Samia and Ramaphosa
Last week saw the visit to the Republic of South Africa by President Samia Suluhu Hassan. My understanding of it was that it didn't fall in the category of a state visit but all the same it was important for bilateral relations.
Of Samia's visit, one aspect stood out for me as an oddity. I'm talking here about the journalistic fraternity from Tanzania. I fortuitously caught most of the press conference with the two heads of state and was struck at how the questions posed all came from the South African side.
A few things went through my mind.
Was it that the journalists were physically present but not to be heard at all? Or were the pressmen and women not at all present other than a few cameramen?
My small efforts to get an answer on this didn't yield anything useful. Whatever the reason, it depicts in the bigger picture a grim reality of journalism in Tanzania whereby journalists are regarded for the most part by officialdom as mere reporters. The height of political underdevelopment.
We have a most depressing situation obtaining in Tanzania over the years where across the entire gamut of government, officials have a predilection for answering the simple questions. If they were doing a school written examination, multiple choice questions would have prevailed.
It was only Julius Nyerere who had the temerity to face all manner of questions from local and international media.
The erudite Benjamin Mkapa went to the extent of promising to engage regularly with the domestic media but then soon wriggled his way out and left it to his press secretary.  He would even go on to tell a prominent international journalist, Riz Khan, in his twilight years as head of state, that Tanzanian journalists "really bore him" - how unpatriotic!
Mind you, his interview with Riz Khan wasn't exactly as hostile as the BBC's HARDtalk programme with Tim Sebastian that was an unmitigated disaster in January 2001.
And all this in the context of a president who by virtue of his position, used to be or could even still be the editor-in-chief of the Daily News.
Fast forward now to 2023, President Samia is yet to conduct what I would regard as meaningful media engagements.
The cumulative result of the putting down of the journalistic trade in Tanzania it seems to me is that when foreign presidential visits occur, our journalists remain purely in the shadows.
There are a couple of questions of benefit to the wider public that could have been posed by Tanzanian journalists to both Samia and Ramaphosa. I'm thinking here beyond the usual subjects.
It would have been great to get responses from the two presidents vis-à-vis the role of the Nyerere Foundation in SADC.
The Foundation is as good as dead and this in no small part is due to its poor leadership to say the least. Copious number of people will be unaware that Nyerere himself launched the Foundation in Johannesburg on the 17th October, 1997. In attendance was President Mandela and Mr Oppenheimer.
As he concluded his speech, Nyerere noted the following: "The Foundation does not itself expect to bring Peace, Unity and People-Centred Development to Africa - not even to parts of Africa. That would be absurd.
It's ambition is to help and facilitate work in these areas by - in part - bringing together the different actors involved in each case. So far it has been the Governments of this continent which have been taking the initiative in promoting sub-regional co-operation. But they need encouragement and, perhaps, a little nudging from time to time. It is the Foundation's belief that on matters relevant to its objectives, there is too little contact and co-operation between activists in the civil society, in business, trade unions and other social groupings.
We shall be trying to encourage and work with others who, in different ways, are trying to help our continent to develop together in peace and unity."
When imagining a real problem such as xenophobia in South Africa, I see absolutely no reason why the Foundation couldn't play an active role.
This would lead me to a further question of interest around Kiswahili. It is far from clear what is exactly happening.
It is very interesting that the leader of the Economic Freedom Fighters, Julius Malema, is an ardent promoter of African unity together with Kiswahili. Couldn't there be a meeting of minds between Ramaphosa and Malema?
Specifically on Tanzania, are we seeking exclusive arrangements on Kiswahili teachers?
These particular areas I believe would have been hugely beneficial for both South Africans and Tanzanians. Sadly it was just not to be.