Prime
Bata Msituni: When culture and tourism meet for fun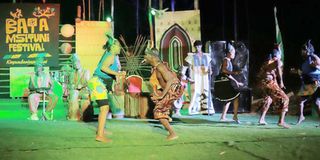 What you need to know:
For a few young minds, the thought of lost culture through generations was not an ideal world to be in. The task to put together an avenue through which young people can experience an array of Tanzanian cultures, explore the beauty of the country and have fun while doing it was the birth of a unique tourism entertainment experience
Entertainment in Dar is never in short supply.
We have some of the most creative social engagements and until recently, nothing had stood off my radar as much as the thought of partying in the forest.
All my fears were unlocked when I heard of this but the recently held Bata Msituni Festival was one for the books.
The Bata Msituni Festival is an annual series of events that bring together various aspects of local culture, tourism and youths from all walks of life. The main purpose being to honour, celebrate, promote and preserve Tanzanian culture that is slowly being watered down and forgotten as generations go by.
Organised by a youth led and licensed tourism entertainment company called Chino By Chino, The Bata Msituni Festival is one of the many products they put together. Their unique take however is that they hold their events in areas of tourism attractions like forests, national parks and soon marine entertainment.
Innocent Kabaitilaki the founder of this company shares: "Chino by Chino Travels is a company that has been organising tours to various national tourist attractions since 2019. We combine travel, entertainment and a camping experience in the places we visit."
"By 2022, we were able to visit Saadani National Park, the Uluguru Mountains, Chemka Hot Spring, Serval Wildlife, Materuni Waterfalls, Miwaleni Farm Spring and Pugu Kazimzumbwi, where our events became increasingly popular," he shares.
"Our participants are drawn to our events because of the nature of entertainment activities we offer such as music, food, drinks, fun games, and camping experiences and this is how the Bata Msituni Festival got its style," he adds.
In an effort to do their part as the youth to make Tanzania a destination for cultural tourism as well as showcase and relive Tanzanian cultural values, these events also provide a platform for all forms of local arts to be exhibited and celebrated.
After its implementation, the festival has been instrumental in providing a platform for local artists of diverse backgrounds to network, exhibit their work, inspire innovation and creativity, and equally be exposed to a larger audience.
The 2023 edition of the Bata Msituni Festival kicked off at the beginning of September with the first limited edition of what they called the 'Into the forest experience'. This event was held in the Pugu Kazimzumbwi Nature Forest Reserve in the Kisarawe district.
Working hand-in-hand with the government, through district level leadership, as well as the Tanzania Forests Services, this event was jam-packed with both exhilarating and fun activities. Of course given that this was an outdoor event that promised a full-circle type of experience, Chino By Chino also worked with Travel Partners on transportation, tour company, Kilivel Adventure Africa came on board to help manage the tourism aspect of the event; and camping partners, Tentco because what is a forest experience without sleeping on the ground with nature lulling you to dreamland?
We begun our experience at the Mlimani City pick-up point and up until I arrived there, I was severely questioning my decision. We arrived at the Pugu Kazimzumbwi Nature Forest Reserve and after a series of check-ins and verifications, we were first treated to a guide on what the forest offers by our resident tour guide from the Tanzania Forests Reserve Agency, Mr Omary Zebbo.
For those of us who are familiar with Dar es Salaam, particularly the Mlimani City area, there is a statue of a grasshopper right at the centre of the traffic circle that many of us probably find an irregular choice of landmark décor.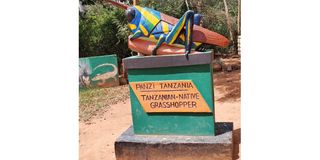 Locally simply called 'panzi', this little critter is apparently more Tanzanian than most of us. Kidding! This little bug is coloured like our national flag and is native to Tanzania, hence being named the Tanzanian Native Grasshopper.
Obviously, my relationship to the landmark at Mlimani City has been swayed, thanks to this missing puzzle piece of information.
The activities slated for the Kazimzumbwi Nature Forest Reserve were hiking, canoeing, tree planting, scavenger hunts, bonfire games and plenty of dancing and performances.
Once we arrived, we set down as we waited for our tent allocations, grabbed some grub and took plenty of photos. There was plenty of networking and my introverted self came out of her shell and made friends.
Just like me, many of us found ourselves there not fully aware of what to expect despite having already seen the itinerary. "Since it was my first time attending, I didn't know that much. I saw this event's advertisement from a friends post and I got interested, went to do some research about the event on their social media platforms, and I was interested to give it a try," shares Ms Diana Laizer.
"I was expecting to experience almost everything that was listed on the advert, especially the whole camping in the forest idea, hiking experience, and the party," she adds.
Mr Samwel Dominick, Events and Marketing Manager at Nilipe Technologies shares that he only found out about the event through their app and proceeded to do research on the event. "Since I'm a big lover of outdoor living, I was instantly interested in going but I did not really know anything about the Bata Msituni Festival."
"I did not have many expectations because of the cost allocated for the trip but I expected to experience a variety of festivities that are usually done on most outdoor trips. I appreciate what was offered and would only suggest that the organisers get more creative on the promised festivities and properly manage their timetables just to make sure everything is done on time," he adds.
Diana also adds that the party setup at the forest was cultural and beautiful, and the hand drawn pictures surrounding the place where the party took place were outstanding.
"I enjoyed hiking the most. It was exceptional and very challenging that during the hike, I started doubting my decision when we reached certain heights. However, the feeling I had when I reached at the top was exhilarating and I felt that I achieved something and explored what my body could do if I push it," she says.
She further adds that without a doubt, she plans on attending the entire series of events for the year.
For Sam, the music performances that were done in different languages and the overall idea of having a music festival in the forest was just a bonus leisure win for him as he got to experience something unique as this was his first forest music festival in Tanzania.
"Hiking was my favourite part of the experience because as I said earlier, I am a lover of outdoor living so hiking has always been my best activity and so with good planning and a properly managed itinerary of activities to be done in the upcoming events, of course I will attend," he said.
In this years' edition of Bata Msituni Festival, the upcoming events are Mdundiko Carnival which is slated for sometime in November and will be done around Temeke and Mbagala areas; and the final and big event being the Bata Msituni Festival to be held in Vikindu Forests in December.
The Mdundiko Carnival promotes Tanzanian tradition and culture (cultural tourism) through playing local Tanzanian traditional music played on traditional drums with people dressed in Tanzanian attires like the kanga and 'vibwaya', 'vingongoti' who are simply stilt performers as well as traditional magic tricks such as fire eating - all done on the road.
The event then leads to an open event area set up with a stage and a lot of other Swahili performances taking place like singeli music performances and many more traditional music from the vast tribes in Tanzania.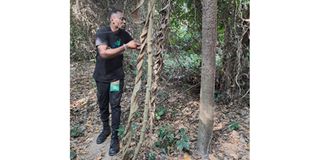 The Mdundiko Carnival is expected to promote culture and traditions that the youth are forgetting, carry out community fundraisers for expectant women going in for delivery who do not have the basic necessities to see them through e.g. maternity pads, diapers, etc. and should plans come to fruition, it is also intended to be a platform to hold a blood donation drive for these women.
"After the Mdundiko Carnival, we'll then have the main Bata Msituni Festival in December which will be held in Vikindu Forests, Mkuranga," Innocent explains. "The major difference between the September forest experience and the December one is the size of the forest. The Vikindu forest is bigger and a flatter terrain compared to Pugu."
The Pugu terrain was intense and required a lot of stamina, not just in hiking but even moving around the campsite and party area required a certain level of strength.
Also true to their vision, the organisers did provide a platform for artists and performers including painting artist Raphael Mteite, Dj MQ, Kido The Dj as well as the Makeke International performers.
This particular experience is fun, relaxing and a good opportunity to network and experience a unique Tanzania and like Diana, Sam and many of the other attendees of the Pugu event, I too look forward to seeing what these series of events promise to bring.
Seeing the youth work hand-in-hand with the government to push both nature and cultural tourism is also a bonus and truly an effort to be applauded.