How the friend zone changed relationship dynamics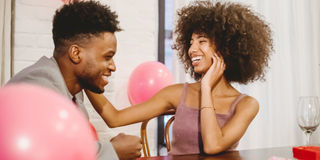 What you need to know:
Hearing the dreaded 'let's just be friends' line can put one in a funk, especially where one finds themselves deeply in love. The friend zone, as we've come to know it, has dramatically changed the dynamics of how relationships are approached and handled today.
In the ever-evolving world of relationships, the phrase "let's be friends," often pops up. It's a phrase that comes with different signals in any relationship; it can either mean the end of a connection or it's just a new chapter in the labyrinth of love.
Often expressed with a smile on their faces, being put in the friend zone can be quite hurtful. This simple phrase has a depth and complexity that goes beyond the words themselves.
Different people often have different responses such as was the case of a man in Singapore who sued his love-interest for $3 million over a trauma after she friend-zoned him. Others simply laugh it on and move on to the next person on the list.
Life and Style spoke to different people who have been in the friend zone at one time or the other.
According to a resident of Majumba Sita, Dar es Salaam, Edward John, the friend zone has various layers of meanings hidden in them depending on the type of relationship being pursued.
"Traditionally, and from my own experience, when someone says 'let's be just friends', they usually mean the end of a relationship. Most women prefer to express this in a subtle way by saying, 'I don't think that we can work it out or get involved anymore'," he shares.
On the same vein, Daniel Msuya says that when the sentence comes from him, he always means the relationship "door" is wide open.
"It's an invitation to keep the connections alive, but in a different form. Not all relationships are meant to last forever; some end before they start. I once had someone, but her behaviour wasn't something I was looking for in a partner to build a family with. But as a friend, we could keep the relationship alive because she's a good listener," he shares.
"So, 'door ajar' means that there is still the desire to maintain the connection and to be part of each other's lives," he says.
A Picha Ya Ndege resident, Mariamu Kibwana shares that it's all about an uncertainty in future.
"We usually draw fast conclusions when getting into a relationship without figuring out if we are ready or not.
So, by saying "let's be friends," I usually mean that I am not sure about my feelings and I need some time to figure things out. However, it can be difficult for a guy to understand because it can be a good or bad sign depending on how they interpreted it," explains Mariam.
Sometimes it's good to use the phrase "let's be friends" especially when both partners are on the same page about being friends.
Vingunguti resident Shakira Ahmad shares that when explaining how she understands platonic relationship.
"Honestly, the transition from friend to real love can be a fulfilling experience, but unless we both agreed on the matter," she shares.
Samira*, a resident of Tabata, says that sometimes women want to have a male friend rather than a relationship.
"Sometime in life, God blesses you with  a person who is truly genuine when it comes to friendships. So, some men don't understand this and start to take it as outright rejection. Deep down, we really appreciate them and we do care for them, but the thought of being together is where things fall apart," says Samira.
She further adds that: "If it works out, it becomes a beautiful testament. In the end, the friend zone continues to remain a fascinating element of the ever-changing landscape of love and connection in our modern world."
Latifa Karim thinks that it's all about how men have been viewing women as sex objects instead of being friends before the start of a relationship.
"Not all men, but usually most of them see women as sex objects. Many men build a sense of entitlement. If sex is not forthcoming, it is construed to mean the women question their masculinity."
"Our society usually tells us that it's impossible for a genuine friendship to exist between a man and a woman. All this is because men are viewed as only interested in having sex, and if they do not, women are taken to be selfish," shares Latifa.
Abdultrazius Hassan, complains that being in the friend zone is one of hardest thing in life especially when love runs deep.
"I can't imagine all the time I have wasted on her only to find out after a long while that She put me in the friend zone. If I didn't text her good night, she got angry, and when I didn't say good morning she hated me."
"The relationship was hollow and annoying to know that ours was a hot air relationship. I have friends but we do not text each other at every opportune time but when we meet, we have a good time. Ladies, it's better to be honest on this one from the very onset of the relationship," says Abdultrazius.
Social psychologist and President of the Tanzania Psychological Association (TAPA), Magolanga Shagembe says that the problem arisie as a result of what was started at the begining.
"The challenge always starts when one person goes on with the idea of wanting to be friends but the other has goals for a romantic relationship. Others try to create relationships with people they don't have time to be close with. When the time comes to express feelings, someone has already started to get used to you as a friend, and then it becomes difficult to accept you as a lover," he shares.
Adding to that, Shagembe further explains that being in the friend zone means that the person that you intended to be friends with isn't ready for you.
"There are always reasons why people find themselves in the friend zone. It may be that one of them does not meet the expectations when it comes to relationships."
"Others may want to take you as a substitute for their ongoing relationship. They have uncertainty about their current relationship and therefore keep the friend zone as a "waiting list."
Shagembe also explains that both genders often use the phrase just as much as the other.
 "I believe each of us has different feelings, criteria, expectations, and behaviours when it comes to loving someone, so each gender has their own way of how they treat the friend zone, depending on how the approach was made that onset," he elaborates.
Shagembe insists that the youth learn to understand other people's feelings and should avoid rushing things when it comes to love.
He further says that most of the time, when a person says, 'I love you,' they sometimes do not take it seriously; they take it as pressure, in which both parties end up in tears, pain, and hating one another.
"Young people should understand that the issue of relationships is something that requires a process which takes a long time and involves many steps," he shares.
"The first step in a relationship is getting to know each other, followed by friendship and finally romantic relationships. So if you really love someone, respect their feelings if they want you to be friends, it may be that they need more time to get to know you better," he shares.
He further adds that people also need to be honest when someone decides to friend zone the other.
"If you're in another relationship or you don't find the guy or lady attractive, it's better to be honest with them. Don't use the friend zone as a benefit because of their wealth, looks or status.
"It's better to start with a friend and fast forward to having sex. Some start relationships after having sex, and then they decide to sit down and get to know each other, which will be difficult. Let's all respect each other's feelings, and let's be honest and don't use friend zones as an excuse to lie," says Shagembe.
As Shagembe further says that there are subtle ways to let them know where to draw the line.
Avoid hanging out together alone
It's okay to hang out together, but sometimes it can create the notion that you love them more than you actually do.
To avoid such misunderstandings, you need not stop hanging out alone with them altogether, especially if you enjoy the company.
Instead, invite your mutual friends and try hanging out in groups with them as much as possible.
You must stop any form of physical affection
If you are aware that they are into you, try to avoid any form of physical contact like hugging, touching, pushing each other, and playfully nagging during conversations.
It may hurt them, and sometimes you might lose them forever, but it's better to be honest with them instead of giving them fake hopes that maybe in the near future, you will be together.
The more honest you become, the more they will eventually be able to deal with the situation a lot better and even continue to be your friend because they will grow to respect you for your honesty.