My journey to becoming a whisky expert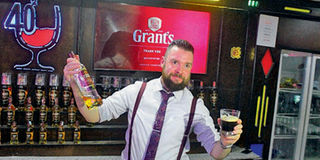 Summary
Daniel Dyer from Scotland was in Dar recently. He shares about his journey in the distillery world
It's no secret that revellers in the cosmo city of Dar es Salaam are cozy with their bottles. From local to foreign brands, anything worth imbibing is greeted with a warm welcome.
Recently, an expert in whisky with over 10 years of experience, Daniel Dyer, 29, from Scotland, was in Dar. While in town, he got to share a few bottles with fellow drinkers and talked about his journey in the distillery world.
Dyer's journey in the whisky business started when he applied for a job at a distillery at the age of 18. "It was a pretty foolish move, I thought at first" he confesses, "I had a horrible first experience with whisky when I was younger. I remember drinking a bottle of blended whisky and falling ill for days after," he adds.
After such an experience, deciding to apply for a job at a distillery was a bold move. Dyer needed the money so he didn't have too many options. "I explained to my prospective employer that I didn't like whisky but somehow they gave me the job anyway," he says. With an inauspicious start to his affair with whisky, what followed cemented his love for what has become his passion! "I fell in love with the history of whisky – it's the true Scottish history. We love this 'stuff'," he says.
Dyer then runs down memory lane by recounting stories of Scotsmen trying to get away with paying taxes, trying to evade the English excise tax man by putting the whisky in coffins. "We literally held funerals for our whisky just so we could get past the tax man. These stories really excited me, I found a true passion in our history of whisky," Dyer speaks.
Eager to learn, the novice was then accustomed to the appropriate whisky culture, such as taking time to smell the right blend, tasting it properly, and so forth. From a young apprentice, he went on to become a successful expert on whisky. Today, he sits boldly at the helm as Grant's global ambassador.
While working as a barman, Dyer didn't know what weekends were, "weekends weren't a thing to me. From working in distilleries, whisky shops, bartending, I'd work 10 to 15 plus hours a shift per day," he opens, adding, "But I'll tell you one thing; if you like whisky, become a barman, being a bartender is the best time you will have. The people behind that bar become your family."
It all started when he saw an advert on Facebook while scrolling through his social media feeds. It simply said, "Do you want to travel the world and sell whisky?" "I thought; I already sell whisky anyway, it'd be nice to travel the world," Dyer says.
In order to apply, one had to make a cocktail. "I didn't know a lot about making cocktails. So I decided to quit my job at the Scotch malt whisky society and applied for one at a whisky cocktail bar. I learnt very quickly about some basic cocktails. I then made a Grants' and ginger-inspired cocktail and sent it off. I later received an email saying; "Congratulations, you're down to the final 250 people".
This might have seemed like quite an achievement for Dyer, to get to this point he had to battle 5,000 candidates. "When you get an email saying 'congratulations' and then '250 people', that's still a lot of people to get past," Dyer admits. The next task required candidates to make a video explaining the three things they'd take with them if they got through to the final 20 people. This worked really well for Dyer because he had experience in acting, working in theatre and radio.
"I had a friend who had a camera; we got up the next day very early in the morning, had Grant's for breakfast. I remember it was a rare sunny day in Scotland. When we started filming I knew exactly what I wanted to do, what I wanted to be captured. At the very first take, we got a 30-seconds clip and I said this is exactly what we need – we then had some proper breakfast later," he recalls.
Dyer later got an email saying he was through to the final 20. "That's when it sort of started to get real, I started getting the happy nervous shakes," he says. The 20 finalists from all over the world travelled to Dufftown, Scotland, the home where William Grant first built the Glenfiddich Distillery and is considered the home of Grant's. "It was an amazing three days, when you find people who have the passion and knowledge just as you do, for anything, you become instant friends," he says.
Dyer made it to the final three. "I cried a little when I made it this far," he opens, "I'm not ashamed to say it, it's been a passion of mine for years so being that close to having my dream job was huge."
For the final part of the interview, the three finalists were sent to Russia, Taiwan then Australia. They were given three days in each country to show the judges what they were made of. Dyer and the rest of the finalists got to experience the different cultures in each country. "When I was there, it all seemed surreal," he says.
After the contest was over, he went back home. "I was back behind the bar, life went back to normal," he adds. But even though he was back to bartending, Dyer's mind wasn't really there, "I was just from living the dream and now there I was, back to the bar – which I loved, but it just wasn't the same," he admits.
After almost three weeks, Dyer got a phone and was offered the job as Grant's brand ambassador. "All I could say was 'Are you sure, thank you, and, are you sure?'" he recalls. He then called his parents, who've been supportive throughout his journey and told them the good news.
Dyer grew up in a working class family in a rough area near Glasgow, he is the second born of two children. His older brother also works in distillery. The two share the same passion for whisky. Growing up, Dyer new he didn't want to work as a bartender his whole life, "when you do something for so long, you become jaded," he says.
With a degree in acting and performance, he considered becoming a teacher, but before he could decide to change his career course, he got the opportunity to compete to become Grant's brand ambassador.
I met Daniel Dyer at an event in Dar es Salaam celebrating Grant's 25 years anniversary in Tanzania. Standing behind the bar at 40/40, a popular hangout spot in the city, Dyer was in his elements as he made various cocktails in front of a crowd with such dexterity. This was his first time in Tanzania.
His visit to the country as a brand ambassador saw him inaugurate the renaming of Grant's signature blend, Grant's Triple Wood. "It's so nice to experience a warm welcome from Tanzanians. You guys are so kind," he says.
His excursion in the country facilitated a bartender deconstruction and tasting of Grants whiskies to over 30 bartenders in Dar es Salaam.
Dyer's favourite drink to make is 'the old fashioned' – a mixture of whisky, sugar, bitters and orange peels. "It's such a simple drink to make, but it tastes so good. You really get the flavour of the whisky coming through and it's a cool looking drink," he adds. He recommends the espresso martini (mixture of whisky, espresso coffee, coffee liqueur, and sugar syrup.) as the ideal drink during the festive season.