Toying with rap music to runway: Mariam chances on modelling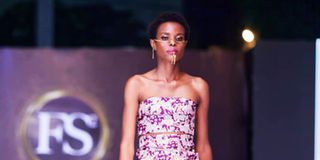 What you need to know:
For Mariam Kissa, a holder of a Bachelor's degree in Population and Development Planning, modelling was the farthest thing in her dreams. She wanted to be a rap artiste but changed her mind along the way to become a model
Dictates of fate sometimes turn the tables upside down for many people. What we have always wanted to be in life falls by the wayside, only to be replaced by what we have never envisaged before.
What this means is that one may choose a certain route in life, but fate may bring around a different option from what he or she wanted, but one would have no choice but to dance to the tune fate plays.
The narrative could be proven true by the story of Mariam Kissa, 33, a fashion model whose eyes were trained to become an artiste but ended up in the fashion industry.
She says during her early days as a teenager, she used to be a rapper with a dream to pursue a career in hip-hop music.
"I used to rap when I was in secondary school, and I wished to be the best female rapper in Africa," she says.
After she joined the advanced level of education (A-level) in 2019, she developed a passion for competing in the Miss Tanzania beauty pageant.
 It was her classmates and friends who usually urged her on, telling her that she had all it took to win the pageant.
 "All I can say is that it's God's blessing. But I admit the urge to get into fashion industry was also fuelled by being an ardent follower of Miss Tanzania beauty contests. Having watched the show, I developed passion inside me for the beauty and fashion industry," she shares.
She says that Miss Tanzania beauty competitions on television used to elicit pleasure and longing in her mind.
 "I started watching beauty and fashion shows at a very young age, but I never wished to become a model or a beauty queen at that time," she reveals.
She went on to divulge that Millen Magese, an internationally renowned Tanzanian supermodel who has done super stylish shoots with looks from Lanre DaSilva Ajayi and Tiannah's Place Empire, to mention but a few and posed in a series of shots by Felix Crown.
 "I really love her because of her philanthropy, and how she has been at the forefront of helping others reach their dreams," she says.
Mariam shares that she believes that  if she could not have weaved for herself as the best career as a hip-hop rapper had she stuck on, compared with her present career as a model.
"I don't think I was good enough as a rapper compared to the strides I have made in fashion as a model," she notes.
Today, Mariam has worked with some of the country's greatest designers, such as Ally Rehmtullah, Mustafa Hassanali, Martin Kadinda, and Wolperstylish, to name a few.
In East Africa, she has worked with Jonjo Fashion and OJ Fashion in Uganda, Roka Bags Africa, Fan1ce, Jamil Walji, and Eve Kouture in Kenya.
She has also worked with other designers and companies from France and the United States, such as Marta Zampolini, Noor Tribe, Endelea Official, from France, and Clavon Leonard and Milliana Jewelry from the USA.
She has participated in different fashion shows including, the French International School Fashion Show in 2022 and 2023, Upendo Fashion Explosion in January 2023, and Pwani International Fashion Show in Mombasa, Kenya, in 2022.
Mariam has also done catwalks on the Tribe called Afrika 2022, Fusion Fashion Show 2022, Church Fashion Show by We Look Glorious in 2022, Swahili Fashion Week from 2019-2021, Tanzania Fashion Festival 2020 and 2021, Kwetu-Kwetu Fashion Show 2020, Vitenge Vyetu Ufahari Wetu fashion show in 2019, Peroni Fashion Night Out in 2016, Lady in Red Fashion show 2015, 2021 and 2022, STB Fashion show 2018 and many others.
Mariam has many accolades to her name including Winner Face of Dodoma (Kisura) 2010, Tanzania Miss Super Model Dar es Salaam 2016, and the Best East African Female Model of the Year 2022/23 at Upendo Explosion Awards in Kampala, Uganda.
She has twice been nominated at the Swahili Fashion Week as the Female Model of the Year in 2020 and 2021, as the Female Model of the Year at the Pwani International Fashion Week awards in Mombasa, Kenya in 2022.
The list is endless. She has been the African Female Model of the Year at the African Fashion Designer Awards 2023 in Lagos, Nigeria, Female model of the year on Silver Awards 2023 in Ghana, Best Fashion Model of the year 2023 on Shining Stars Africa in Johannesburg, South Africa; and many others.
However, she says it was very hard on her family, especially her late father who did not like her choice of a career in modelling.
Mariam is a holder of a Bachelor's Degree in Population and Development Planning from the Institute of Rural Development Planning in Dodoma Region.
"They believed I should pursue a career in what I went to college to study. They didn't view it as a proper career," she says.
She continues, "Though more time and efforts were needed to become a successful model, my parents started to support me after observing how serious I was in the industry."
She adds, "They started to believe in my career after seeing me travel the world as a model."
Throughout her glittering career Mariam has continued to face challenges including inadequate financial support.
"I have been chosen to represent Tanzania in Miss Global in Vietnam where I need almost Sh12 million to cover expenses throughout my trip but I failed to get support from the government, individuals, and NGOs," she says.
She went on to lament that some designers, stylists, and event organisers don't value models when it comes to remunerations.
"If you refuse to do their work at a low fee that they dictate, they cut you off and replace you with another cheaper model," she says.
She continues, "Some of them do not have clear terms for remunerations while others lack in transparency on how and when to pay up. Models end up accepting any amount dangled before them," she laments.
One serious challenge is that of stylists, organisers, or designers showing hostility when one stands firm and demands for their rights. It becomes difficult to work with them as they will not consider you for the next events.
 "Some of them have invented lies that they can't work with same model they had worked with in previous events. They say that they need to promote new faces in the industry but the reason behind this denial is because of the previous disagreements."
She recommends respect by the designers, event organisers, and stylists.
Owing to the nature of this job, those in the industry should look closer into the issue of remunerations.
 "This career has provided employment to many youths in the country, and besides, we represent our country in different international fashion stages. We should be respected for that."