'There's more to students' failure than meets the eye'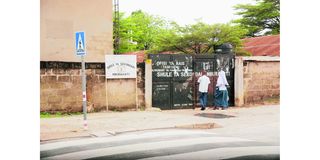 What you need to know:
Success reveals the causes of the two city schools' mass failure, one of which had nearly half of its students attain division zero
Truancy, overcrowding, indiscipline, and teacher-pupil ratio have emerged as factors summarising the story of hundreds of students who scored division zero at Dar es Salaam's Mbagala and Mburahati Secondary Schools, Success has learnt.
At Mburahati Secondary School, intervention is needed to change the situation at the school, where students are accused of all kinds of misconduct in an unfriendly learning environment.
Teachers and neighbours believe the poor performance in last year's Form Two exams is a grim reflection of the dire situation that the school is facing. Nearly half of the students at the school, which is situated in one of the busiest slums in the city were recently reported to have obtained division zero.
In the just-released Form Two National Assessment (FTNA) 2022 results, which were announced on January 4, Mburahati and Mbagala schools made headlines in both social and mainstream media following the shocking performance.
The results stirred a public debate, with some people making sarcastic comments. However, not many are aware of the environment in which these schools operate and the challenges that the teachers, students, and even the parents go through.
Mburahati Secondary School
Located approximately 1.5km south of the National Institute of Transport, Mburahati Secondary School is in the heart of a slum, with most of its residents facing the daunting task of making ends meet.
The school's fence is in deplorable conditions, with many escape routes making it easy for teenage students to make their way into the neighbourhood.
In that exam, almost half of the 504 students who took the test (45 percent) scored in division zero. There were no students in division one; five students scored in division two; nine in division three; and 261 in division four.
In the 2021 FTNA results, 239 students from the school took the exam, where six students had division one, ten students had division two, 25 students division three, 121 students had division four, and 77 students had division zero.
A survey by Success shows that some students have been jumping over the fence and disappearing into the squatters around, which, according to some sources, is the reason for the poor performance.
One of the teachers says that sometimes students end up in neighbouring houses, where they smoke marijuana and engage in underage prostitution.
"They do run away to those houses, and when teachers follow up, the owners lie to not have seen any student," says one teacher who preferred anonymity.
Another thing the teacher brings up is that many students selected to study at the school are incompetent due to the Primary School Leaving Examination system, in which students guess over multiple choices instead of explaining themselves when answering questions.
According to the teacher, students at the school have the lowest grades from primary school. He says the school with 1,600 students and 30 teachers needs at least 13 more teachers. "The school has enough classes but there isn't enough space to build more."
Mbagala Secondary School is no different from Mburahati as far as the factors that contributed to poor performance are concerned. Located approximately 2.9km from the main bus stand in Mbagala, the school has 4,000 students. It has 68 teachers, five of whom are science teachers. In this year's FTNA exam, the school also trended on social media due to a large number of students as well as poor performance.
Mrs Mariam Mushi, the headmistress confirms the shortage of science teachers is a challenge. She declined to comment further. A total of 1,248 students took the exam, with 204 obtaining division zero, 899 division four, 89 division three and 44 division two. Twelve students got division one.
In the 2021 FTNA results, 574 students took the exam where 10 students got division one, 67 students division two, 125 division three, and 270 students division four, while 102 students acquired division zero.
In this school that is not fenced, poor control of students, a shortage of teachers, and indiscipline are cited as major reasons for the poor performance. The school is also surrounded by drug addicts.
Revelation by local leaders
According to Mburahati area leaders, the neighbourhood is surrounded by marijuana smokers, prostitutes (some of them are parents), and homosexuals, a situation that has become a source of interruption of studies and poor performance among students.
"Many students here have been jumping the school fence, some live in the 'ghettos' owned by gangs that smoke marijuana and play games (gambling). This has been affecting the performance of this school," said one of the leaders (name withheld).
More shockingly, they claim that a few weeks before the FTNA exam in October/November, some students who had dropped out of school and joined gangs and gambling games had to return to school to take the exam.
"Imagine these students had been out of school for more than three months, and were brought back in two police patrol cars to take the test. That's why some wrote insults on the exam papers while others didn't answer the questions at all," the source explains.
In this school, last year (2022), a teacher had his cell phone robbed by a student while he was on his way to the classroom to teach. The student jumped over the fence and disappeared.
Success is aware that local authorities have been working with the community police and the police force to ensure students attend school, although some parents have been an obstacle.
"We have been trying different measures, such as relocating the homosexuals and other criminals or having them 'locked up'. We have even convinced landlords to rent them out of their houses, but it has been difficult due to homosexuality being linked to human rights," he regretfully explains.
He says most of the parents are single mothers and that most fathers do not care for their families, which has led to some students not paying attention to their studies but instead engaging in unlawful activities to earn a living.
"We have sat with parents and students involved, we have sat with teachers, rental house owners, and religious leaders, but we do not see any results. Most preachers today do not preach about avoiding sin but are instead e focused on preaching about miracles."
For Mbagala Secondary School, things are not very different. They say the challenge has been the lack of a fence, something they have been complaining about for years considering that the institution is located in a residential area.
"We have three marijuana smoking centers here and students usually frequent these areas," says one of the leaders at Kichemchem Ward, where the school is located.
He mentions the marijuana points as; Uwezo B, Miti Mirefu, and Miti Shamba, where the community police have been unsuccessfully hunting the gangs.
"If you walk around, you will find girls and boys in school uniforms gambling during class hours. In 2020, a student was raped and a teacher stabbed by a student," he reveals.
He explains that some students are sometimes caught with weed in class. "Parents' participation in their children's academic development is a big challenge because some don't even show up at school meetings." A female teacher (name withheld) says some students make her work difficult. "One of our colleagues was stabbed by a student, so we are very scared, especially considering that one class has more than 50 students; it is really a challenge. We usually ensure we leave the school premises before the students' home time, a time that we could have otherwise been using for extra coaching for Form Four students," she notes.
Mbagala Member of Parliament, Mr Abdallah Chaurembo, says the drop in student performance should not be linked to the lack of the fence.
He explains that the role of parents and teachers is to ensure students do well in their studies and are morally controlled. He says since time immemorial, people have been attending schools without fences or classrooms in some areas, but they perform well in class.
"The president has done a great job of building enough infrastructure, so I don't believe that the fence is what causes students to smoke weed. A student who is not well mannered will just escape even if you put up a fence," he explains.
He says since it's not a boarding school, even if you put up a fence, students who are brought up in a bad environment will still go smoke weed after school.
"The basic thing is cooperation. If each parent fulfills their responsibility, then all these other things will be put under control," he says.
Regarding teacher shortage, Mr Chaurembo says; "Let me just tell you that a student only gets 40 percent of his education at school and the rest 60 percent from his parents, so these are just excuses."
Local leaders and teachers in Mburahati and Mbagala suggest that the schools should be allocated Form One students who have scored marks starting from 160 and above in the primary leaving exam. They say those with lower marks should go to vocational schools.
A teacher at the Mburahati school reiterates the issue of parents' ignorance.
"When you summon a parent to come and discuss their child's progress, they never come. They even avoid buying their children exercise books, this is a negative effect of the fee-free education policy," he explains.
Talking about the students who will have to repeat Form Two, the teacher says a large number of them will eventually drop out of school.
He recommends that the government set up a system whereby misbehaving children would be kicked out of the educational system and their parents would be responsible for paying for their school expenses.
Police, religious leaders
One of the police officers responsible for gender issues and child protection at the Mburahati police station (name withheld as he is not the station spokesperson) admits the existence of such behaviours in the area.
"At the Mburahati School, I have witnessed students arguing with a teacher. Students have been jumping over the fence, but some of them were tracked down and sent back to take the FTNA exam," he says.
He says they are currently focusing their efforts on teaching children, young people, parents, and community members, in general, about the effects of misconduct and bad morals.
"This is a strategy to save and change our children because we can't do so with guns," he explains.
According to a religious leader at the Masjid Husna mosque in Mburahati, the habit of students smoking weed is heavily condemned, and that is what they (religious leaders) have been doing.
"The local and ward governments have already involved us, and we are directing our teachings there. But parents must be in the front line to protect their children," he explains.
Ms Ann Nzige, a resident of Kichemchem in Mbagala Ward, says many students have been gambling during class hours because of the lack of a fence.
"A fence will be helpful as children will have to go through the gate where there will be a guard. The way it is now, there is just too much freedom," she wishes.
Regional education officer
"We have seen the results, poor performance is not in Mburahati and Mbagala secondary schools alone, many other schools have performed poorly. We have already come up with strategies to deal with the situation," says Mr Alhaji Maulid, the Dar es Salaam Region's Education Officer.
He says his office wants to know where the problem lies, whether it is with the teachers, parents, or students themselves, and find a solution to eliminate the unsatisfactory results in schools.
"We will sit with the teachers and parents to see how to go about it because the assessment has helped us discover that the challenges are beyond the infrastructure…," he notes.
"We do not blame these evaluation results; rather, they have shown us where we need to improve," Mr Maulid explains.