Necta releases Std 4, Form 2 assessment results, general performance drops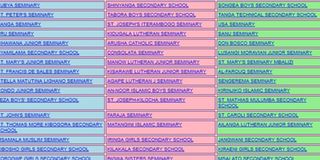 Dar es Salaam. The National Examinations Council of Tanzania (Necta) has released the results of the Standard Four National Assessment (SFNA) and Form Two National Assessment (FTNA) conducted in October and November 2022, with the results showing a drop in performance compared to that of 2021.
According to the council, a total of 1, 718,896 students were registered to take the Standard 4 exams, including 870,999 girls (equal to 50.67 percent) and 847,897 boys (equal to 49.33 percent).
Of the registered students, 1,592,600 students equal to 92.65 percent, took the test. 126,296 students (7.35 percent) did not take the test.
"A total of 1,320,700 students out of 1,592,235, with results, and 82.95 percent have passed by getting grades A, B, C and D," said Mr. Athumani Amasi, acting executive secretary of NECTA.
According to NECTA's statistics, in 2021, the students who passed were 1,347,554, equal to 86.30 percent.
In addition, a total of 690,341 students were registered to take the Form 2 exams, including 367,013 girls, equal to 53.16 percent and 323,328 boys, equal to 46.84 percent.
According to Necta, 635,130 students equal to 92.00 percent of the registered students, took the test, including 342,210 girls (93.24 percent) and 292,920 boys (90.60 percent).
"A total of 539,645  out of 633,537 students with results which is equal to 85.18 percent have passed by obtaining Grades I, II, III, and IV," said Mr Amasi.
Among them, he said, girls are 283,541, equal to 83.05 percent, and boys are 256,104, equal to 87.67 percent. This performance, however, shows a drop compared to the year 2021, where there were 555,857 students who passed, equal to 92.32 percent.