When losing sight is not path to indignity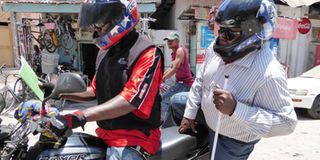 Summary
"Being visually impaired makes my life better than when I could see. When I was able to see, I didn't see so many opportunities as I do now. I think better now and I don't worry," 56-year-old Abdallah says.
Abdallah Nyangalio believes that losing his sight has given him more insight. When he could still see he was more careless and less aware of his chances in life, but as a visually impaired man, he senses the opportunities he has for shaping his own existence. After losing his sight he has emerged as an independent tailor in Mbagala, Dar es Salaam.
"Being visually impaired makes my life better than when I could see. When I was able to see, I didn't see so many opportunities as I do now. I think better now and I don't worry," 56-year-old Abdallah says.
He lost his sight when he was in his 30s after going through an operation for high blood pressure. After the operation his family began to ask among themselves who should take care of him, and he feared that he would become a burden to them.
So when his doctor told him that he would like to teach him how to sew, Abdallah instantly liked the idea. After three months he felt ready to sew his first piece of clothes. Before he lost his sight, Abdallah used to sell second hand clothes, and his first tailored piece was a pair of trousers for himself. He wanted to shorten the trousers, but he cut too much off and they ended right under his knee. It looked odd. Abdallah decided to sew the trousers together again, and when he finally wore them in public people told him that they liked the style.
Abdallah had paid in blood for those trousers. While cutting his trousers, he slit his hand badly and had to rush to the hospital to have the wound stitched. He recovered quickly and found his own sewing techniques. He measures clothes by the size of the customer's hand. My multiplying the size of the palm he figures out the right sizes. The method has never failed him.
"I began to shorten more dresses for my children to wear, and people started to wonder: How can he sew so well? Then I gained confidence," Abdallah says.
Since then he has worked as a tailor in his home in Mbagala. Last year Abdallah made clothes for former President Jakaya Kitwete and he has tailored garments for several Members of Parliament. On this Monday morning he has boarded the bus to Kariakoo to buy three sewing-machines for training sessions with other visually impaired people in Dar es Salaam.
Abdallah will volunteer to teach both young and old how to thread a needle, measure and design clothes in a project run by Tanzania Trade Development Authority (TanTrade).
"I don't want my fellows just to sit in the streets, but to do like me. Because it is possible! I started this work because otherwise I would catch diseases by sitting still, and I wanted to make myself independent. I wanted to be a role model," Abdallah explains.
He would like people with and without visual impairment to be treated as equally as possible. When he walks around his own neighbourhood in Mbagala he always talks to people around him and integrates as much as possible in everyday life, and he is met with a positive attitude by his surroundings. At last, he doesn't like to hear the word pole all the time.
"Don't feel pity for me. It's a disability, not a disease. When I can manage my life, I feel comfortable," Abdallah says.
Although Abdallah has created his own career as a blind tailor, it is not common for blind people in Tanzania to engage and succeed in entrepreneurship or craftsmanship.
There are many challenges to face as a blind woman or man in today's society, although things are changing, the CEO of Tanzania League of the Blind (TLB), Jonas Lubago explains.
"There is improvement in the communities, but it used to be terrible. When you go through Tanzanian cultures, you will see disability as a curse. If a blind man proposes to a woman who can see, she feels like a curse is being laid on her," Jonas, who is also visually impaired, says.
TLB has around 35,000 members nationwide and the organisation provides trainings in entrepreneurship and tries to empower their members to initiate small businesses like farming. As a blind entrepreneur you have to be vigilant. Since you depend on other people you are more vulnerable. The Secretary General of TLB, Emmanuel Simon, tells of a man who ran a boda boda business, but found that the driver did not bring back the motorbike rent that they had agreed upon. The entrepreneur found it hard to follow-up on the problem and essentially managing his business without losses.
"Sometimes they say that challenges are lessons. Though, if there were not these challenges, these people could move even faster than the rest," Emmanuel says.
Both Jonas and Emmanuel are educated as teachers which is one of the most common professions among people with visual impairment, along with jobs like social welfare officers, lawyers and even advocates. Jonas explains that often times the challenge lies in education rather than securing a job. Access to education requires resources which are particularly scarce for people in the countryside, but once you have an education, jobs are available.
"People like to say 'Seeing is believing'" Jonas says and chuckles, "We don't use that phrase", he says.
Among the ones who believe in change without visualising it, is 51-year-old Flora Dea John. She grew up in a village in Rukwa Region and when she was five years old she survived the infectious disease of smallpox, but it made her visually impaired.
Despite her blindness she went to school in Tabora and continued her education in Korogwe and further at a teacher's college in Mpwapwa near Dodoma. For over 20 years she has been working as a teacher, and currently teaches Kiswahili, Civics and Vocational Studies at a primary school near Tanga.
She teaches subjects that does not require extensive writing on the blackboard, so she can explain herself orally. When she reads, she uses her hands. The students respect her and she sees no reason for her not to be happy.
"I have gotten used to not seeing. In the beginning I couldn't, but after growing older it becomes easier. And for this time, I have a job, so why shouldn't I be happy with my family? I am visually impaired, and so what?" Flora asks.
Next to her is her 23-year-old daughter Josephine Raphael Noah. They have both come to the office of TLB in Kariakoo, and Josephine helps her mother with weaving a stool in the colours of the Tanzanian flags.
She and other women weave the stools before they take them to markets and fairs for sale. Josephine balances the stool on her mother's knee, but in their home near Tanga it is Flora who upholds the standards of cooking and cleaning.
"She is doing everything. Cooking, moping, everything. I have been happy to grow up with parents who are visually impaired. It is normal for me," says Josephine whose dad is also visually impaired.
Flora herself is satisfied with her life, although with age comes different worries about the future. It troubles her that she can't afford a proper education for Josephine, who would like to pursue hotel management. Other than that, she feels at peace with the world, she explains as she weaves the colour green into her stool. "It will look good, if one puts flowers on top of it," she says.