What the future holds for modern-day marketers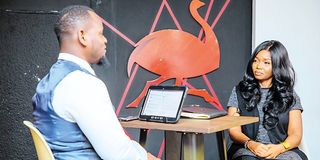 What you need to know:
Digital inclusion, which would increase access to online communication channels even in Tanzania's remote regions, is necessary for the seamless integration of conventional and digital media
Dar es Salaam. With technology and digital development impacting almost every sphere of life, it is inevitable that the disruption will lead to conversations about sustenance and adaptability.
In the world of advertising and marketing, evolution and revolution have been felt far and wide. But to what extent has technology affected this field where visibility creates perception and builds brand affinity, thereby influencing the choices consumers make?
The Citizen recently sat down with Ms Beatrice Nyamari, the managing director of Smart Codes, a company that prides itself on being one of the most technologically advanced in the field of advertising and marketing in Tanzania. The conversation occurred against the backdrop of the 2023 marketers' summit, dubbed the Tanzania Digital Summit, with the theme "The Future is Fusion".
It is from this concept of blending two contrasting realities that the need to focus on what lies ahead in the field of brand communication becomes potent.
Ms Nyamari, a Kenyan national, describes herself as a marketing innovation champion. When we had a chat with her right after she was appointed to the top job at Smart Codes in 2022, she said that one of the things that influenced her to accept the new challenge was her passion for innovation and the path that her new employer was taking in that regard. "Smart Codes has been on a journey to lead innovation to stem change in how brand communication is done with innovative solutions," she said.
With innovation being the cornerstone of communication in today's corporate world and beyond, and going by the discussions that are happening in the fields of public relations, advertising, and marketing, it begs the question of whether brick-and-mortar advertising and marketing companies are dying away.
Ms Nyamari, however future-focused and ahead of her time she is, still finds relevance in the rudimentary ways of brand communication. She grounds her reasoning by highlighting the basic role of what advertising and marketing companies do. "Agents deliver context to consumers based on what we call briefs from the clients or the projects they are working on for a specific audience. So, depending on what audience they are targeting, what determines where you go is a media mix," she elaborates.
Ms Nyamari says a media mix is a blend of traditional media, or what is known as "offline media," and digital media, all integrated to create one experience.
"We cannot safely say that one is going to die over the other. Market data shows that traditional media is still key but that there is growth in digital media, and hence it is important for us to have the fusion because one cannot live without the other, and this is justified by market trends," she says.
The marketing expert then highlights the core role of brand communication and what agencies are expected to deliver. "We are supposed to steer clients in the direction that is important in the delivery of their objectives. It is the objective that determines where you land," she explains. But what should be considered before even deciding whether to blend digital and traditional media, she says, is knowing who the consumer is and understanding what they want.
In order for the fusion between traditional and digital media to work seamlessly, there is a need for digital inclusion that would expand access to online channels of communication even in the remote parts of Tanzania. In this endeavour, the government has in recent years ramped up efforts to increase digital penetration, be it through constructing the National ICT Broadband Backbone (NICTBB) or auctioning spectrum that enables telecom companies to offer multi-band frequencies that increase internet speed, reduce operating costs, serve more Tanzanians, and accelerate digital inclusion.
"The biggest point of contact for consumers in Tanzania is the mobile phone, before we even go to things like tablets. So when we talk about the mobile phone, we cannot escape talking about mobile phone penetration. When we look at how many people have smartphones versus feature phones, you will realise that we are not there yet," Ms Nyamari says.
She says there is perhaps a need for mobile network operators and the government to come up with a mobile acquisition plan that will enable consumers to access high-tech services such as 5G. "There is a need to ensure that the handsets are actually accessible to the users," says Nyamari, believing that it is the only way we can start talking about an integrated, faster way of digital growth. "We need to make phones cheap enough so that they can reach even people in rural areas," Ms Nyamari reiterates.
She says that it is clear that digital transformation is the path we are currently on, but how we get to the destination in 10 years is still a learning path for all of us.
Sharing market insight into what is trending in Tanzania's advertising and marketing space, Ms Nyamari is quick to point out Artificial Intelligence (AI).
 "We can't run away from the AI conversation. We have had AI for a while; it is only now that marketers have access to it for the advancement of their marketing campaigns. Those who are quick to adapt to the use of AI will reap the benefits of productivity, move faster, and achieve their objectives faster," Ms Nyamari says.
Some of the benefits of using AI, as Ms Nyamari shares, are the ability to get consumer data faster, which enables you to use those insights to change your marketing plan much quicker.
Even though Tanzania is already on top of global trends, Ms Nyamari believes that the untapped potential lies in predictive analytics, which is a branch of advanced analytics that makes predictions about future outcomes using historical data combined with statistical modelling, data mining techniques, and machine learning.
While looking to the future, partnerships remain crucial to the success of brand communication.  Smart Codes, which now identifies itself as a hybrid company, recently entered into a partnership with a global data, insights, and consulting company, Kantar.
"Kantar walked us through some trends from a media perspective. Some of the key trends are that, as it currently sits, traditional media is still king in Africa, but if you want to effectively deliver content in Tanzania as it currently sits, Facebook is your best platform right now because of the effectiveness of its conversion rate," Ms Nyamari says.