Why the grading of urban areas in Tanzania calls for standards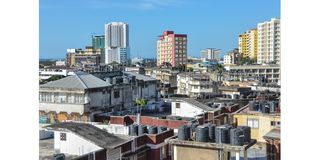 Summary
Given that the country is urbanising fast there is need to give urban areas special attention
In observing two years since the passing on of President John Pombe Magufuli, some moaning his absence, there has been, at the same, discussions and evaluations of two years since President Samia Suluhu Hassan made history by becoming the first female President of the United Republic of Tanzania, many pointing out the achievements that she has realised.
Most of President Magufuli's strategic undertakings are continuing to be implemented; although in some areas, President Samia has charted her own route. Comparing these two personalities would be a gargantuan task. So, a practical approach would be for one to select their area of interest and make their observations. I am an urbanist, and anything to do with developing and managing urban areas and real estate, is of interest to me.
In this respect, President Magufuli distinguished himself from many others, when he allowed informal sector operators, nationally known as machingas, to operate from anywhere. This saw informal activities mushrooming and thriving in every corner of urban areas where business could be conducted. President Samia went for bringing law and order in urban areas by requiring machingas to operate from authorised areas only. There were city clean-ups early in her Presidency. This, however, seems to be slowly getting reversed. Machingas are resilient, and they have surreptitiously crept back to where they believe are good locations for their kind of business, the construction of modern market buildings for them, notwithstanding.
The use of space in our urban areas is largely unplanned. President Magufuli's focus was mainly on large infrastructure such as roads, flyovers, bridges, terminals, railways, not land use planning. How one wishes, he could have one day appeared unexpected in the middle of a dense squatter area to share ideas with residents who live in overcrowded, unserviced and low quality neighbourhoods; to hear their grievances and share their expectations. Alas, this never happened. During President Samia's two years, we see a lot of improvement in urban infrastructure; urban movement is being eased such as with the extension of the BRT in Dar es Salaam. There is relative stability in the supply of urban water and electricity. The street-naming and house-numbering project is now easing city dwellers' identification with their locations. The list of achievements is quite long.
Given that the country is urbanising fast there is need to give urban areas special attention. We need a proper definition of what an urban area is, and how these should be graded, from say a trade centre, a town, a municipality and a city. We have seen, not only in Tanzania, but also in neighbouring countries such as Uganda, when residents of an urban area could go to bed living in a town and wake up the next day living in a city.
In April 2020, the Ugandan Parliament voted for the creation of 15 new cities in the country, over a four year period. Thus, from one city, Kampala in 2020, Uganda would have 16 cities come July 2023. Effective 1st July 2020 the following urban areas became cities: Arua, Gulu, Jinja, Mbarara, Fort Portal, Mbale and Masaka.
On 1st July 2021 Hoima became a city. On July 1 2022, Entebbe and Lira became cities. And, come July 1, 2023, Moroto, Nakasongola, Soroti, Kabale and Wakiso will become cities.
These urban areas are not comparable and their declaration as cities is mainly political.
The late President Magufuli created a number of municipalities and cities by declaration.
In April 2018, the President marked Union Day by declaring Dodoma a City, up from a Municipality. Dodoma became the 6th city in the country joining Dar es Salaam, Mwanza, Tanga, Mbeya and Arusha.
Three years later in February 2021 President Magufuli dissolved the Dar es Salaam City Council and declared the Ilala Municipality a city authority. He argued that it was unnecessary to have a city which does not have a representative area, and that was a misuse of public funds. Revenue collection was the main reason to prefer Ilala for city status, among the 5 Dar es Salaam municipalities.
In January 2021, President Magufuli, impressed by the revenue collection record of Kahama Town Council, elevated it to a Municipality. On the other hand, Moshi has been clamouring for city status for years, with no success.
There is need to have known criteria for upgrading an urban area from one status to another. Revenue collection could be one of the criteria. Others could include the status of land use planning, service provision such as waste collection, environmental enhancement including urban greening and controlling of flooding; implementation of own vision and development plans; and urban governance arrangements (including effectiveness for responding to citizen needs).
The current standards, to be found in the National Human Settlement Policy of 2000 and the Urban Planning Act of 2007, are impractical and outdated. Tanzania needs a cadre of well-trained urban managers, who can see urban areas as business entities. That way we may avoid having cities that are dysfunctional, the majority of whose residents live in unplanned areas, are unclean and unfriendly to their residents.