Shebe: Journo who believes confidence is paramount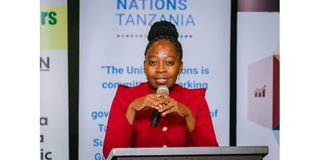 Summary
Joyce Shebe, a veteran journalist, believes that competing with oneself is what will get you further in life
The Chairperson of the Tanzania Media Women's Association (TAMWA) and Chief Editor at Clouds Media Group, who has more than 20 years of experience in media, Ms Joyce Shebe, is a proponent of self-belief.
She says she always believes that other people become interested in helping when you are competing against yourself in order to grow and achieve your goals.
"The Joyce of today is better than yesterday's, and the Joyce of tomorrow will be much better than that of today. This is because I choose to compete with myself and show that I want to grow without hurting or stepping on other people," she clarifies.
Knowing that she's supposed to compete with herself in order to attain success, she's had, over the years, to surmount personal challenges.
She has thus held various leadership roles, such as being a member of the National Steering Committee for Small Grants under the United Nations Development Programme (UNDP), chairperson of the editorial board at PASS Agribusiness Magazine, former board member of Tanzania Editors Forums, active member of the Dar es Salaam Press Club, and president of the Tanzania Chapter of the Media Institute of Southern Africa (MISA-TAN).
Shebe is also an alumna of the Basic Certificate in Material Management (NBMM), she has a bachelor's degree in mass communication from the Open University of Tanzania, and she's now pursuing a master's degree in the science of climate change and sustainable development (MSc) at the University of Dar es Salaam.
With the MSc, she became the first journalist in the country to choose to take that course.
Shebe's success didn't come on a silver platter. She has had to overcome numerous challenges in her career journey. She has also worked in radio broadcasting.
"I didn't like broadcasting sports, but it happened by luck during college when Clouds Media came looking for broadcasters. I am not a fan of sports. However, I managed to pass their interview," she says.
Things changed quickly after the former Director of Strategy and Program Development at Clouds Media Group, the late Ruge Mutahaba, appointed her to a different role in broadcasting hard news.
After spending more than seven years at Clouds Media Group, she joined Radio One, where she spent almost six months. However, Clouds Media called her again to join a television broadcasting team. Joyce narrates that her leadership roles started when she was appointed as Chief Editor at Clouds Media Group because of her level of education.
"After I was appointed, it became harder to manage other people. I faced a lot of pushback. But I chose to go and compete with myself and learn to become a better me," Shebe shares.
She says that back then, newsrooms were filled with men who didn't believe that one day they would be led by a woman.
"At that time, many started to look at me as Joyce who just came from college, not the Joyce who decided to pull her socks up and take a bachelor's degree and gain experience. So, I took that as a challenge to perform well, and I was given full support by my co-workers."
What made her resilient throughout that period of leadership was that she listened and always tried to make the work environment friendly.
"As a leader, you should learn to listen to people. I'm an open book, which is why I allowed criticism and carried the burden of the team and challenges without pointing the accusing finger at others," explains Shebe.
Commenting on that, she believes that being a leader doesn't mean you know everything; instead, a leader should allow themselves to learn from the team.
According to Shebe, what stops women from taking up high positions in the newsroom can be traced back to the introduction of the media.
"Back in the day, the media industry was controlled by men until some women broke the glass ceiling." However, we still have some newsrooms that are male-dominated and very hard to penetrate. "That's the reason why organizations like TAMWA were introduced—to balance the newsroom and the content collected," she narrates.
As chairperson of TAMWA, Shebe always uses her leadership position to encourage other women to join the organization so as to increase its influence.
"I have come to continue the race that my colleagues started in the past, which is the movement to ensure that women journalists work in peaceful environments and get into leadership positions," says Shebe.
She says she believes it's important to have more women in the field of journalism as it represents other women who are in different fields, including farmers, judges, doctors, teachers, and entrepreneurs.
"It's important to mentor women so they can grow; we are supposed to give them a chance to grow and not stay in the same position for a long period of time. Women need to pursue different opportunities," she advises.
Explaining her leadership style, Shebe always loves seeing those who surround her grow from one stage to another.
"I really like to see someone grow and inspire people to work," Shebe says.
Speaking about her general assessment of the media in Tanzania and what she thinks needs to change in order to improve the sector, she thinks it's important first to address the challenges of media houses for women and men to feel comfortable, and then review the laws that govern media.
"In the Media Services Act, there are some sections that violate our basic rights as journalists. These must be repealed," she says.
Further, she says the existence of a good law, according to recommendations from media stakeholders, will enable media practitioners to do their jobs well; "it will also help us grow and have a strong profession and broaden the scope of democracy in the country. We wish to have that law that enables the performance of responsibilities. I hope the government will heed our call," she says.