Cecilia: Accept challenges and let go of your worries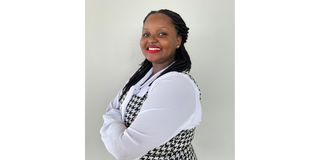 What you need to know:
Cecilia thinks that the best way to achieve the goal is by taking a route that few others have taken before
Dar es Salaam. The uncertainty that comes with saying "yes" for the first time to embarking on a certain journey is one of the most prevalent worries people have when trying to convince them to choose a career route.
There is no one to give you a torch that would give you a glimpse of the things you are about to take on and all the experiences that come with them.
One of the "yes" believers who has had firsthand experience accepting a fate she did not know is Cecilia Otaru.
She is the tax manager at KPMG. "I began my career journey six years ago as a graduate recruit. I specifically do transfer pricing, where I look at how related companies trade with each other. The intention is for these companies to trade as if they were unrelated so that there is no mixing of taxes or undertaxing," she explains.
At the time when she was joining KPMG's forces, there were three other people who handled transfer pricing of taxes.
When she saw how they operated, Cecilia was given the choice to join them, something she did not hesitate to do.
"From the very beginning, this new challenge looked interesting, and I enjoyed working in that kind of taxation. It also took a lot of times to do things I did not know about," she recalls.
Like fate was on her side, KPMG connected her with a number of coaches who helped and guided her to understand the challenges she came across shortly after she took on transfer pricing taxation.
"When I had completed my third year in this field as a tax associate, my manager, to whom I was reporting, took an assignment to do transfer pricing in London. This left me with no one to report to as well as someone on whom I relied whenever challenges popped up. In my manager's absence for about three months, I started making entrances in rooms where people expected me to know everything even when, in all honesty, I did not," she says.
During the three-month duration, Ms Cecilia grew on the shoulders of the challenges she faced.
"That was like a turning point for me. In the beginning, it was too difficult to the extent that I would have breakdowns because I was overwhelmed with the new yet unforeseen responsibilities.
"However, the experience I got made me feel like I made the right call to not give up on myself as well as embrace this new path," she details.
Based on her experience, Cecilia says that among the lessons she picked up is to choose the road that is less travelled by other people.
"The roads that are least travelled are the ones that are most rewarding. A good example is my line of work. Not most people choose it, but it is a very interesting field that may seem scary, but the rewards it comes with are worth it. It is the kind of work in which impacts can be easily detected because you are always in the spotlight, and this propels you to even more milestones," she explains.
She says that given a chance to press a restart button, Cecilia would have trusted herself more than she did when she began her career.
"It took not having a manager for me to come to the realisation that, 'oh, I really am good at this', but I had always been good at my job aside from my self-doubt telling me otherwise during that time," she explains.
She advises young people to first pray before they pursue their dream careers.
"They have to align with God on where they want to take themselves. This will help them when it comes to specialising in the fields they aspire to become experts in," she says.
She also advises them to be open-minded to understand new perspectives that will transform them and make them great assets to work with.
"Businesses are changing on a regular basis in terms of their operations. It is important for them to keep up with these changes," she says.
Ms Cecilia further emphasises that it is important for young people to have mentors who can guide them through the challenges and achievements in their career paths.
"You need people who are already in places where you want to go. Get them early on.
From them, you can seek assistance and inspiration by asking questions you do not know the answers to as well as speaking to them about your career desires that reveal your own vision, she says.
She also stresses that young people should learn to say yes more often to things they can learn over time.
"Young people should master the art of saying yes and then dive into the work. They should not wait to figure out 80 percent of these things before accepting the roles that they truly want. It is okay to be nervous about it, but what is not okay is to allow this nervousness to undermine your abilities. Our brains can accommodate every challenge, but we talk ourselves out of it before even trying," Ms Cecilia says.