Joyris on having an open mind and learning new skills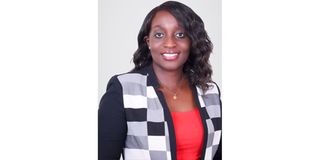 Summary
Over time, Joyris, a financial expert has learned that limitations are only within our mind
Dar es Salaam. There is a quote that states, "An investment in knowledge pays the best interest." This emphasizes the importance of learning new things and skills by keeping an open mind without setting a limit on gaining knowledge. This is one of the things that best describes Joyris Keya.
She is the Head of Finance at Ramani, a software platform that captures supply chain data to drive sales visibility and enable resellers to access financial services.
"My father used to be a teacher, and we used to have a home library with books that covered different kinds of insightful topics. He nurtured in me the spirit of reading and seeking new information by making my siblings and I read school books and watch news on television. He used to motivate us by gifting us with different things when we did that," she narrates.
Joyris' leadership journey began at AIESEC, an international NGO that nurtures leadership in young people, where she was the chapter president. Joyris was also pursuing Finance and Banking at Moi University in Kenya at the same time.
She then joined PwC where she worked for over six years as an external auditor.
"PwC was like a school; you learn on the job. My experience at that firm painted a clear picture of my career in finance and accounting. There were a lot of training sessions I took part in, some of which were alongside the clients I worked with," she recalls.
Coming from a family of teachers, Joyris has always loved to learn new things, and training at PwC offered her that chance.
"Learning comes with endless opportunities to discover the new capabilities of an individual, and PwC gave me that chance. I learned how to manage teams and work with people from different cultural backgrounds," she narrates.
She afterwards joined Vodacom Tanzania for four years as International Financial Reporting Standards (IFRS) Manager, and she was in charge of everything related to financial reporting. It was during the time the telco was transforming from a private entity to a public one.
When she saw that there was a chance to grow career-wise, Joyris joined MSF International as a finance officer. She was also the first African on the finance team.
A short while later, a chance to work as the Head of Finance at Ramani presented itself, and Joyris excitedly grasped it.
"I needed a new exciting challenge that would have my head running full of ideas to make things work, and I knew that Ramani was the right place. I applied for the position shortly after I did a small background check on the company. It was interesting because it was a blend of two things that I like: technology and finance. I have always believed that the future of finance in the world will be driven by technology, and this new role gave me a front-row seat to witness it," she explains.
Knowing that she was supposed to set up the company's finance department, Joyris used her experience and knowledge gathered throughout the years and brought it to life.
Her first three months at the startup were the most challenging because she had to learn the ways of efficiently blending finance and technology in one pot.
"Those three months felt like I was dumped in the ocean and had to learn how to swim to the shore with all that I had. The culture of Ramani is slightly different from the one in the corporate world I had just been a part of. I was new, and it took a while to fit in. I had to set up the initial team as well as the structure of the department to ensure compliance. Both were not children's plays," she says.
She further explains, "Overtime I have learned that limitations are only within our minds. Whenever a challenge pops up, I usually remind myself, 'I am not finding a solution, for I am the solution, and that mindset works like a charm."
It was through the support of her colleagues and the leadership team that Joyris thrived through the challenges and found herself growing and learning with them.
"I am thankful for all the kinds of support they keep offering me in my role and for my three mentors who held my hand during the transitioning time. Their experiences and perspectives are among the things that pushed me to become the best version of myself," she explains.
Joyris describes her work as the heart of Ramani, which beats together with every other department.
"I am like a business partner to the other departments in relation to financial issues concerning the work in those particular departments," Joyris says.
"It is a very fast-growing entity, and we have had significant milestones in a very short period of time. One of the things that keeps on motivating me is the fact that I thrive on the need to seek solutions to different challenges that surface every now and then," she details.
She advises young people aspiring to become leaders to be authentic and intentional with their time and energy.
"They should be open-minded and ready to learn new things. This will not only broaden their knowledge but also their skills," she explains.