Nothing happens by chance: Flora's journey to the very top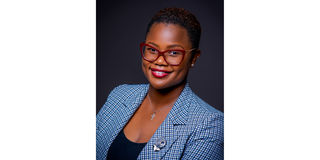 Summary
Flora Obeto exudes confidence in her abilities, believing that success is a matter of trusting your own capabilties
Dar es Salaam. For Flora Obeto, nothing happens by chance in the career journey, but the grace of God, hard work, determination and even sacrifice will take one through.
Ms Obeto is a legal, regulatory and compliance expert who currently serves in the management of Vivo Energy Tanzania.
As the head of legal and company secretary for Vivo Energy Tanzania, she is one of the company's executive team members. The company is a licensee to the Engen and Shell brands for diesel, petroleum and lubricants respectively.
"I believe one designs their life to make it go the direction they want. This is done by envisioning what you want to be, who you want to be and where you want to be. You then work hard towards achieving the vision by creating daily habits which eventually become consciously built in you," says Obeto.
Serving in the management committee/executive team at Vivo Energy Tanzania is somehow encouraging in terms of women empowerment at the workplace as the female ratio is 3:10. "Despite it being a male dominated industry it's encouraging to see that most MDs or CEOs in the industry are female. The future is no longer female, the present is," says Obeto.
She has been in her field for seven year now and as an inhouse counsel, remaining on top of compliance and providing sound legal advice to drive business success is one of the major KPI's for her.
"This sometimes tends to be difficult due to bureaucracy in the Government sector resulting from very slow pace of decision making at various levels. I try to overcome this challenge through constant follow-ups and escalate matters further to ensure closure," she says.
Commenting on what is the most loving and worst experience in her career and how she builds her leadership muscle, she says, legal career can be stressful and daunting as it always involves meeting tight deadlines, long hours and thinking on ones fit. Having control of your emotions is of utmost importance to find success in this career.
However, the most rewarding thing about her career is the mental stimulation that comes with it as it involves finding solutions to complex matters. She says it gives one a wide variety of practice areas and career options in both the public and private sectors.
"Dealing with such complex vast matters help you to think on your fit and helps making informed decisions and as such, this has helped to build the leadership muscle in me," she says.
Previously, she worked with one of the continent's leading internet service providers as their Legal Counsel where she was required to look after the entity's legal and regulatory requirements. Her experience goes beyond to working as an international practising lawyer with DLA Piper Africa Tanzania - IMMMA Advocates, a global law firm with presence in more than 40 countries worldwide where she was twice-ranked as one of Tanzania's Rising Stars by the International Financial Law Review (IFLR1000) a leading international legal market research product specialised in ranking financial and corporate law firms and lawyers.
Commenting on the ranking she says, she was ranked consecutively in 2021 and 2022. IFLR1000 covering over 120 jurisdictions worldwide, "ranking is done based on their independent research but also on interviews done with clients and peers within the industry. They do undertake qualitative research to inform the publication of annual rankings, ratings and awards. My ranking as a rising star gave me more visibility and credibility hence has been very fundamental in my leadership journey," says Obeto.
For one to excel in her or his career Obeto strongly believes on strong support system because it takes a village. For her, her family has been a great supporter.
She advises those who are not lucky enough to have such stable support, her advice to them would be to make use of the available support, like immediate bosses, teachers, mentors, and friends as well as trusting your intuition as it is always right and lastly work on expanding your network.
In addition to that, she suggested the best strategy to sustain women empowerment initiatives to last for posterity, saying empowerment initiative should start at the dinner table at home and it should be inclusive of young men, further the best way is through provision of personal and professional competent mentorship.
"Such mentorship will deal with the empowerment initiative at a grass root level and will help women actualize their full potential and eventually promote them as leaders," she says. She says, we need women in the leadership positions as through history women leaders have proved beyond doubt that they are exceptionally talented, staunch peacekeepers and wealth multipliers, referring to Madeka Queen of Sheba, Ethiopia, Ya Asanteewa of Ashanti today's Ghana and even present African presidents such as Dr Samia Suluhu and Sahle-Work Zewde of Ethiopia.
She says that women are very effective and structured. They bring new perspective to the table, which drives effective solutions.
She was recognized as one of the country's 100 Sheroes an initiative to inspire the girlchild towards different aspirations and possibilities in pushing for progress and development.
On three pieces of advice for the young girls she says setting higher goals for their lives as the popular saying goes aiming for the moon if you miss you may hit a star, create healthy boundaries and hold your head high and let life flow.