The lofty dreams of Tanzania's first cargo plane female pilot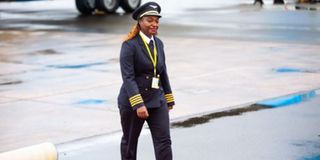 What you need to know:
Her first dream that started when she was in Standard Four was to become just a pilot regardless of the size of the aircraft to fly
Dar es Salaam. Her second dream of flying a wide-body jet airliner, Boeing 747-400 Freighter, is probably pretty close to reality.
Her first dream that started when she was in Standard Four was to become just a pilot regardless of the size of the aircraft to fly.
This is none other than Captain Neema Swai, 33, a Tanzanian pilot who made headlines after she flew the first cargo-only aircraft in Africa which is owned by the government and operated by Air Tanzania Company Limited (ATCL).
"I was very excited and honoured to be trusted by ATCL's managing director, Engineer Ladislaus Matindi, to fly Boeing 767-300F, the first cargo-only aircraft in Africa," the first pilot to fly the type of aircraft in Africa and the first female pilot to be the ATCL Captain tells The Citizen
Boeing 767-300F is the first aircraft in Africa made purposefully for cargo, according to Captain Neema, adding that other cargo aircraft available in Africa were converted from passenger airplanes.
The freighter plane manufactured in the US, with the capacity of carrying 54 tonnes, landed at the Julius Nyerere International Airport (JNIA) around 1400 hrs, with President Samia Suluhu Hassan receiving Tanzania's first-ever cargo plane.
Captain Neema, who led a team of pilots says: "I am happy that I am living my first dream (of becoming a pilot),"
"Being entrusted to fly Boeing 767-300F, tells me that I am moving closer to my second dream of flying a much bigger aircraft---Boeing 747F whose carrying capacity is up to 80 tonnes or so )."
"My dream of flying started during my childhood," says captain Neema.
It was at her parent's pharmacy at the Kilimanjaro International Airport (Kia) she became enamoured with flying.
She spent much of her free time helping her mother who managed the pharmacy.
While there, she saw many female pilots and her dream of becoming a pilot began to take shape.
"Seeing pilots at Kia, women pilots in particular, is what made me love being a pilot," she says.
In 2009, just at the age of 19, her dream of becoming a pilot took off after flying Cessna172 as her first solo flight around the Wonderboom Airport.
Though she does not remember exactly the date, Neema says that day will forever be etched on her memory.
"Like any other pilot could be, I was so excited. It was a significant milestone because it is the same stage that tells you that you are close to getting the Private Pilot License (PPL)," says a third born in a family of three.
Captain Neema, a mother of one, who studied at the Blue Chip Flying Academy based in Pretoria, South Africa, spent about three months there to complete a Private Pilot Training course and get PPL.
Nine months later she got the Commercial Pilot License (CPL) that enabled her to fly passenger flights.
When Captain Neema, whose husband, Mr Khamisi Ahmed, is also a captain at ATCL, came back home she had to sit the Tanzania Civil Aviation Authority (TCAA) conversion tests exam to get a Tanzania's license.
She does not remember exactly how much she spent to get the CPL.
Immediately after getting CPL in 2009, Captain Neema was employed by an airline that she was not ready to mention, as a pilot to fly ATR72-500.
"Lucky was on my side. I got a job instantly after completing my studies," says Captain Neema.
She says in a space of 14 years of service as the pilot, she had achieved 8,700 hours of flight time.
"This has given me a lot of experience that I won my leaders' trust and entrusting me to undertake tough responsibilities," says Captain Neema.
Captain Neema is grateful to her parents who gave her their full support to pursue her dream.
They had to sacrifice a lot, both financially and morally.
"I got a much-needed support from my parents. They motivated and guided me to chase my dream," says Captain Neema.
Most women entering traditionally male-dominated professions in the world encounter obstacles, simply because of their gender.
But Neema says she never encountered such challenges to make her think of abandoning her dream.
Weather is one of the biggest challenges that pilots face, she narrates.
Even when she was about to land with the new Boeing 767-300F last Saturday, she experienced the same challenge.
"We used our skills and experience to land safely despite the challenge," a soft-spoken Captain Neema says while bursting in laughter.
Captain Neema wants to pursue studies on aircraft investigation that she believes will add value to her career and ATCL.
"It is not that common course, but it is a very important course," she says.
She wants to be an instructor in a bigger aircraft at ATCL in the next five years.
"I want to teach the next generation of pilots," she says.
What it takes to get there
Tanzania Civil Aviation Authority (TCAA) director general Hamza Johari was once quoted by  The Citizen   saying the PPL is issued to a person aged 17 and above.
But for one to get it might sit the TCAA exam and also needs to have flown at least 40 hours and about 270 km cross country, among others.
To obtain CPL, Mr Johari said, one must pass the exam for this level and needs to have flown a distance of at least 540km and have a total of 200 flight hours, according to Mr Johari.
Airline Transport Pilot License (ATPL), enables a pilot to fly big aircraft like the Dreamliner and Boeing 777.
For one to get it, might do exams, flying tests and be certified.
After getting the license, the company will assess you on whether you fit to be a captain because this position is not all about flying the aircraft…..it is more of a managerial position.