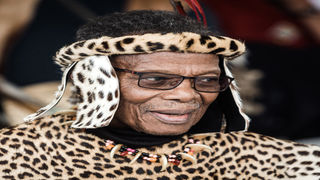 South Africans recently gave a state funeral to one of Africa's former 'strongmen', who was once a famous traditionalist leader of the Zulu tribe.
But the living shadow of Prince Mangosuthu Buthelezi could still be playing a role in local politics for years to come.
Once seen as an ally of the apartheid regime, much had changed by the time he died. He is a man who was once a warlord but died a local political hero.
Even President Cyril Ramaphosa, reading the mood of the mourners, chose the locally accepted way of recognising an opponent in life but a 'great man' in death. He extended the hand of friendship and peace to the Zulu people and said: "A great tree has fallen.
Buthelezi died two weeks ago at the age of 95. He was the traditional Prime Minister of the Zulu King, but also the leader of a political movement, the Inkatha Freedom Party, which became a fierce opponent of the ruling African National Congress (ANC) in the 1980s and 1990s.
Ramaphosa, now leader of the ANC, addressed tens of thousands of Zulus who had gathered from across their home province of KwaZulu-Natal and the country. He heaped praise on the late royal prince.
His efforts - and the fact that a former nemesis was eulogised in death at a top-tier national remembrance, as former president Nelson Mandela was - are indicative of the continuing tensions that simmer in KwaZulu-Natal long after Buthelezi's exit.
Once a comrade-in-arms with the likes of Mandela and other ANC stalwarts in their common struggle against the racist system of apartheid, Buthelezi broke away from Africa's oldest liberation movement in the mid-1970s to form Inkatha.
At first, the split was relatively minor, a dispute over whether divestment and sanctions against South Africa would do more harm than good to the already suffering people.
But throughout the 1980s and into the 1990s, this split grew into a sustained low-grade civil war, as Inkatha's traditional impis (military formations) fought it out with mainly younger 'comrades', also Zulus, but loyal to the ANC.
The brutal conflict that ensued left the lush rolling hills of the agriculturally rich Zulu heartland awash with blood.
 As Ramaphosa pointed out in his eulogy, which received a mixed reception from the gathered Zulu crowd, it was Buthelezi - often blamed for intra-Zulu factional fighting - who, along with former ANC leader and president Jacob Zuma, 'averted disaster' and forged a peace of sorts.
While the intense confrontations of the early to mid-1990s, which left hundreds dead, including around Inkatha-controlled migrant workers' hostels in Johannesburg, have subsided as a result of these interventions, the violence has never quite gone away.
Recently, Police Minister Bheki Cele was in KwaZulu-Natal, speaking to local leaders of both the ANC - which is losing support in the country's most populous province, home to some 11.3 million Zulus - and a resurgent Inkatha, in the hope of reducing the still-frequent political killings of the past 25 years.
Cele worried aloud that, with elections due in about six months, the "culture of violence" that plagues the province could boil over into something much more serious.
While avoiding the open hatred for Buthelezi that still exists in many quarters, Ramaphosa went out of his way to portray the Zulu Prince as part of the country's liberation struggle - and thus to paper over the gulf that had developed, and still exists, between Inkatha and the ANC.
 Clearly an ANC initiative, Ramaphosa was not alone in extending the hand of peace to disgruntled Zulus, with all living former presidents, including Zuma, who ousted his predecessor, Thabo Mbeki, in attendance and high profile.
In an attempt to respect not only the traditional and the modern but also both sides of the ongoing political divide that exists among the feisty Zulus, the state funeral featured arrayed phalanxes of Zulu warriors and leaders (indunas) in their leopard-skin finery, shields and spears, war clubs and headbands - though some wore suits with maybe a headband or some other nod to tribal dress.
The impis, several wide on either side of the hearse that carried Buthelezi's remains to the sports stadium in the old Zulu capital of Ulundi, were countered at the end of the ceremony, after Ramaphosa's remarks, by ranks of the army, air force, navy and other forces that acted as pallbearers for the late Zulu Prince's coffin.
Political symbols of both the ANC and Inkatha were on display around the ceremony - but for one day, at least, the tensions that pervade Zulu politics, and by extension the country's, was pushed into the background.
Ramaphosa said many positive things about Buthelezi: how he had been a good leader for his people, how much he loved South Africa and how, even when he was at odds with ANC fighters like Mandela and Govan Mbeki, the father of former president Mbeki, Buthelezi had remained "respectful".
There had always been a "camaraderie" between those who had fought apartheid, Ramaphosa said.
"He had respect for authority," Ramaphosa added, in what appeared to be a pointed remark against Zuma, who was jailed in 2021 - triggering a deadly and damaging uprising among Zulus - for disobeying Constitutional Court rulings.
 The hand of peace extended by Ramaphosa and his ruling party may contribute to cooling heads.
But there is a long-term legacy of antipathy among some Zulus and other South Africans towards a man who was seen - and often called - an 'apartheid sell-out'.
The thousands of deaths will not be forgotten by some - and meanwhile, there has been a steady trickle of political violence, which prompted the Police Minister's recent outing to the troubled region, where even within the ruling party political killings are regular occurrences.
Buthelezi's large presence on the South African political scene has diminished since his formal retirement from politics in 2019, but the long shadow of his life is likely to remain with South Africans for many years to come. Part of his legacy, however, is not war but peace.
Buthelezi's control of what almost became a full-blown civil war - with the help of Zuma and others - was seen in the 1990s as a 'second miracle', following the avoidance of disaster in 1994, when South Africa emerged from nearly 400 years of colonial and racial oppression into the age of democracy.
Buthelezi's death does not mark the end of political strife in the country, nor the dawn of a 'new era'.
He will be remembered by some with devotion and love, and by others with abiding hatred, reflecting the continuing challenge of a country born of colonial greed, developed under the evil hand of outright racist oppression, and still struggling, 29 years after its democratic rebirth, to find a way to restore balance and avoid further rounds of death and destruction for its long-suffering people.