Russia's Lavrov blasts West in new Africa tour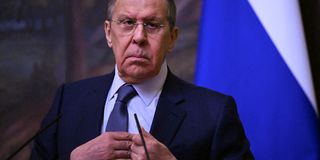 Luanda
The Kremlin's top diplomat slammed the West and praised Angola's "balanced position" on international affairs on Wednesday as he pursued an African tour aimed at drumming support for Russia.
Foreign Minister Sergey Lavrov, on his second visit to Africa in six months, held talks with President Joao Lourenco and his Angolan counterpart Tete Antonio.
His latest trip coincides with that of US Treasury Secretary Janet Yellen, and comes a month after President Joe Biden hosted African leaders at the US-Africa summit in Washington.
Speaking after talks with Lourenco, Lavrov pledged Russia's "mutual firm commitment to development in all areas" with Angola. 
"We will do this despite illegal pressures from the United States and its allies," he said.
He said was there was "unprecedented pressure of Western countries on the developing states of Asia, Africa and Latin America".
Echoing President Vladimir Putin previous remarks, he said "the West is acting with the same colonial methods that it used to to exploit the developing continents." 
Lavrov, after he met his Angolan counterpart, earlier said Moscow "appreciates Angola's balanced position at the United Nations".
"Good relations between Russia and Angola are not subject to geo-political events, they are historic and based on a spirit of solidarity and support," he said.
He arrived in Angola after visiting Eswatini and South Africa.
Since independence from Portugal in 1975, Angola has been led by the MPLA, a former Marxist liberation movement with historic ties to the Soviet Union. 
But the oil-rich country has moved closer to the West through the years, fostering ties with the United States. 
In October Angola voted for the first time to condemn Russia's invasion of Ukraine at the United Nations, having abstained in earlier votes.
Africa has become a renewed diplomatic battleground since Russia's invasion of Ukraine nearly a year ago. 
China's new foreign Minister, Qin Gang, visited Ethiopia, Gabon, Angola, Benin and Egypt earlier this month.
Lavrov last visited the continent in July last year, making stops in Egypt and Ethiopia, among other countries