NBC to train 3,000 bank agents to increase insurance uptake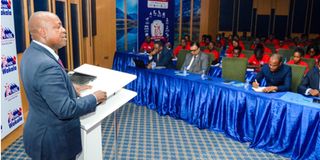 Summary
The five-week training that kicked-off earlier this week is also meant to create awareness and equip them with product information
Dar es Salaam. At least 3,000 bank agents are being trained to provide insurance services to clients in an attempt to increase the service penetration across the country.
A statement released yesterday said the training is organised by the National Bank of Commerce (NBC) in partnership with Jubilee Allianz General Insurance to equip agents with tools and knowledge of the insurance services in order to promote sales.
The five-week training that kicked-off earlier this week is also meant to create awareness and equip them with product information.
"With a network of over 8,000 agents, we are optimistic to reach the masses," said NBC managing director, Mr Theobald Sabi.
He said in a press release that the bank was supporting the government's financial inclusion agenda by placing banking and insurance services closer to the customers through the NBC Wakala network.
Mr Sabi recounted that their agents will now use a special system developed by the bank and its partners to ease its insurance service delivery.
"Our insurance sales through agents will be done through a special system developed by the bank and partners to make the service seamless, user friendly, and inclusive," he asserted.
Official data have it that at less than 1 percent, Tanzania has the lowest insurance penetration in East Africa.
The managing director of Jubilee Allianz General Insurance, Mr Dipankar Acharya, said the agents will undertake the training and further onboarding sensitisation and processes regulated by the insurance regulator and other authorities.
"We are geared to ensure that fast, reliable, and convenient services are provided," said Mr Acharya.
Tanzania Insurance Regulatory Authority (Tira) Commissioner Baghayo Saqware applauded NBC Bank and Jubilee Allianz for fulfilling the government's call to expand the penetration of insurance services and products in the country.
Dr Saqware recalled that in May 2022, Tira in collaboration with the Ministry of Finance and Planning, issued a guideline that directs companies and insurance service providers to register insurance sales force executives in the country.
"I am pleased to see that NBC Bank has been quick to respond to this quest, and by witnessing this training, there is no doubt that there will be a better insurance service penetration across the country," the Tira boss noted.