How Kenya's political games are hurting EAC Common Market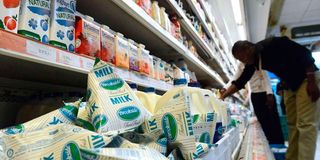 Kenya's internal political intrigues are increasingly becoming a new non-tariff barrier to trade in the East African Community, potentially harming the success of the Common Market, with Ugandan milk producers being the latest victims.
The Uganda Dairy Development Authority (DDA) this week after complaints from some exporters and producers said that authorities in Kenya were limiting the number of export permits for powdered milk and issuing others at a slow pace.
Brookside Uganda – a firm linked to Kenya's ex-President Uhuru Kenyatta's family and now one of Uganda's leading milk producers and exporters – alongside Pearl Dairies, Jesa Farm Dairy and others complained that their stock was going bad for lack of market.
Brookside Uganda General Manager Benson Mwangi said Nairobi is denying the milk processor export permits and that those given are often delayed.
"Effective March 19, 2023, the Kenyan government through Kenya Dairy Board stopped issuing permits for our dairy products in the Kentrade system, affecting our factory output significantly," he said in a letter dated April 5.
The problem seems to revolve around the current Kenyan administration's beef with businesses associated with the former president, whose family's dairy firm Brookside is a major producer of powdered milk in Uganda.
The move has created confusion among Ugandan sellers, who had hoped that an earlier suspension of a ban on powdered milk by Kenya could help them resume sales.
There have been political lacings all over the on-off milk tiff, with Kenyatta's allies in Kenya alleging a plot to sabotage businesses linked to the former president.
"These people are doing things with a lot of political consideration without looking at the market dynamics. This kind of decision will definitely create shortage of the commodity in the market," argued Godfrey Osotsi, senator for Vihiga County in Western Kenya and a member of the opposition Orange Democratic Movement (ODM).
"Clearly, they are fighting the Kenyatta family. They are weaponising state institutions for revenge," he told The EastAfrican on Wednesday.
In March, Kenya's Deputy President Rigathi Gachagua told a gathering the government was stopping powdered milk importation to protect local producers.
"It is the government's responsibility to protect our farmers in the coffee, tea and dairy sub-sectors," he said.
"Challenges in the milk sector have been caused by the monopoly we have. One person bought all milk companies in the country and was also involved in the importation of powdered milk from foreign countries," he said, referring to the Kenyatta family.
According to Prof XN Iraki, an economics lecturer at the University of Nairobi, politics and business are inseparable.
"It's hard to separate politics and economics in the dairy industry after what some politicians have said in the past. But protectionism, like subsidies, is old economics. We should let the market do its work," he argued.
Kenya buys Uganda's milk to the tune of $138.2 million, according to latest figures. But, according to Mwangi, Brookside Uganda has not sold a litre of milk in Kenya in the past two months.
He said their milk is about to expire, which would be a huge loss.
The company has also not been able to buy milk from farmers, which has affected the farm-gate prices, with famers reporting price falls from Ush1,500 ($0.40) per litre to as low as Ush400($0.10).
Kenya exports palm oil worth $61.5 million, sorghum ($12 million), vegetables ($2.6 million) and legumes worth $1.7 million, to Uganda every year.
But observers say the trade row, especially over powdered milk, could have long-running implications for trade across the region as the restrictions go against trade protocols under the East African Community (EAC).
Uganda's former minister and now businessman Capt Mike Mukula says there are indications that the Kenya government actions are being influenced by personal interests, which he termed unfortunate.
He said it was a miscalculation by leaders to politicise trade between the two countries, adding that Uganda has invested heavily in the dairy industry to increase production.
"If you are producing your product within EAC, you are supposed to enjoy the market. We keep on reminding the partner states that they must play and understand the game, and that the game is competitive, and market driven. East Africans should know that this is a market for them," said Mukula, who is also a leader in the ruling National Resistance Movement.
"There is a need for a bilateral meeting between the presidents of the two countries to resolve this problem, which is against the purpose of EAC," he said, adding that the bloc was meant to maximise comparative advantage and, in this case, Uganda, which has 48 percent of the region's arable land, can produce agricultural products cheaper than other countries.
Kenya has in the past two years restricted exports of poultry and dairy products from Uganda, although the issue on poultry was resolved after Kampala threatened to ban goods from Kenya.
The Ugandan Cabinet had in 2021 directed its Agriculture ministry to identify and list Kenyan products that would be banned in retaliation to Kenya's continued restriction of its agricultural products.
"We have been too patient. In the past, we have not reciprocated, but now we are going to. This has gone on for too long and within a short time they too will understand what we are going through," Rebecca Kadaga, EAC minister, warned at the time.
The cabinet, chaired by President Yoweri Museveni however rejected this decision, saying it was against the spirit of integration.
This week, Dairy Development Authority Executive Director Samson Akankiza estimated 20 percent market losses due to the standoff.
"Other products are getting permits except for milk powder, but the market is still open, and Uganda milk players are exporting products there," he said.
In March, Kenya's Livestock Principal Secretary Harry Kimtai suspended a notice issued earlier by the Kenya Dairy Board (KDB) banning importation of Ugandan powder milk into Kenya.
This week, KDB Managing Director Margret Kibiogy said there were no issues between the two countries.
"Trade between the two countries is smooth," she responded in a text message to The EastAfrican.
A number of trade issues have so far been resolved between the two countries, but the matter of milk imports is pending.
Kenya was supposed to send a delegation to Kampala last year on a fact-finding mission but that is yet to be achieved.
The Kenya-Uganda trade wars have hurt consumers in both countries as they have led to higher import prices. Experts have warned that consumers will be the main losers.
Stephen Asiimwe, CEO of the Private Sector Foundation-Uganda (PSFU), said no meaningful trade will be realised in Africa unless countries fight NTBs.
"We condemn these NTBs such as roadblocks, exorbitant taxes at borders, and very difficult conditions. We call upon our Foreign Affairs ministry to fight these interruptions because they foster conflicts and fights," he said.
But in Kenya, politicians allied to the government were praising the move to block entry of powder milk from Uganda. Samson Cherargei, Nandi Senator and a member of the ruling United Democratic Alliance (UDA), said the decision will build local producers.
"If our dairy farmers are well provided with affordable feeds, we can provide enough milk. We can't allow monopoly of the dairy sector," he said.
Zaheer Jhanda, a lawmaker from Nyaribari Chache, said there was no politics in play, just business.
"It's a normal policy decision. We must protect our local dairy farmers. Nothing political," he told The EastAfrican. Uganda buys chicks from Kenya, feeds them, once they grow and lay eggs they sell the same eggs to Kenya," Jhanda said.
 Uganda's State Minister for Co-operatives Frederick Ngobi said expansion of Uganda's market will end the chaos.
"We are now securing other bigger markets where we can sell our products, not only milk but also other products. We have already secured markets from Nigeria and South Africa for many of these products," he said on Monday.
"That one should not bother us much because we always have dialogues under the East African Community. There are laws that govern us in the community and that will be addressed," he added.
In February, President William Ruto in a special message to President Museveni delivered by Moses Kuria, Kenya's Special Presidential Envoy for the Tripartite Free Trade Area, who is also the cabinet secretary for investment, trade and industry, agreed to open up markets to Ugandan milk, chicken and eggs.
Nairobi remains Kampala's major market, but these persistent barriers have prompted a search for new markets, particularly in the Democratic Republic of the Congo, South Sudan, Zambia and Algeria.
After his visit to Algeria early this year, President Museveni announced the two countries had signed a deal that would see Uganda export milk worth $500 million to Algiers. Already, some Ugandan companies are set to sign supply agreements with Algerian buyers.
Pearl Dairies – makers of Lato milk – with a daily capacity of 800,000 litres, secured annual supplies of milk to Zambia after the company suffered major losses when Kenya stopped its exports in 2019.
Uganda's Agriculture Minister Frank Tumwebaze on Tuesday said the Ministry of East African Community Affairs has taken up the milk issue and is engaging with the authorities in Kenya. Meanwhile he called on dairy farmers to mobilise Ugandans to consume more milk so that the local market is exploited.
"We hope Kenya finds it reasonable and logical to openly trade with us. We believe they will understand that we depend on each other. Why should ordinary Kenyans be subjected to expensive milk, yet we can supply it cheaper?"
He added that the ministry is looking for alternative markets, including domestic ones, and local producers are being encouraged to make other milk products such as yoghurt for local consumption.
"At weddings and parties, you cannot see yoghurt, mil, or even bushera (millet porridge). All you see being served are other drinks that you don't produce. If you cannot take your products, whom do you expect to do it," he said.
Reporting by Nelson Naturinda, Gerald Andae, Jonathan Kamoga and Moses Nyamori.