How to promote uptake of digital payment systems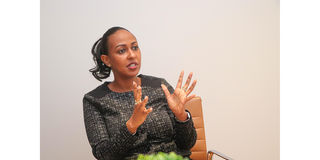 What you need to know:
Low uptake of digital payment is attributed to a lack of trust in digital channels, surcharges, and the belief that high charges are levied online
Dar es Salaam. Tanzanians are good at using mobile money to send and receive cash domestically, but when it comes to retail payments, most of them keep their phones in their pockets and pull out cash instead.
In 2021, the World Bank's Global Findex survey established that there was a large gap between the use of digital retail payments in high-income countries and low and middle-income countries (LMICs).
This gap cannot be completely explained by differences in access to digital financial tools across countries.
For example, Tanzania (like other East African economies) outpaces many high-income countries in terms of its citizens' use of mobile money to send and receive domestic remittances.
However, when it comes to retail payments, only five percent of Tanzanians in 2021 had ever used digital retail payments, compared to an average of 72 percent in high-income countries in the Global Findex survey.
Speaking to The Citizen, Visa country manager Salma Ingabire said cash transactions accounted for 92 percent of personal consumer expenditure in Tanzania in 2022. This suggests that electronic payments accounted for only eight percent, a trend that calls for all stakeholders—ranging from banks, mobile network operators, fintech, and the government—to join forces and promote the uptake of digital payments.
Ms Ingabire attributed low uptake to a lack of trust in digital channels, surcharges, and the mistaken belief that inordinately high charges are levied on digital payments.
Other industry stakeholders who spoke to The Citizen yesterday said low uptake was triggered by a lack of access to financial services, low financial and digital literacy, high transaction costs, and doubts over the security of digital channels.
Efforts to reach the Finance and Planning Ministry for comment were unsuccessful.
On the issue of lack of trust in digital channels, Ms Ingabire said it is food for thought for all stakeholders in the market.
"We need to create awareness around digital payments and their importance for consumers and the country at large," she said.
Most of the time, consumers are not aware that they do not have to pay that surcharge and instead think it is a cost attached to the transaction.
"The more you accept digital payments, the more people will come to you, especially international consumers who come here for holidays as tourists.
"That is why we want to work together. We need to educate them on how this is hurting the digital economy," she said.
On transaction costs, Tanzanians think digital transactions are more expensive than cash transactions, which is not true.
"Actually, cash is much more expensive, and it is risky because when you carry cash, anything can happen," said Ms Ingabire.
The subject of building a digital economy involves many interconnected players and sectors. For example, small and medium enterprises (SMEs) and fintech have a role to play in ensuring that digital payment uptake increases in Tanzania.
But as experts point out, SMEs still have a long way to go in securing payments—in making sure that consumers have access to their products and services and can make digital payments.Considering the openness and flexibility of the Tanzanian market, adaptability is said to be easy.
Tunzaa Fintech founder and CEO Ng'winula Kingamkono attributed the low uptake of digital payments to a lack of access to financial services.
"Few people in Tanzania have access to bank accounts. This is due to factors such as low income levels and living in remote areas far from bank branches," he said.
 Mr Kingamkono also said low financial and digital literacy makes it difficult for people to understand and trust digital payment systems.
To boost digital payments, he called for literacy campaigns and investment in digital infrastructure, especially in rural areas.
The University of Dar es Salaam Head of Finance Department, Dr Tobias Swai, expressed the need to raise awareness about the importance of digital payments.
"The majority of Tanzanians, especially in rural areas, consider cash to be the king. That is not right; we need to mend our ways," he told The Citizen.
However, he said, that could happen only if transaction costs are cut and the security of digital channels is enhanced.
The transition from cash-based to digital economies is not something that is inevitable but a dynamic process that depends on policy design and the strategic interactions of merchants, consumers, and suppliers.
According to the World Bank, learnings from our initial pilot work suggest that Tanzania and LMICs could significantly benefit from implementing digital merchant payments.