Tanzania's investment figures show mixed results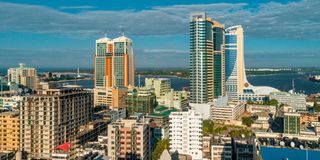 What you need to know:
The Tanzania Investment Centre (TIC) report shows that there was a significant increase in FDI to a tune of 100.53 percent from $524.42 million recorded Q1, 2022 to $1053.32 million in the Q1, 2023 covering a period of July and September, 2023
Dar es Salaam. Tanzania has recorded an over 100 percent increase in Foreign Direct Investment (FDI) as the value of invested projects decreased by $347.51 million in the first quarter of 2023 compared with that of the preceding year.
The Tanzania Investment Centre (TIC) report shows that there was a significant increase in FDI to a tune of 100.53 percent from $524.42 million recorded in Q1, 2022, to $1053.32 million in Q1, 2023, covering July and September 2023.
"This indicates a substantial influx of foreign capital into the country, which can be indicative of increased confidence in the country's economic prospects or potentially attractive investment opportunities," reads part of the report.
The bulletin shows that $1,016.17 million was attracted in Q1 2023 in terms of Domestic Investment (DI), which is 46.82 percent lower than $1,909.7 million recorded during Q1, 2022.
The document shows that commercial buildings, manufacturing, agriculture, transportation and tourism were the five leading sectors for FDI attraction during that period.
On the other hand, agriculture, economic infrastructure, manufacturing and commercial building were the top factors that attracted DI during the said period of review.
The document that was recently shared on the TIC website shows that the value of invested projects during that time declined by 14 percent, from $2,417.04 million in Q1, 2022 to $2,069.49 million in Q1, 2023.
Furthermore, the bulletin reveals that the decline in the value of invested projects was recorded despite an increase in the number of ventures from 82 in Q1, 2022 to 137 in Q1, 2023 that were forecasted to create 12,008 and 86,986, respectively.
"During Q1 the manufacturing sector recorded a significant performance of 58 registered projects, 8634 jobs to be created, and an estimated capital of $356 million, followed by the transport and commercial building sectors," reads part of the document.
According to the bulletin, transport and commercial buildings attracted 24 and 17 projects, involving $223.03 million and $528.99 million, respectively, and were forecast to create 4,043 and 1,143 jobs, respectively.
Agriculture and tourism, according to the document, attracted 15 and 14 projects worth $569.35 million and $40.64 million, respectively, and they were anticipated to produce 21,236 and 760 employment opportunities, respectively.
Other sectors that attracted a different number of projects are service, economic infrastructure, and human resources (education and health). Project ownership, according to the bulletin, increased in all three categories: foreign (38–49), joint venture (14–43), and local (30–45).
"The projects are primarily concentrated in Dar es Salaam, which has attracted 54 projects, followed by Coast (20 projects) and Mwanza (11 projects)," reads part of the bulletin. Other regions and their respective numbers of projects in brackets are: Dodoma (nine); Arusha (seven); Tanga (five); Mara and Kagera (three each); Geita, Lindi, Mtwara, Morogoro, Mbeya and Iringa (two each); and Njombe, Ruvuma, Rukwa, Songwe and Simiyu (one each).
The bulletin shows that the top five FDI sources during the Q1, 2023 and their respective amounts in brackets are: China ($614.01 million), Singapore ($138.96 million), Germany ($118.60 million), India ($42.29 million) and Mauritius ($24.83 million).
According to the document, in Q1, 2023, 22 projects set for expansion or rehabilitation were registered, expected to create 24,127 jobs from a $636.97 million investment.
The number of projects was higher compared to 13 projects recorded from January to June, 2023 and that data portrays the impact of the new Investment Act, No. 10 of 2022.
Speaking to The Citizen, TIC research expert Anna Lyimo said monthly and quarterly reports do not provide reasons for possible investment projects and attract revenue fluctuations.
Therefore, she said government regulatory measures could only positively impact project registrations after long-term registration, instead of what is indicated in the monthly and quarterly reports that serve to provide the trend.
"TIC registers special strategic and strategic investment projects. Special strategic investments require over $300 million in capital. Therefore, once special strategic investment projects are registered, they significantly boost the value of registered projects at that particular time," she said.
She said special strategic investment projects could involve heavy industry or green field projects comprising sugarcane farming and sugar processing plants, hence creating more jobs," she added.
On the contrary, she said registered strategic projects don't involve large investment capital, noting that despite multiple registrations, they have less impact on the value of projects despite their significance.
"However, special strategic investment projects are not registered every month; rather, their registration occurs once in a while," she said.
Repoa's executive director Donald Mmari said mobilised domestic resources either by the public or private sector were insufficient to meet investment demands in industry, transport, and energy sectors, among others.
"We are therefore needed to attract more FDI. This is because, apart from serving as capital, they always come with technology, skills, markets, and research expertise. However, there is a need for an improved investment climate to attract more investments," he said.
He said there were signs of an improved business environment in the country, which could have been one of the factors behind the upsurge in investment attraction, despite the persisting global economic crisis.
"The government should continue strengthening the country's business environment, close gaps witnessed in the area of infrastructure, increase access and reliability of electricity, formulate friendly tax policies, and consolidate human resources development for sustainable investment attraction," he said.