TRA no longer using task forces to collect revenues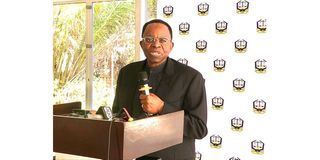 What you need to know:
The tax authority says it is now using a more amicable approach in its tax collection mandate, which makes businesses become more compliant
Dar es Salaam. Tanzania Revenue Authority (TRA) said yesterday that it had held several discussions and reviews with businesspeople who had been treated unfairly by task forces in recent years.
The infamous taskforce, which was very common during the fifth phase of administration, subjected businessmen to physical harassment, including the closure of shops and coercion from the tax officials.
Yesterday, during a meeting with members of the Tanzania Editors Forum (TEF), the tax audit manager, Mr Charles Bajungu, said the taxman had sat down with people who had previously gone through the hands of the infamous task forces, with a view to reevaluating the amount of loss they incurred.
"People have appealed. While others have been reviewed by our officers, the work is still in progress within the TRA," he said.
President Samia Suluhu Hassan vehemently and repeatedly condemned the practice of "milking taxpayers dry" upon taking office on March 19, last year.
President Hassan expressed her dissatisfaction with the trend of tax collectors strangling businesses when she swore in Dr. Mwigulu Nchemba as the new Finance Minister in April last year.
"You are killing businesses. You use more force than knowledge in your tax collection endeavors," she said. President Hassan said she was unhappy with a tendency to milk some taxpayers dry and with going to the extent of seizing their working tools and blocking their bank accounts.
"Though the law allows you to do that, once it happens, someone might decide to close the business and move to the neighbouring country. By so doing, you are reducing the number of taxpayers," she said, insisting on the need to expand the tax base.
"Anything that reduces taxpayers' morale to pay tax must be worked on accordingly," she said.
And, in what sends a message that the humane way of collecting tax works better than using force, figures from TRA show that the taxman is currently collecting over Sh1.7 trillion in average monthly collections, up from just about Sh1.4 trillion during the last days of the immediate past administration.
TRA's director for taxpayer services and education, Mr Richard Kayombo said, "A lot has been done behind the scenes to make sure we stay right. For those we met one on one, we have sorted out things and are proceeding well with their businesses,"
When asked if they will apologise to the business community that faced harsh treatment during the past administration, Mr Kayombo said, "It is not a matter of apologizing, but rather that it was a different environment."
The authority has stated that the use of force is far gone, as the TRA's focus is now on improving the participatory approach.
TRA's board chairman, Mr Uledi Mussa, said yesterday that the authority has also deactivated the task forces. "We are currently collecting revenue without using duress. Our officers should completely abandon the use of force. Let's sit with those who have problems, let's agree on the problems we can solve without affecting their activities. We want taxpayers to feel completely comfortable. "We also no longer have task forces," he said.