Prime
What BoT is doing to address dollar's impact on fuel business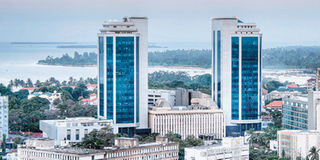 What you need to know:
With traders saying the appreciation of the US dollar is adversely affecting their business, the Bank of Tanzania says it is addressing the situation.
Dar es Salaam. With marketers of petroleum products continuously detailing how the appreciation of the United States dollar was adversely impacting their business, resulting in a pump prices rise, the Bank of Tanzania (BoT) says it was now taking at least five measures to address the situation.
With the greenback now fetching Sh2,510/Sh2, 610 in bureau de change - a massive leap from the rate of about Sh2,300 that has been there for almost two years - prices of imports, including petroleum products have also skyrocketed.
For instance, the Energy and Water Utilities Regulatory Authority (Ewura) last week announced an increase of Sh463 and Sh391 for a litre of petrol and diesel respectively, in Dar es Salaam.
As such, a litre of petrol and diesel now fetches Sh3, 199 and Sh2,935, respectively.
Marketers blame the dollar appreciation, with Tanzania Association of Oil Marketing Companies (Taomac) deputy chairperson Salim Baabde saying dollar shortage compelled importers to cut fuel imports. As such, small scale traders have found themselves in the wood.
In fact, Taomac figures show that imports of petrol and diesel decreased by 24.2 percent between January and August this year compared to a similar period last year.
The imports dwindled to 1.43 million metric tonnes, well below compared to 1.89 million metric tonnes.
Speaking in a meeting with fuel stakeholders over the weekend, Energy minister January Makamba expressed the need for all fuel stakeholders to join their forces with a view to ensuring the availability of sufficient fuel.
"My ministry is embracing an open door philosophy that provides a room for recommendations and discussion on how to address challenges that the sector is grappling with," said Mr Makamba.
In response to the grievances related to dollar shortage, BoT governor Emmanuel Tutuba said the bank was intervening in the market whenever necessary by supplying more dollars, as well as establishing the export credit guarantee scheme.
Other measures include, purchasing of gold and exporting the same to get dollars, ban of the use of dollar in local transactions as well as strengthening of the tourism sector.
Mr Tutuba told The Citizen on Sunday that on Friday last week the BoT sold $6 million (about Sh15 billion) to oil marketing companies that have opened a letter of credit (LC).
LC is an assurance given by the buyer's bank as opening bank to the seller as beneficiary against sale of goods as per the terms and conditions.
Mr Tutuba said Tanzania's foreign reserves stands at $5.5 billion, the level sufficient to cover almost five months of imports, which is within the country's benchmark of at least four months.
He also said the Central Bank will next month establish the Export Credit Guarantee Scheme that guarantees processors of various products for exports to get cheap credit.
"We will be issuing a guarantee on loans to be issued by commercial banks. All this is meant to attract exports and eventually more foreign currency earnings," said the governor.
On the other hand, he said, the beneficiaries of the scheme will be Small and Medium Enterprises who produce products for local consumption, in a move to reduce dependency on imports that require the use of dollars.
Again, Mr Tutuba said, a few months ago BoT started purchasing gold, which is an important asset of foreign exchange reserves.
Going by official data, until April this year, the Central Bank of Tanzania had acquired 400 kilograms of the precious metal.
Tanzania is among the countries with highest gold reserves, with data showing that it boasts 45 million ounces.
Mining makes up more than 50 per cent of the country's total exports, of which a large part comes from gold.
Further, in a bid to ease pressure on the local currency, the BoT in late June this year ordered businesses to stop pricing goods and services using the American dollar, noting they are violating regulatory directives.
"The government's directives issued (in August 2007) and again in (December 2017) are still valid and should be adhered to at all times," the central bank said in a notice dated June 20.
On top of that, Mr Tutuba said the government was banking on the tourism sector to ease pressure on the local currency.
In the year ending May 2023, travel receipts increased by about two-thirds to $2.87 billion, compared to the corresponding period in 2022, according to BoT.
This was partly explained by a 51.3 percent rise in tourist arrivals to 1.61 million—the highest level reached historically— as the tourism sector continues to recover.
Speaking earlier, economists advised the government to take deliberate steps to address the effects of the shortage of the US dollar and the increase in its value against the Tanzanian Shilling.
"When the US dollar's value rises against our currency, it means that it puts a big push for inflation in our economy, given that you buy the same thing in the same quantity at a higher price," said Prof Abel Kinyondo, an economist from the University of Dar es Salaam.
He said in a short-term period, the government could look at the possibility of entering into agreements with some countries so that they could do business through local currencies.
On this, BoT said it was ready to provide a much-needed support to OMCs in case producing countries were ready for business to be conducted using local currencies.
However, it is no walk in the park as the US dollar is said to be the strongest currency in the world, being involved by 85 percent of international trade.
An economist, who is the director of research, Postgraduate studies and consultancy as well as a Senior Lecturer at the College of Business Administration (CBE), Dr Dickson Pastory, said: "to reduce the pain of dollar shortage, we need to cut spending on imports, by producing products that we can by ourselves."
According to the BoT Monthly Economic Report (MER), the annual average of Tanzania's imports is $14.59 billion (about Sh36.38 trillion).
This is against the sales of Tanzanian products abroad, which stands at $12.61 billion (Sh31.44 trillion).
This suggests that the balance of trade deficit stands at $1.98 billion (Sh4.93 trillion).