What Katavi Mining Company expansion means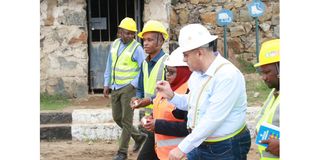 Summary
The expansion is expected to double its production to 2,400 tonnes of ore per day
Katavi. In a bid to double its investment to $534 million from the current $267 million, Katavi Mining Company Limited (KMCL) plans to implement an expansion programme involving 54 square kilometres of land.
The expansion is expected to double its production to 2,400 tonnes of ore per day.
KMCL human resource manager Twalib Self said the expansion programme will be implemented shortly after completing the ongoing feasibility study.
"Extraction is expected to start sooner rather than later if everything goes according to plan," he said, hinting that the expansion will reduce exportation of mining tailings for separation and purification.
He said currently, the company exports thousands of tonnes for separation purification.
KMCL general manager Mahmood Yass said $267 million has been invested since 2010 for construction and installation of plants and machineries.
He also focused on investing in new technology to boost production and improve the livelihood of small scale miners.
"Since 2021, we have spent over Sh9 billion for purchasing mineral tailings from small-scale miners abandoned in different mining sites," he said.
"We are projecting to spend Sh24 billion, a move that will significantly boost the economic situation of small scale miners in the area."
Furthermore, Mr Yass said over 200 containers of mineral tailings have been exported to China for separation since 2021, with an average of 32,850 tonnes of gold and copper concentrates produced annually.
According to him, the company has created 522 direct and indirect jobs to Tanzanians and foreign experts.
Small scale miners regional chairman William Mbogo hailed the company for transforming the lives of miners by purchasing mineral tailings that used to be discarded by different mines.
"In the past artisanal miners used mercury for mineral processing. However, due to the types of minerals which are found in the Katavi Region, they ended up with extremely minimal efficiency," he said.
Mr Mbogo said from the previous separation, small scale miners earned an average of Sh900,000, noting that currently they generate up to Sh10 million.
Katavi resident mining officer Andrew Mwalugaja said since 2021, about Sh49.29 billion worth minerals have been extracted by the company.
From the extraction, the government has collected Sh9.5 billion in royalties, while Katavi District and Municipal Councils have collectively earned Sh147 million in levies and charges.