Women-owned SMEs get Sh1.8 trillion in NMB Bank loans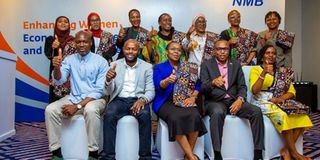 What you need to know:
The bank said credit extended to 168,600 women-owned small and medium enterprises across the nation was meant to catalyse sustainable economic growth in the country
Dar es Salaam. NMB Bank has dished out over Sh1.8 trillion to 168,600 women-owned Small and Medium Enterprises (SMEs) between January and October, 2023, the bank said at the weekend.
The money was meant to catalyse sustainable economic growth in the country, NMB Bank's chief of shared services Nenyuata Mejooli said during women networking event.
She reiterated the bank's commitment to supporting financial inclusion for women adding that her bank believes that women empowerment is a catalyst to sustainable socio-economic development.
"At NMB Bank, we are committed to bridging the financial inclusion gap and we will continue to work towards our aspiration by extending banking services to the under-banked across the country including women. So far this year, we have already opened 2.3 million accounts for women this year," she said.
In 2020, NMB launched its 'Jasiri Bond' preposition in its effort to empower and drive financial inclusion for women across various sectors across Sub-Saharan Africa.
"The proceedings of the bond aimed at providing affordable financing to women-led businesses and businesses that directly affect women," she added.
Ms Mejooli noted that the bank will continue rolling out financial literacy campaigns across the country as part of its efforts to build capacity for various groups including women.
NMB Bank Head of Business Alex Mgeni during the event noted that the bank has already embarked on plans to establish a national women database so as to ensure that it provides tailor-made banking services to women across various sectors.
"We have already identified some of the key sectors and our quest is to ensure that we bring on board all the women in our database. This database will ensure that we provide both tailor-made and timely banking services to women," he said.