20 housemates compete for Big Brother Titans' prize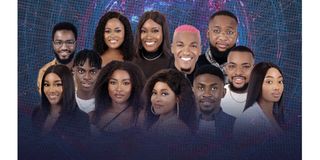 Summary
With Biggie's first surprise this early in the game, fans are bound to wonder, 'what next?'
The first iteration of Big Brother Titans, which sees South African and Nigerian housemates under one roof, has been ongoing for days now, and it's all anyone can talk about.
Despite only being on air for about nine days, the housemates have already provided much entertainment, and Biggie is taking things up a notch.
In the season's first twist, he surprised his housemates by inviting four more guests to join them on the show.
Four new housemates walked into the house during the season's first pool party, ready to join the fun. Although surprised, the older housemates introduced to viewers on Sunday accepted their new counterparts with open hands.
The four newest members are Miracle OP is a 24-year-old originally from Anambra State. Sandra is a 27-year-old Nigerian lady from Akwa Ibom State.
Blue Aiva is a 22-year-old professional dancer and DJ from Benoni, East Rand. And Theo Traw is a 29-year-old South African music artiste from Vaal.
The show is still a long way to the end, and it's already proving that it will be a rollercoaster of emotions and twists.