Rayvanny hits back at Harmonize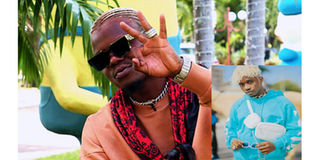 The term 'karma will come back to bite you' was exhibited in its grandeur over the weekend when Bongo Flava star and new CEO of his own record label Rayvanny decided to take a jab at Harmonize on social media.
Rayvanny decided it was payback time when he posted unabated a lengthy post throwing shade at Harmonize for recent speculations that have been circling around the internet suggesting that the Konde Gang leader was making sexual advances at Paula Kajala.
What is of interest in this equation is the fact that Paula is the daughter of Kajala Masanja – the woman Harmonize was dating when he made the move at her daughter.
The rumours of the attempted seduction by Harmonize to woo the younger Kajala hit the surface a little over a week ago when Kajala Masanja deleted all photos of her and Harmonize from her Instagram account. The speculations started quickly penetrating that the new celebrity couple was on shaky ground following the unthinkable move made by Harmonize. Unfortunately, there was little to go with on this rumour so for a moment the air kind of fizzled out naturally.
However, no sooner had society moved on to other 'important' social media happenings than pictures, texts and a video evidencing the speculations surfaced. The Citizen's entertainment wing 'The Beat' has seen the alleged texts and picture which supposedly show Harmonize trying to woo Paula by promising to keep their affair a secret, especially from her mother, whom he was dating at that time.
Furthermore, the texts were attached with nude photos allegedly sent by Harmonize to Paula – below the nude photos a caption read "Sex is the best ting in this life so sweet more than everything you ever had" another message read "Im so sweet you gona like it" followed by an aubergine and shy monkey emoji.
In the thread of texts, Harmonize vents to the young Paula that he is demoralized by her lucklustre response to his advances, and promises that their affair is going to be "very private".
Well, where does Rayvanny fit in this blockbuster real-life drama – you might wonder? About a month ago Rayvanny found himself in the deep-end of the pull with no life jacket when it became was made public that he was having a fling with Paula. Yes, the same Paula who has also attracted the attention of Harmonize.
 Unfortunately for Rayvanny, his fling was shadowed with suggestions that it had occurred before Paula turned 18 years old, a concern which was later laid to rest when it was established that the affair between Rayvanny and Paula had happened when she had already attained the age of the majority (18).
Now, Harmonize, who was at the time of the fling scandal between Rayvanny and Paula dating Paula's mom – Kajala, reacted like a concerned father by posting on his Instagram page a lengthy post rebuking Rayvanny for "taking advantage of a young girl". He continued to tout the authorities to take action against Rayvanny for what he had done, and said that as a father to daughter himself, he empathizes with Paula's parents.
The matter of the affair was taken to police and Kajala, Paula and Rayvanny were summoned as a matter of procedure. Videos that surfaced showed Harmonize front, right and center of the matter, leading the way for Kajala and her daughter at the Oysterbay police station. Many people translated Harmonize's demeanor as something that stems from his sheer dislike for Rayvanny.
Well, little did anyone know that the tables would turn and that Rayvanny would soon be on the other end of providing the rebuke. And he didn't shy away from doing so when a chance presented itself.
Through his Instagram page which has more than 6 million followers, Rayvanny left no stone unturned as he posted about Harmonize's rumoured failed attempt at having Paula by his bedside. Using the same tone and language Harmonize used when chastising him for his past affair with the same Paula, Rayvanny went a step further to post evidence of texts that Harmonize allegedly sent to Paula, also attaching a photo and what is believed to be a video.
Rayvanny expressed his disappointment in Harmonize for trying to sleep with mother and daughter, and stated that Harmonize should be ashamed of himself for what he has done, considering his position in society.
He concluded his first post by advising Harmonize to apologize not only to Paula's mother, but to mothers everywhere.
Harmonize is yet to respond to Rayvanny's posts.
It should be noted that both Harmonize and Rayvanny were signed under the same label – WCB and had formed a formidable trio with Bongo Flava artiste Diamond Platnumz. Harmonize, however, decided to leave WCB and formed his own label 'Konde Gang'.