Zuchu, Mbosso and Kili Paul ranked among the 100 most influential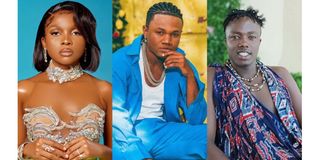 Summary
The list features young people from 25 different countries, with Nigerians having the highest representatives of 31 youths.
In recognition of the works by young Africans which have impacted lives across the continent, seven Tanzanians including Zuchu, Mbosso, Kili Paul and Millard Ayo ranked among the 100 Most Influential Young Africans 2022.
Celebrating its 7th edition, Leading PR and Rating firm Avance Media has recognized and celebrated young people who are making a positive impact in their communities and industries across the continent.
According to the firm, all these young Africans are setting the pace for their peers and inspiring a new generation to take on leadership roles and make positive impacts in their communities.
WCB signee Zuhura Othman, popularly known as Zuchu, and Mbwana Yusuf, who goes by the stage name of Mbosso, are among the ranked music artistes in the country for their music contributions that reach different places across the globe.
Joining them is Tiktok superstar, Kili Paul who has been shining and gained popularity by lip syncing Indian songs on TikTok, Millard Ayo, Jokate Mwegelo, and Bernard Fernandez.