EU: Booming coal exporting from Tanzania is temporary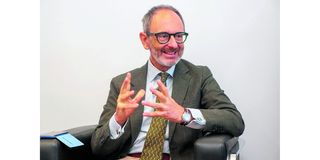 What you need to know:
While eradicating carbon emissions was top for the EU, it has been forced into a short-term reliance on coal and Tanzania benefits from this
Dar es Salaam. Tanzanian coal has recently penetrated the European market, but Ambassador Manfredo Fanti said yesterday that he doesn't see a long-term future for the business.
Ambassador Fanti, who is the head of the EU delegation to Tanzania was responding to The Citizen as it wanted to know what Tanzania should expect from the flourishing business, yet the union has committed to more than halving its greenhouse gas emissions by 2030.
In fact, last year, The Citizen reported a story from Reuters on the boom of the business following a sleepy Mtwara port mainly dealing in cashew nuts, but it bustled with vessels loading up with coal, as the Russia-Ukraine war has driven a worldwide race for the polluting fuel.
"The European Union has found itself in a kind of emergency with regard to energy sources because of the war in Ukraine, so we had to rush into diversification of energy sources. We have been buying gas from other suppliers," he explained.
Adding: "And also using other energy sources like coal, which were being phased out because of concerns related to climate change. So in the short-term, and with the effect of the war, the EU has increased its import in coal, but we shouldn't expect that in very few years to come."
Furthermore, the EU diplomat who is also accredited to the East Africa Community (EAC) said: "The volume of Tanzanian coal export to Europe will definitely decrease quite substantially because of the policy of the EU on carbon emission.
According to him, the EU policy on the matter has clearly established the need for the union to become carbon neutral by 2050 and basically reduce its emission in the coming years.
"So I think, this is the only particular moment for the European Union to be purchasing coal for energy, but certainly; I don't see a long-term future for our purchases in coal," the diplomat insisted.
Tanzania traditionally exports thermal coal only to neighbouring countries in East Africa; sending it further afield was out of the question, as it required trucking the material more than 600 kilometres from mines in its southwest to Mtwara, the nearest Indian Ocean port.
Media reports indicated that prices for thermal coal, used to generate electricity, have leapt to record levels as a result of the war, which has led to many European countries losing access to vital supplies of natural gas and coal from their top provider Russia.
Buyers in Europe and beyond are now vying to pay top dollar for coal, often from remote mines in places such as Tanzania, Botswana and even potentially Madagascar. The resurgent coal demand, driven by governments trying to wean themselves off Russian energy while keeping a lid on power prices, clashes with climate plans to shift away from the most polluting fossil fuel.
Last year, Mr Rizwan Ahmed, the Managing Director of coal miner, Bluesky Mining was quoted as saying: "European players, after the Russian war, are going to any place where there is coal."
It is said coal accounts for about 20 percent of total electricity production in the EU
The invasion has forced EU nations to move to cut reliance on gas from Russia, which has reduced its vast supplies to the region. The bloc's ban on Russian coal imports has further increased pressure on electricity generators to find alternative sources of the fuel.
Russia usually provides about 70 percent of the EU's thermal coal, according to the Brussels-based think-tank Bruegel, while it typically supplies 40 percent of the bloc's natural gas.
European countries have temporarily set aside environmental goals as they seek to stockpile the fuel and reopen mothballed coal plants to prepare for what could be a difficult winter.
On the other hand, Ambassador Fanti applauded President Hassan's administration for various reforms that are taking place, saying: "We are always ready to support if we are asked."
Adding: "Relationship between the European Union and Tanzania is firm; we will continue supporting Tanzania in different areas including energy, gender, rural development, environment, climate change, business and private sector development."
According to him, the volume of cooperation has been increasing and that Tanzania benefits from an annual grant standing at €105 million.