Tarimo's family seeks clarity on his demise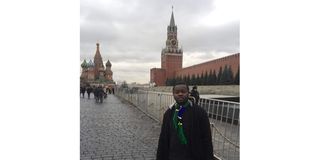 Summary
A family in mourning is now looking for government's help in clearing their loved one's reputation amid contradictory and false narratives being shared on social media and other platforms
Dar es Salaam. The family of Nemes Tarimo, 33, a Tanzanian national reported to have been killed in the battle fields of Bakhmut, Donbas, Ukraine, fighting on the Russian side, has pleaded for detailed information.
As the family was waiting to receive body remains for burial, they pleaded with the government to provide accurate information about what exactly had happened.
Yesterday, efforts to reach the Russian embassy as well as the Tanzania Ministry of Foreign Affairs and East African Cooperation proved futile.
Though the ministry's official, Ms Sheiba Bullu promised to issue a press statement, nothing was released until the time of filing this report.
Speaking yesterday at the deceased's home in Mbezi Kwa Musuguri, family members said they had received news of his death that was confirmed by Tanzania's embassy in Moscow.
The deceased's sister, Ms Solome Kisale said, they were now pleading with the government to provide detailed information about Tarimo's death, hinting that reports about his death were contradictory.
"The family knows that the deceased travelled to Russia for postgraduate studies at the Russian Academy of Technology, MIREA, but social media reports that he was convicted prior to joining the army are contradictory," she said.
"We are therefore requesting the government to issue a statement that will clearly provide the cause of his death. Reports issued by the country's embassy in Russia didn't provide enough details," added Ms Kisale, saying only the government's report on the matter would end contradictory online information.
Furthermore, Ms Kitale said the last time the deceased visited Tanzania was 2020 and that he last communicated with the family on September 18, last year.
The deceased's aunt, Ms Christina Keja said that on Thursday, they received reports from the embassy that Tarimo's body received a farewell from military forces in Russia.
"We are now waiting for a statement about the exact date of the body's arrival and burial schedule," she said.
Another of Tarimo's aunts, Ms Royida Sambulika said the deceased had been raised up in her father's home alongside other siblings following the passing on of his mother in 2006.
"He was gentle and disassociated himself with other groups of youngsters. He built a friendship with his laptop and spent most of his time with it," he said.
According to her, news of his death spread along with a video showing him being given a military farewell by the armed forces in Russia.
The incident comes a few weeks after a Zambian national, Lemekhani Nyirenda, 23, also died in the battlefields of Ukraine.
The family said Tarimo died at the end of October, and they were first informed by close friends at the end of December, before receiving official communication from the Tanzanian Embassy in Moscow.
Reports from close associates say Tarimo was arrested for a drug-related case and was serving a prison term.
After a while, he was given the choice to join Wagner's group and was promised to be released after six months of fighting on the battlefield.
Sharing his background, family members made it clear that Tarimo studied at the Tosamaganga Secondary School located in Iringa Region.
He then went for higher learning studies, taking technology related subjects.
The deceased then worked for different organisations before seizing the opportunity to study in Russia and travelled to begin pursuing his studies there in 2016.