18,000 pupils 'cannot read, write or solve simple math'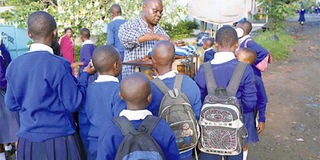 A total of 18,362 out of 379,000 pupils who sat their Standard 3 and 4 examinations in Simiyu last year showed they hadn't mastered reading, writing and arithmetic skills, commonly known by the Kiswahili acronym (KKK).
During the period, a total of 102 pupils who sat for the Standard 7 national examination also did not know how to read, write and count.
The poor exam results were  blamed on lack of qualified teachers who could have amply instructed the young on how to master the essential skills.
This was said last week by the Simiyu regional education officer, Mr Julius Nestori, while launching a training programme on teaching techniques to 540 teachers who handle Standard 3 and 4 learners.
The nine-day training programme was offered to teachers from the region at Butimba Teachers Training College in the Mwanza City.
He said that the government reviewed the education system and came up with the improved syllabus for lower classes. "This training is geared at enabling teachers' capacity to eradicate illiteracy among young learners," he said 
He urged the teachers who received the training to pass the gained knowledge to other teachers. "Pupils in Meatu, Maswa and Bariadi districts are worst hit by illiteracy," he noted.
A representative from the Regional Administration and local Governments (Tamisemi), Mr Gaitanic Fransinc, said the government should employ enough teachers especially in the villages.