Prime
BoT outlines key measures to spur local currency's rebound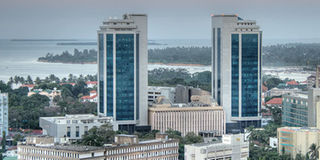 What you need to know:
The central bank says the economic trend is now shifting, with the supply of US dollars starting to stabilise amid a positive global economic outlook
Dar es Salaam. The Bank of Tanzania (BoT) says that Tanzania is seeing a positive turn from the dollar scarcity and other economic woes.
Addressing a press briefing at the central bank headquarters yesterday, BoT director of policy and research Suleiman Misango said that the economic trend is now shifting, with dollar supply starting to stabilise amid a positive global economic outlook, which is forecast to close at 3 percent in 2023 from the previously projected 2.8 percent at the beginning of the year, meaning there will be more supply of foreign currency.
BoT attributed the currency instability to the war in Ukraine, Covid-19 aftermath, climate change, and foreign monetary policies.
Expounding the latter point, he said monetary policies implemented by developed nations that are grappling with high inflation have adversely impacted Tanzania. "Specifically, the decision by the United States Federal Reserve to increase interest rates from 0.25 percent in March to 5.5 percent in July 2023 had a huge impact on the global economy," Mr Misango said.
This made global investors invest in the US market in order to get a huge return on their investment, leading to a dollar scarcity in other markets, including Tanzania, and exacerbated the interest rate on loan risk premiums, making borrowing on the global market expensive.
"US inflation has now dropped to 3 percent, with their target being 2 percent. This means dollars will soon be accessible globally, including in Tanzania," Mr Misango explained.
Providing further context on why Tanzania's economy is now showing signs of withstanding the recent global economic downtime, Mr Misango said Tanzania's foreign reserve as of August 21, 2023, stood at $5.441 billion. The foreign reserve is enough for imports of goods and services for 4.9 months and is one of the highest in recent memory.
The $5.441 billion is composed of US dollars at 77 percent, Chinese Yuan at 16 percent, Sterling Pounds at 4.78 percent, and Australian dollars at 1.72 percent.
Mr Misango said that the central bank continues to take various measures to cushion external economic distress from impacting the local economy. For example, some of the currency interventions undertaken include the selling of foreign currency at the global exchange market.
From July to August 21, 2023, BoT sold $100.5 million in the foreign exchange market, compared to $62 million sold in the period of July to September 2022. Also, since the outbreak of the war in Ukraine in March 2022, BoT has sold $518.5 million in the foreign exchange market.
Other interventions undertaken by the government and the central bank include purchasing gold reserves, boosting local production as an alternative to imported goods, and working with forex bureaus and other key financial sector players in order to encourage adherence to laws governing foreign currency.
Mr Misango gave an example of Tanzanian businesses that charge residents in dollars instead of shillings.
"All transactions between residents must be in local currency and not dollars," he reiterated.
These measures aim at maintaining the desired level of shilling liquidity in the economy to reduce domestic demand pressure on foreign currency, commonly referred to as the dollarisation of the economy.
The briefing in Dar es Salaam also involved representatives from commercial banks: CRDB Bank Plc, NMB Bank, Absa Bank, and Diamond Trust Bank, as well as owners and operators of forex bureaus from the Mainland and Zanzibar.
Mr Misango said that BoT holds weekly meetings with key players from commercial banks to discuss how to best navigate the economic shocks.
DTB head of treasury Ebrahim Alibhai said Tanzania has maintained a pedigree above its peers in the region.
"That's why we continue to be attractive to investors within the region and further afield. BoT measures have helped address some of the critical issues facing the economy and currency challenge," he shared.
NMB treasurer Aziz Chacha said there is a noticeable drop in import values, which is positive. "We advise people to use alternative currencies in order to lessen their reliance on US currency."
Mr Olais Tira, CRDB head of Treasury Sales, opined that the current currency crisis is not a problem unique to Tanzania.
"The dollar challenge is global. Actually, Tanzania has performed well comparatively. Bankers have benefited from the BoT's measures," he said, and went on to advise those who frantically buy dollars out of fear to rest assured that there is enough dollar supply in the local market.
BoT says that there is a sign of a reduction in foreign currency challenges and a faster trend in GDP growth, from 4 percent last year to 5.6 percent in the first quarter of 2023.
The central bank said that in the year ending December 2022, there was a high need for foreign currency for imports, which stood at 7.3 percent of the national economy, compared to the current 6 percent. Meaning the demand for foreign currency is reducing.
Also, tourism and agricultural exports are improving, helping cushion currency challenges.
Seasoned businessman Deogratius Marandu, owner of Kadoo Forex, says there are positive signs of a rebound, noting that the local currency now retails at no more than Sh2550 against the US dollar, compared to more than Sh2600 in July 2023.
BoT's key focus areas now are: increasing the supply of foreign currency in the market; buying gold reserves; continuing to improve exports; and ensuring private sector productivity improves, as well as working with commercial banks and bureaus for concerted efforts to tackle currency shifts.