Chadema outlines strategy as nationwide rallies start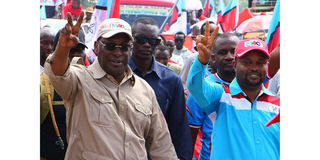 Summary
The main opposition party, Chadema, has hit the ground running, promising to strive for sustained political freedom and form the next government
Mwanza. The opposition Chadema began nationwide rallies yesterday, with national chairman Freeman Mbowe revealing the party's stance on challenging the ruling Chama Cha Mapinduzi (CCM) in order to win elections and form the government.
Mr Mbowe stated at the event, which also marked the 30th anniversary of Chadema's full registration as a political party, that "the ongoing political dialogue and reconciliation does not imply that we will dissolve our party."
Adding, "We are not going to join them; we will keep on acting as the main opposition party until we form the government; our slogan is no hate, no fear; this will drive us throughout."
According to him, the agenda for this part would include the need for a new constitution and an independent electoral commission.
"We will only vote when we are confident that there are laws that stand for justice, so that we can work together to build a safer nation, a nation that will create a better tomorrow for our children," he adds.
The national chairman explained that his party has strong arguments supported by data that will be presented to the public during its countrywide rallies, these include the rising national debt and inflation that keep living standards high.
"We are going to challenge these, not because we want CCM to rectify them, but because we aim at getting rid of CCM and its administration; we want to build a nation that is there for its people," he observed.
Mbowe recalled how difficult it was when he was called by President Samia Suluhu Hassan, who initiated the dialog by saying some of his close friends and leaders in his party were not happy.
"They didn't understand; in fact, some of them even insulted me, saying I had been bribed, but I knew where I was headed, so I stood on what I believed, and today here we are. I forgive them; it's over," Mbowe said.
He further thanked President Hassan for initiating the talks for the sake of Tanzania, saying his party will keep supporting her but will also point out where changes are needed.
"I stand in front of you and the world to thank President Samia. We have had fruitful negotiations, and we stand here as a result of such talks. Mama Samia and Mzee Kinana agreed to our demand; they faced internal opposition but never gave up," he admitted.
Mbowe praised the police force's professionalism, pleading for the same to happen at other rallies because that is what his party fights for: a peaceful nation where people are free to associate and express themselves.
According to him, the fifth phase government under the former and late President John Magufuli committed several mistakes, including banning live televising of parliamentary sittings, crackdowns on opposition leaders, and disruptions of democratic elections.
He claimed that during that time, not only Chadema supporters but also members of the ruling CCM and other opposition political parties were denied justice, challenging Tanzanians to embrace unity while practicing and thriving multiparty democracy in the country.